Brian Johnson – 180 Philosophers Notes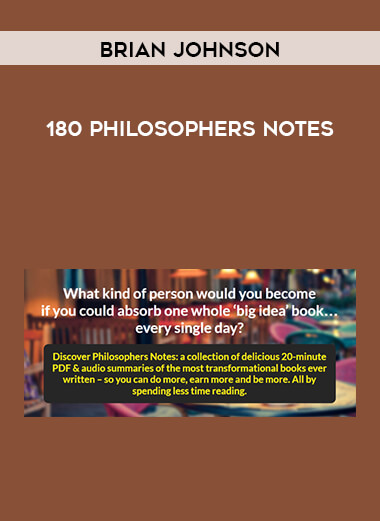 Salepage : Brian Johnson – 180 Philosophers Notes

Philosophers Notes is a really simple program. The program consists of 180 book summaries on 180 of the most popular books to ever be written and read, most of them focusing on ways to improve yourself and your life, written by the author Brian Johnson. Brian created PDFs and audio recordings of these PDFs for each book he read. In his PDFs and audios, he simply extracts the most major and important concepts of the book and explains how they can be used in your own life to change it for the better.
Have you ever wished you could have your own library of profound wisdom available on demand? So when you run up against one of life's difficult questions, you could always have an answer at hand. Well, here's a little something that might just help. If you're like most people, you know that reading is the best way to get the answers to life's toughest questions. Because when you read a truly great book, you're tapping into the wisdom and experience of some of the brightest's minds in history. There's just one problem. With our hectic modern lifestyles, most of us don't have time to read that many books. Think about it. How long does it take you to read 200-300 pages? Well, if you have nothing else to do, probably a couple of days. But if you're trying to balance a career, family, and a social life? It could easily take a month or more. Let's just say we understand if you have a pile of unread books on your end table.
That's why I want to share the latest product from Mindvalley, one of the biggest personal growth publishers in the business: A little something called Philosophers Notes. It's a powerful system that takes the most important insights from some of the greatest books in the world, and condenses them down into easy, bite-sized chunks. Instead of spending hours, days, or even weeks trying to get through a single book You can get all the "big ideas" in just 20 minutes flat. And to get you started, Mindvalley is giving away one FREE book summary of your choice, so you can experience this new approach to reading for yourself. There's 25 different books to choose from, ranging from Napoleon Hill?s "Think and Grow Rich"  to Deepak Chopra's "Seven Spiritual Laws of Success", so there's something for everyone.  Just click here to get your free summary now.