5 Day Fit Weight Loss by Patricia Moreno,Cameron Shayne AVI GAIAM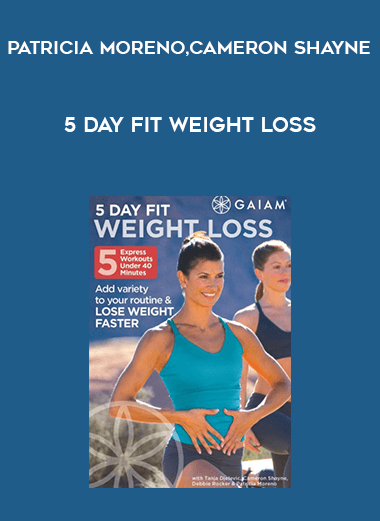 Salepage : 5 Day Fit Weight Loss by Patricia Moreno,Cameron Shayne AVI GAIAM
Five 30-minute weight loss workouts Variety of fitness styles including Budokon, dance, walking, yoga and cardio sculptingFIVE DAYS OF FAT-BURNING FITNESSAny personal trainer will tell you that variety is the key to fitness success. Five Day Fit Weight Loss offers five distinctly different fitness styles that share the same end result: a slimmer, sexier you! This DVD introduces you to Budokon, yoga, dance, cardio sculpting and even walking as effective ways to drop unwanted weight. Each genre keeps your workout fresh by challenging and moving your body in different ways as you shed pounds. From high-kicking cardio to soothing stretches, each routine is led by fitness experts who know exactly how to send those pesky pounds packing.
Budokon for Weight Loss with Cameron Shayne (30 minutes)
Get your metabolism burning lean and get better results in less time with this challenging routine.
Walking for Weight Loss with Debbie Rocker (35 minutes)
Burn calories fast and walk off those extra pounds with this low impact program perfect for any fitness level.
Dancer's Body Workout with Patricia Moreno (30 minutes)
Burn calories and sculpt a lean body as you dance the pounds off and watch the fat melt away.
Cardio Burn Yoga with Patricia Moreno (30 minutes)
Clear your mind and restore your body using the precision of yoga and rid the body of excess fat for faster weight loss results.
Cardio Burn Sculpt with Tanja Djelevic (35 minutes)
Total body workout blends cardio and sculpting for faster weight loss results plus flattens abs, slims legs and tones the upper body.