Abraham Marte Aggressive Closed Guard Vol 2 DigitsuRip 720p (Gi) [MP4]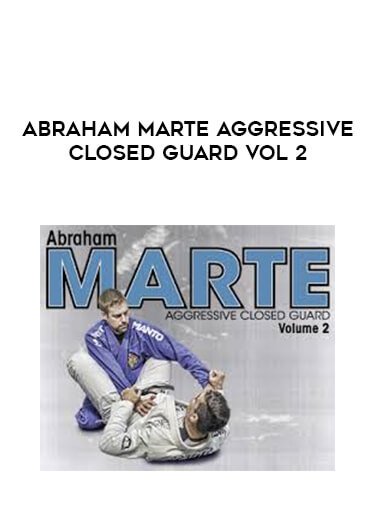 Salepage : Abraham Marte Aggressive Closed Guard Vol 2 DigitsuRip 720p (Gi) [MP4]
Abraham Marte Aggressive Closed Guard Vol 2 [ON DEMAND]
Format: Digitsu On Demand
Languages:English
Streaming Format: 720p
DESCRIPTION
Choose the path with least resistance!
Following up his hugely successful instructional, Abraham Marte is back to continue his mission to dispel the myth that the closed guard is a "stalling position".
In Aggressive Closed Guard – Volume 2, Marte focuses his efforts on countering his opponents pressure by redirecting them to various off angles. You will definitely find things that can be incorporated into your game immediately.
Introduction
Guard Concepts: Weight & Distance
Guard Concepts: Tie-Down & Shoulder Drag
Focus Point: Cruise Control to Slip #1
Focus Point: Slip #2
Cruise Control: Elbow Lock
Cruise Control: Slip Triangle
Cruise Control: Top Arm Lock
Cruise Control: Shoulder Roll Vs Stack
Cruise Control: Slip Triangle #2
Cruise Control: Far Shoulder/Arm Lock
Tie-Down Position: Modified Flower Sweep
Lapel Tie-Down: Cross Choke
Lapel Tie-Down: Push Sweep
Lapel Tie-Down: Cross Choke #2
Lapel Tie-Down: Darce Arm Triangle
Lapel Tie-Down: Control Concepts
Lapel Tie-Down: Control Concepts #2
Lapel Tie-Down: Vs Roberto Tozi Pass
Slip #2: Back Take Vs. Stack
Slip #2: Elbow Tuck Sweep
Sample Info
===================== General =====================
Complete name               : Abraham.Marte.Aggressive.Closed.Guard.Volume2101abemarte_720.mp4
Format                      : MPEG-4
Format profile              : Base Media
Codec Id                    : isom
File size                   : 194 MB
Duration (ms)               : 12mn 22s
Total bitrate               : 2 189 Kbps
Encoded application         : Lavf57.25.100
===================== Video =====================
Id                          : 2
Format                      : AVC
Format info                 : Advanced Video Codec
Format profile              : [email protected]
Use of CABAC                : Yes
RefFrames                   : 4 frames
Codec Id                    : avc1
Codec info                  : Advanced Video Coding
Duration (ms)               : 12mn 22s
Bitrate                     : 2 000 Kbps
Width                       : 1 280 pixels
Height                      : 720 pixels
Aspect ratio                : 16:9
Framerate mode              : Constant
Framerate                   : 29.970 fps
Colorimetry                 : YUV
Colos space                 : 4:2:0
Bit depth                   : 8 bits
Scan type                   : Progressive
Bits/(Pixel*Frame)          : 0.072
Stream size                 : 179 MB (92%)
Encoded library             : x264 core 148
colour_primaries            : BT.709
transfer_characteristics    : BT.709
matrix_coefficients         : BT.709
===================== Audio =====================
Id                          : 1
Format                      : AAC
Format info                 : Advanced Audio Codec
Format profile              : LC
Codec Id                    : 40
Duration (ms)               : 12mn 22s
Duration_LastFrame/String   : -1ms
Bitrate mode                : Constant
Bitrate                     : 160 Kbps
Channel(s)                  : 2 channels
ChannelPositions            : Front: L R
Sampling rate               : 44.1 KHz
Compression_Mode/String     : Lossy
Stream size                 : 14.2 MB (7%)