Alex Elliot – One Group Away Challenge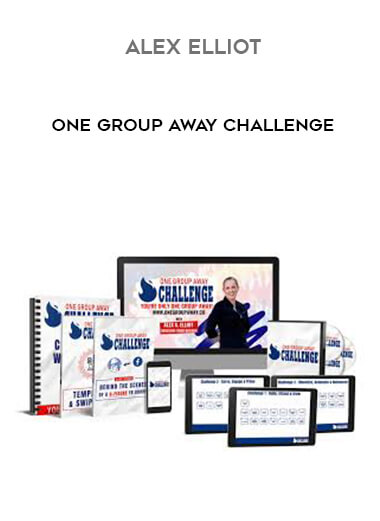 Salepage : Alex Elliot – One Group Away Challenge

How to Make Money From a Facebook Group Without Knowing Anything About Social Media!
Secret #1: Sales within a Facebook Group are the Easiest Sales You'll Ever Make.
Secret #2: You don't have to be an extrovert or an expert (or even know what to post) to run a successful Facebook group!
Secret #3 – As a Facebook Group Owner, you become the Hunted rather than the Hunter.
Here's What You'll Get If You Participate In The "One Group Away" Challenge.
11+ Hours of Video Training for the "One Group Away" Challenge
Deep-Dive Training and Actionable Steps to Help You Build a Group That Grows, Engages, and Monetizes Itself!
You'll discover how to:
Plan your group's engagement and monetization from the start!
Attract Large Numbers of Members to Your Group Without Spending Money on Ads!
Use Advanced Group Member Attraction Marketing Techniques!
Roadmap to High Profit FB Group Success
Challenge Roadmap in Steps, so you can follow along and measure your progress throughout the Challenge.
Full Course Workbook "One Group Away" Challenge
This is your BIBLE for the "One Group Away" Challenge. It's where the magic happens and where the ACTION STEPS and IMPLEMENTATION meet. Everything nice happens right here in this workbook!
Swipe Files & Facebook Group Templates
Assets for FB Group Growth, Engagement, and Monetization Files and templates to help you in your group's growth:
Templates for Group Descriptions
Templates for Pinned Posts and Welcome Messages
Templates for Resources Pages and MORE.
Lifetime access to Dan and Teresa's small group FB coaching.
Unlimited weekly OGAC Q&A Calls "One Group Away" Private Facebook Group with FB Groups Experts, Dan & Teresa.
Get LIVE answers to all of your FB Group inquiries!
Live, Follow-Along, and Facebook Group Training on a regular basis
Lifetime Access to FB Group Training with FB Group Experts Dan and Teresa in our "One Group Away" Challenge Private Facebook Group.
As you construct your Facebook Group, get professional help on developing, engaging, and monetizing it!
PLUS: When you join, you will receive the following bonuses.
Bonus #1
Checklist for "Peace of Mind" Group Launch
With our step-by-step, follow-along Group Launch Checklist, you won't miss a single step while creating your Facebook Group.
Bonus #2
30 Proven Do-It-Yourself Group Engagement Posts
Learn what distinguishes a "Facebook Funeral" from a "Facebook Fiesta" in groups and how to keep your FB group from becoming a digital ghost town.
Bonus #3
Monetization Scripts for Facebook Lives for "Selling Without Selling"
Do you despise selling? Do you ever struggle with transitioning from educating to promoting your products or services? Use these "selling without selling" scripts to sell without the "ick factor" in your groups! If you despise "selling" or "feeling salesy," these scripts are for you!
With the "One Group Away" Challenge, you may get them for FREE!
Bonus #4
License for Free Group Conversion
Collect emails from your Facebook group on autopilot to develop your list while converting Facebook group members into paying clients!
Usually costs $10 each month.
With the "One Group Away" Challenge, you may get it for FREE!
Bonus #5
HUGE SAVINGS ON AMAZING FB GROUP-RELATED SOFTWARE AND COURSES
Get MASSIVE savings on the following software and courses, which are popular with FB Group owners all around the world:
– Zeky Ahmed's Comment Funnels
– Jon Vaughn's Friend Connector
– Jon Vaughn's Link Wizard
– Mario Pajaj's Livestream Mastery