All Elegant Themes WP Themes – Developer Package (July 2012)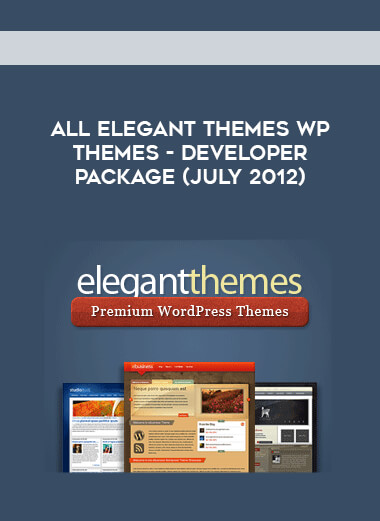 Salepage : All Elegant Themes WP Themes – Developer Package (July 2012)

The GNU Public License version 2.0 governs all WordPress themes.
All.PSD files are packaged separately and are not GPL 2.0 licensed. Instead, the Elegant Themes Personal Use License is passed down to these files. These files are distributed to all members for personal use only. You may not offer them for redistribution or resale of any kind, modified or unmodified.
I ran Timthumb Vulnerability Scanner and Theme Authenticity Checker (TAC) on all themes and they are all safe.
Excellent Design
Design is both an art and a passion for us. We create WordPress themes with a pixel-perfect eye for detail and a high aesthetic standard. Allow us to assist you in making your website very simple, gorgeous, and professional.
Advanced Functions
Our extensive collection of Shortcodes, Page Templates, and Theme Options gives you complete control over your website. Manage your site like never before by utilizing the numerous powerful features included with all of our themes.
A total of 75 WordPress themes with Layered Photoshop Files (PSD):
13Floor
Aggregate
ArtSee
AskIt
Basic
BlueMist
BlueSky
Bold
Boutique
BusinessCard
Chameleon
CherryTruffle
Cion
ColdStone
Convertible
DailyJournal
DailyNotes
DeepFocus
DelicateNews
Deviant
EarthlyTouch
ElegantEstate
Envisioned
Event
Evolution
Feather
Flexible
Gleam
Glider
Glow
GrungeMag
InReview
Instyle
Influx
InterPhase
LeanBiz
LightBright
LightSource
Lumin
Magnificent
Memoir
Minimal
Modest
MyApp
MyCuisine
MyProduct
MyResume
Notebook
Nova
OnTheGo
PersonalPress
Polished
PureType
Quadro
SimplePress
Simplism
Sky
StudioBlue
TheCorporation
TheProfessional
TheSource
Thestyle
TidalForce
Trim
Webly
WhosWho
Wooden
eBusiness
eGallery
eGamer
eList
eNews
ePhoto
eStore
eVid
WordPress Premium Plugins:
HandHeld Mobile Plugin (PSD)
Beautiful Page Builder
Anticipate (Plugin for Maintenance Mode) [with PSD]
Beautiful Shortcodes
Layered Photoshop File (PSD) Tumblr Theme:
DailyNotes