Andre & Steve – Tiny Little Businesses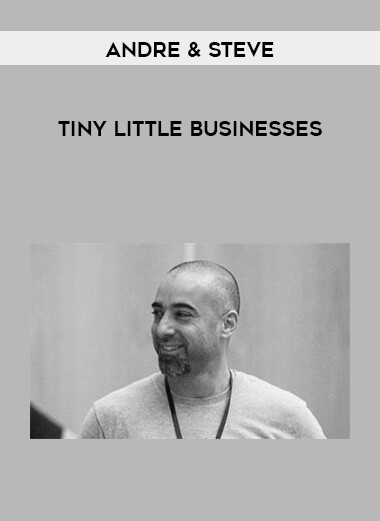 Salepage : Andre & Steve – Tiny Little Businesses

Hey, I'm Ben, and I've been a struggling marketer for a long time.
Rebuilding my information marketing business wasn't easy. I hit loads of road blocks along the way. It wasn't until I discovered a guy called Andre Chaperon that my business really started to take off again.
Andre is a well known internet marketer who specialises is creating lucrative information marketing businesses with highly responsive email lists of raving fans.
His whole philosophy is based around Jay Abraham's Strategy of Preeminence. Which, is in a nutshell, is all about helping your prospects move closer to their desired end result, before you ever ask for anything in return.
You effectively become their most trusted adviser and your trust levels shoot through the roof.
This philosophy is now something that I have committed to following myself with incredible results (this case study demonstrates this first hand).
In July 2011 I discovered that Andre was launching an exclusive new training program with a guy called Steve Gray.
(Steve is a traffic genius that spends nearly a million dollars PER MONTH on paid advertising, and runs his own 8-figure business in markets outside of the "internet marketing" space.)
They called the training 'Tiny Little Businesses' (TLB for short) … and I just knew I HAD to join!
… so I did
TLB teaches Andre and Steve's very unique business model of building lucrative "tiny little businesses" online, that are built for the long haul (read: not "flash-in-the-pan" setups).
They cover everything from market research to sales funnel creation, pre-selling, email marketing, tracking & testing, paid traffic, and everything else in-between.
Now I would be lying if I told you that after I'd completed the training that my business had "magically" turned into an instant success.
It didn't.
And in fact most of my campaigns were a massive failure.
I spent hours upon hours writing sales copy, email promotions, creating websites and sales funnels.
Not to mention the large sums of cash I spent on paid ads with zero return on investment.
However, after crap loads of testing and tweaking I have come out the other side. I can now build profitable campaigns pretty much at will.
The truth was I was lazy, and I skipped essential parts of the TLB process.
I "shortcut-ed" (is that even a real word?) market (audience) research. I basically jumped into promoting affiliate offers without any clue of who I was meant to be targeting, and what motivated them to take action.
Result … lot's of time, energy, and money wasted.
But that period of "drought" ended up being the best thing that ever happened to me. Because it taught me a critical lesson.
I learned exactly WHY, what Andre & Steve teach in TLB, works so damn well.
Because it's all about the customer. I completely missed that critical element by trying to "shortcut" the process. Something I never do now
I now have a profitable online business that just gets better and better every month. All thanks to Andre and Steve's 'Tiny Little Businesses' and mentorship.
So enough about my story.
I really just wanted to share some initial results with you from a recent Facebook Promoted Post ad campaign I ran as just a test with a $300 ad budget for 4 days (from May 1st to May 4th 2013).
What actually happened has blown my mind.
My $300 test budget turned into a $982.81 PROFIT!
Here's the deets of how it happened and what I did …