Andre & Steve – Tiny Little Businesses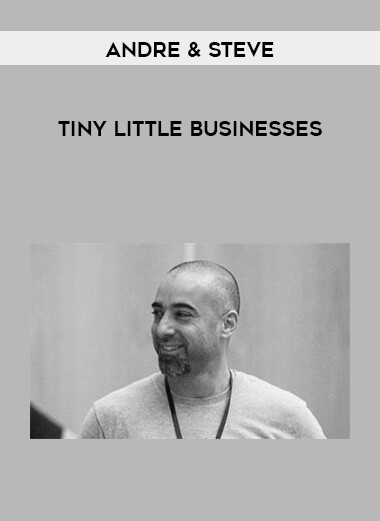 Salepage : Andre & Steve – Tiny Little Businesses

Hello, my name is Ben, and I've been a struggling marketer for quite some time.
It was not easy to rebuild my information marketing company. I encountered several roadblocks along the way. It wasn't until I met Andre Chaperon that my business truly started to take off again.
Andre is a well-known internet marketer who specializes in building profitable information marketing firms with ardent fan email lists.
Jay Abraham's Strategy of Preeminence underpins his whole ideology. In a word, it is all about assisting your prospects in moving closer to their desired end result before you ask for anything in return.
You essentially become their most trusted advisor, and your trust levels skyrocket.
This idea is now something I have committed to following personally, and it has yielded great benefits (this case study demonstrates this first hand).
In July 2011, I learned that Andre was establishing a new training program with a man named Steve Gray.
(Steve is a traffic guru who spends roughly a million dollars PER MONTH on paid advertising and has his own eight-figure firm in areas other than "internet marketing.")
The program was dubbed "Tiny Little Businesses" (TLB for short)… and I knew I had to be a part of it!
… so I did
TLB teaches Andre and Steve's one-of-a-kind business approach of creating profitable "tiny little businesses" online that are structured for the long haul (read: not "flash-in-the-pan" setups).
Market research, sales funnel building, pre-selling, email marketing, tracking & testing, sponsored traffic, and everything in between are all covered.
I'd be lying if I said that once I finished the course, my business "magically" turned into an immediate success.
It didn't work.
In reality, the most of my campaigns were a colossal flop.
I spent countless hours creating sales copy, email promotions, websites, and sales funnels.
Not to mention the massive sums of money I spent on sponsored advertisements that yielded no return on investment.
However, after several hours of testing and modifying, I have emerged victorious. I can now create profitable campaigns almost at will.
The truth was that I was lazy and skipped critical steps in the TLB process.
I "short-circuited" (is that a word?) market (audience) research. I basically jumped into promoting affiliate offers with no idea who I was supposed to be targeting or what motivated them to act.
As a result, a lot of time, energy, and money has been squandered.
But that "drought" period turned out to be the best thing that ever happened to me. Because it taught me an important lesson.
I discovered WHY what Andre and Steve teach in TLB works so well.
Because everything revolves around the customer. By attempting to "shorten" the process, I completely missed that critical component. something I no longer do
I now have a profitable online business that is growing month after month. Andre and Steve's 'Tiny Little Businesses' and coaching were key.
So that's the end of my story.
I just wanted to share some preliminary results from a recent Facebook Promoted Post ad campaign I ran as a test with a $300 ad budget for four days.
What actually occurred astounded me.
My $300 test budget into a $982.81 PROFIT!
Here are the specifics of what happened and what I did…