Anna Hill – Amazon Accounting Simplified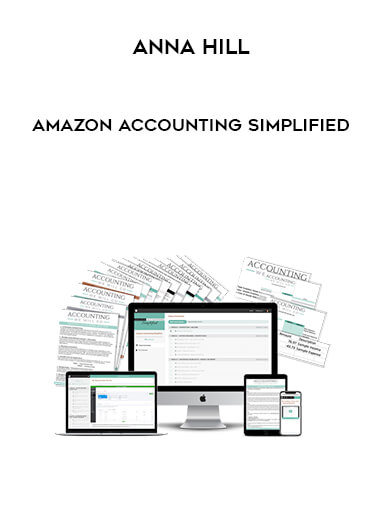 Salepage : Anna Hill – Amazon Accounting Simplified

ARE YOU AN AMAZON OR AMAZON FBA SELLER?
Congratulations on starting and running your own business! We know how exciting it is when your products sell and you start to see those payouts. Your hard work is turning into Profit!
But we also know that when it comes to managing the financial side of the business, many people feel unprepared. And the more successful you are, the more important it is to keep your books organized, especially when it comes to tax time.
DOES THIS SOUND FAMILIAR?
You're overwhelmed with accounting software options and are afraid you'll pick one that might limit you down the road.
You have no idea how to adjust your Amazon deposits for gross sales, refunds, and fees.
You're confused about the difference between inventory and cost of goods sold not to mention how to track them.
It's the end of the year and you're not sure how to reconcile your 1099-K.
You've invested tons of time reading blog posts, downloading accounting resources … now, you're on information overload AND still don't know where to start!
DON'T WORRY, THERE IS HOPE
What if you could have:
A clear, easy to understand and consistent accounting routine you can depend on.
Built-for-you resources to adjust sales deposits, calculate/record cost of goods sold, and reconcile your Amazon 1099-K.
Confidence to be able to review and understand your financial statements.
THAT'S WHY WE CREATED THIS ONLINE COURSE…
Learn QuickBooks Online even if you know nothing about accounting or bookkeeping, we'll teach you all our secrets!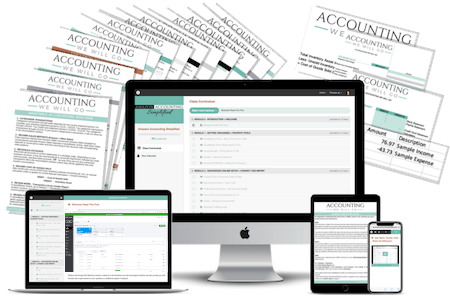 Course Curriculum
Life BEFORE Amazon Accounting Simplified:
You're stressed every time you think about doing your books
You're not sure where to start so you don't start at all
You're sick of looking at piles of paperwork
You can't stand manually entering receipts into a clunky spreadsheet
No matter how hard you try, you still feel unprepared at tax time
Life AFTER Amazon Accounting Simplified:
You have a reliable customized accounting system that grows with your Amazon business
You feel more confident in your ability to properly categorize your transactions
You are more aware of your business income and expenses
You clearly see fees associated with each of your sales platforms
You have a deeper understanding of your financial statements
<style="text-align: center;"="" ""="" "="">WHEN YOU JOIN THIS PROGRAM,
YOU ARE NEVER ALONE.</style="text-align:>
<em "=""><strong "="">PRIVATE FACEBOOK GROUP
You will have access to a private Facebook group where you will be supported by an incredible peer community of Amazon Resellers just like you
1 ON 1 COACHING SESSIONS
You have the option to purchase four 1 on 1 coaching sessions to walk through any of your business-specific questions that arise after the course. Use your 4 sessions anytime.
What our students are saying…
"I am now confidently (and easily) taking care of my own bookkeeping (a huge money savings for a small(er) seller) and making decisions for my business based on *the real numbers*. As an added bonus, Anna offers amazing customer support. ⭐️⭐️⭐️⭐️⭐️ 5 Star Rating" – Jennifer
"Wow that was easy and a life saver. I've made huge progress in only an hour. I've been unable to get much help from my CPA in several weeks. I feel like a weight has been lifted off my shoulders." – Allan
"To anyone that is unsure about taking the course… I HIGHLY recommend it! It was a life saver. I wish I would have taken it sooner too. You'll learn everything you need to know to be able to get your books in line.." – Michael
IT COMES DOWN TO THIS:
You can keep using your current DIY accounting approach; cobbling together a hodgepodge of unreliable financial information that does not give you confidence.
⎼ OR ⎼
You could save time and money by avoiding trial and error, follow an accounting system created by professionals specifically for Amazon sellers and experience the relief of reliable financial statements for your E-commerce business.
HOW LONG DOES IT TAKE TO CREATE
AN ACCOUNTING SYSTEM IN QBO?
The honest answer is, it depends on you and your current situation. Some students are able to complete the course in a few weeks. It also depends on how large your current Amazon business is and how organized you've been up to now.
Others might take a month or longer. Some of the important variables to remember are the number of accounts, number of transactions per account and the period of time your system will cover.
We recommend you set aside 2-4 hours per week to work through the program and implement the assignments.
Best course ever! Not really knowing my numbers was really negatively affecting my business.Now that I know how to do accounting I fell like I truly know how to grow a healthy business!
I went from not knowing anything about QuickBooks & accounting in general and with the course I totally do understand this whole accounting process from A to Z!
Right when I'm about to give up on QuickBooks, this course comes to the rescue!
 Frequently Asked Questions
Do I have to be an Amazon Seller or Amazon FBA to take this course?
No, this course is appropriate for all e-commerce sellers. Simply disregard the Amazon specific information if it does not apply to you.
What if I use Quickbooks Desktop, GoDaddy or Xero for my Amazon bookkeeping?
We do not recommend this course. This course only covers Quickbooks Online.
What is the refund policy?
You can try "Amazon Accounting Simplified" and if you aren't satisfied, just ask us for a full refund within 30 days of your enrollment date.
Do I get lifetime access to the course material?
Yes, you will get lifetime access to Amazon Accounting Simplified and future updates.
What kind of support is included?
You will have access to a private Facebook group where you will be supported by an incredible peer community. There is also a course option to purchase a block of 1 on 1 private coaching hours.
Are there other costs besides the enrollment cost?
Yes, a QuickBooks Online subscription is required. We've found Simple Start works well for most sellers. Other software solutions, such as Dropbox, Hubdoc, ProperSoft, and Asana are recommended but not required.
Will this course work for QuickBooks Desktop?
No. Video lessons and guides included in this course are shown exclusively in QuickBooks Online. Therefore, we do not recommend this course for anyone planning to use