Anthony Robbins – Personal Power n Subliminal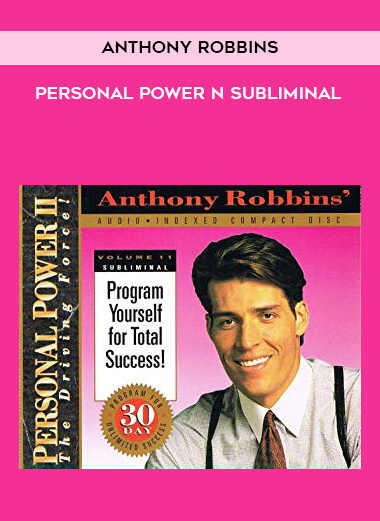 Salepage : Anthony Robbins – Personal Power n Subliminal

By using your unique power, you can access limitless options.
Personal Power is a 30-day program designed to help you reclaim control of your life and make the adjustments necessary to turn it from ordinary to extraordinary.
You will study the basic tactics Tony Robbins established and mastered as part of his own personal road to success in this foundational curriculum. These tactics will assist you, as they did Tony, in reviving your health, achieving the passionate and loving relationship you've always desired, and achieving financial freedom.
"Within every human being lies a great driving force that, when released, can make any vision, dream, or desire a reality."
– TONY ROBBINS Sample Content
Preview PDF
Discover your inner strength to build unstoppable confidence and live your life on your terms.
Do you ever feel like you could do so much more if you could only get out of your own way? Most individuals fail because they allow their own worries to keep them from attempting, not because of external reasons.
Tony Robbins has spent almost 40 years researching how individuals might transcend limiting beliefs and create remarkable lives. Personal Power is at the heart of everything Tony Robbins does now, including his work, relationships, health, and finances.
This is the secret to his own personal achievement, as well as the underlying philosophy that has spurred development and transformation in professional athletes, global leaders, and top business executives.
We all want to better something in our lives, yet getting started may be so overwhelming that we give up entirely. Personal Power requires you to take tiny measures every day for 30 days in order to get substantial results. This program takes the tension out of transformation by teaching you the psychology underlying the process of bringing your goals into reality.
Everything you need to have an incredible life is already within you. Take advantage of this risk-free offer immediately.
Learn how to eliminate negative ideas and replace them with positive ones.
The tried-and-true method for programming your mind for success
How to Overcome Any Fear That's Keeping You Back
How to Instill Self-Belief in Yourself Every Day
Tony's method for swiftly and effectively resolving difficulties
Day 1 Course Breakdown
Personal Power Is the Key
An overview of the Ultimate Success Formula and how to take constant action to get outcomes.
Day 2
The Overpowering Force That Guides Your Life
Learn how to harness the energies of pain and pleasure to effect long-term change in your life.
Day 3
The First Step in Taking Charge
A description of Neuro-Associative Conditioning (NAC) and how it may be used to recondition your sentiments in response to any scenario or person.
Day 4
Neuro-Associative Conditioning: The Science of Success Conditioning (NAC)
Dive further into NAC by interrupting your present thoughts and conditioning them to be replaced with new, empowering ones.
Day 5-7
What Everyone Desires and How to Get It!
Find out why everyone wants to alter two things in their lives. Then, discover how to adjust your physiology and state in order to change anything.
Day 8
The Focusing Power
Now that you understand how your state influences your capacity to change, it's time to alter your state.
Day 9
Beliefs and Values
The Reason for Success or Failure
Examine your principles and beliefs to see if they are assisting or hindering you.
Day 10
How to Take Total Command of Your Life
Discover your limiting beliefs and apply Tony Robbins' exclusive approach, which he employs during his trademark, life-changing event, to permanently overcome them.
Day 11
The Influence of Why
Create a "why" that will urge you ahead now that you've defeated your limiting beliefs.
Day 12-14
The Goal-Setting Workshop: Creating Your Future
Setting objectives is the first step toward making the invisible visible. Break down your objectives and develop a plan of action to attain them.
Day 15
The Power of Rituals in Success Conditioning
To make place for happy emotions, you must first eliminate the negative ones that are holding you back. Gain control of these emotions in order to permanently eliminate them.
Day 16
Setting Yourself Up for Success
Discover what anchoring is and how you can use it to establish good anchors that will keep you in a powerful state that will push you towards your objectives.
Day 17
How to Prepare Yourself for Wealth
An summary of the seven reasons why individuals fail financially, as well as the important first measures you can take right now to begin to transform your wealth.
Day 18
How to Stop Financial Self-Sabotage
The majority of individuals are destroying their riches without even recognizing it. To embark on the path to financial independence, re-evaluate your relationship with money.
Day 19-21
Overcoming Failures, Successes, and Rejections
To eradicate fear, we must change our rules. Learn how to utilize the erasing technique to eliminate fear from your life.
Day 22
Getting Rid of Self-Sabotage and Developing Unstoppable Self-Confidence
Self-sabotage happens when we continue to participate in activities or habits that cause us pain as well as pleasure. Learn how to avoid the ways we seek pain and build self-confidence by following the success cycle.
Day 23
How to Boost Your Energy
You cannot make progress if you lack the energy to work for your objectives. Discover the two most important elements to robust health.
Day 24
The Influence of Healthy Relationships
Learn why relationships collapse and how to keep the passion alive in your relationship.
Day 25
How to Quickly and Effectively Solve Problems
Issues are unavoidable. Create a mental condition that will help you to easily overcome any difficulty.
Day 26-30
Tony's Personal Invitation to You
Realign your beliefs and ambitions using what you've learned to build the life you want.
Examples of Content
Audio Preview Reviews PDF Preview
Terry Shepard, Verified Buyer, Real Estate Broker
Prior to meeting Tony Robbins, I found it difficult to complete tasks. I was also struggling to make ends meet. I was terrified of failing and becoming bankrupt. I truly sat down and evaluated where I was and where I wanted to go. I'll keep doing this and fine-tuning what works and getting rid of what doesn't!