David DeAngek) – Approaching Women in Bars and Clubs iPod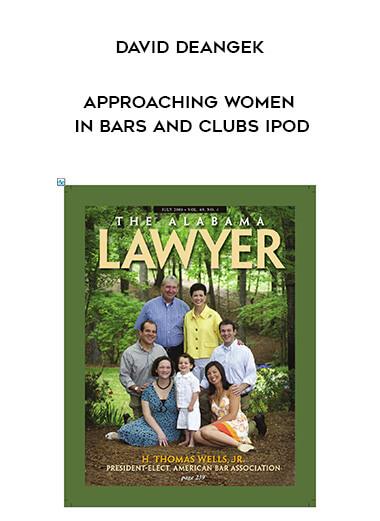 Salepage : David DeAngek) – Approaching Women in Bars and Clubs iPod

RAISING THE BAR: HOW I LIKE TO BE APPROACHED
By the Foxy Blonde
For all of you who have never read her insights let me introduce you to my sexy friend the Foxy Blonde. Today she will share with you how she likes to approached in Bars.
Thanks David!!
Do you ever wish you were Norm? Every night you'd go to Cheers, the bar where everybody knows your name (and shouts it in unison when you walk in). Of course, you'd have to accept being tubby, middle-aged and fictional, but you'd never have to face the fear of approaching strangers. I find real bars to be a lot less friendly than Cheers, especially where I live in Los Angeles. Many guys, tired of games and rejection, won't even attempt to approach the girls. And the girls, sick of drunk frat boy types who come on too strong, have their defenses up so high they're at DEFCON 1. It's a social stand-off where nobody gets lucky.
Guys, let me let you in on a little secret. When I get my friends together, and we get all dolled up for a big night out, it's kind of disappointing if nobody takes the bait. We want you to talk to us. You just have to go about it the right way.
First of all, keep it simple. A guy once picked me up by saying, "I love this song." It turned out I loved that song too. Soon we were talking a mile a minute about obscure 90s British pop bands and after that, how hard was it to ask for my phone number? Not very.
Stuck for a conversation starter? Girls love to give advice, so why not hit one up for some recommendations? Sidle up to a cutie at the bar and ask her where you should you take your best friend or your parents when they come to visit. She'll enjoy impressing you with her picks and you'll both learn a lot about what each other likes to do for fun.
I'm not much for pick-up lines, but I'm always amused when a guy walks up and introduces his buddy, asking, "Have you met Bill?" It's kind of hard to leave the guy hanging after this happens. Conversation ensues.
And now, I'm going to blow your mind with the Best Pick-Up Line Ever. Are you ready? It's, "Hi, my name is _________." I'm serious. This is just good neighborly, Cheers-like behavior. Even if a guy who approaches me and introduces himself is not my type, I would never ignore such a friendly opening. I'd say, "Hi" back and introduce him to my friends. Hey, maybe one of them is a better match.
Sounds easy, right? But there are some pitfalls to avoid. When you're chatting up a girl at the bar, take an interest, but don't interrogate. Personally, I hate being asked what I do for a living within 5 seconds of meeting someone. Often, I'm drinking at a bar because I'm trying to escape the pressures of work, and the last thing I want to do is delve back into the daily grind. Save shop talk for our first date and ask me instead about the last great trip I took, my Halloween costume, or my favorite single malt Scotch.
Another no-no: Don't chicken out. If I'm smiling at you and making eye contact, that's the green light. If you just stand there looking confused, I lose my boner, so to speak.
Don't get sloppy. Sure, a couple of drinks may boost your courage, but too many and you're slurring and spraying spittle. Not sexy.
Don't feel like you have to close the deal in one conversation. It's too much pressure on you and her. Walk away, give her some space, and come back later. Now you're a friendly face instead of a random stranger. You're practically on your second date.
Beware of imitating popular pickup lines, like the approaches espoused by Mystery in "The Game." Any girl who's read the book or seen the TV show will see you coming from a mile away. Seriously, if a guy walked up to me and tried the old, "Do you believe in magic spells?" or "Hey, did you see that fight outside?" I think I'd punch him. These lines are not authentic – unless there really was a fight outside, in which case, go for it. But there is a lesson to be learned from those scripted approaches. They're all about engaging a woman in a topic other than her looks or your desire to screw her. They're about starting a conversation.
I actually feel bad that the whole experience of approaching women in bars can be so fraught with turmoil. I think men should be applauded for their bravery in these situations. (Bravery does not include yelling, "Nice ass!" That's just lame.) My very handsome and cool brother laments that some women act insulted when he approaches them in a bar. To this, I say, shame on those women! Bars are social places. If you "Vhant to be alone" like Greta Garbo, stay home.
And the burden should not rest entirely with the men-folk. Guys, try the eye contact and smiling bit that we made famous. The girls just might come to you. Hey, we're all just looking for a friendly face (and sexy eyes and a hot body, but who's counting).
So let's swap stories — what are the best and worst ways you've ever been approached in a bar? And by all means, pose this question to an appealing stranger next time you're out!
And todays video will be all about the follow up call after you get her number.