APY60-Kurt Johnsen-60 Day Power Yoga Home Fitness Workout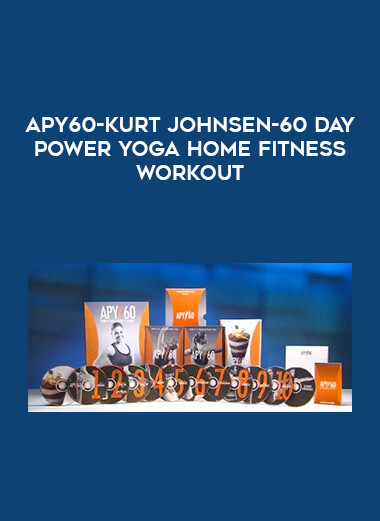 Salepage : APY60-Kurt Johnsen-60 Day Power Yoga Home Fitness Workout
APY60 is the ultimate home Power Yoga DVD system. The 60 day journey will have you feeling better than you have in years, breathing great ,eating delicious foods and breaking down old boundaries that have kept you from reaching your goals. 
Users are able to lose weight at home with 60 individual daily challenges that include a morning warm-up and the APY60 Nutrition Guide, which is filled with tips and delicious recipes. They are also able to gain strength with 10 weeks of easy-to-follow American Power Yoga classes led by Johnsen. The accompanying step by step Fitness Guide provides a convenient place to record workouts, chart progress and measure results. Participants also gain peace of mind with APY60's daily blend of life coaching and conditioning that is designed to eliminate stress and strengthen weaknesses. In the APY60 DVD system, Kurt guides you through 60 daily blends to start your day, 60 days of American Power Yoga classes to lose the weight and get you toned, a step-by-step fitness guide to chart workouts and measure results, a nutrition guide filled with tips and great recipes, and a Kurt's Kitchen DVD that will teach you how to make delicious healthy meals in less than 10 minutes. 
APY60 is a fusion of martial arts and yoga with a number of other workout methods designed to create awareness while developing strength and toning in the body. The unique in-home system of APY60 allows customers to take control of their health by combining the power yoga approach and the nutritional recommendations that are included with the APY60 program.
I have tried lots of different fitness videos (P90X, Insanity, Kettle Works, etc.) and I've always avoided yoga. With each fitness video series I've ever gotten I always get bored and never finish the series. I end up picking the videos I like and mixing them with the videos with the other series I like and just doing those.
This is the first series I have done and stuck with. I LOVE IT! It challenges me physically and mentally. I am longer, leaner, more flexible, healthier, happier and learning to just stop and take a breath! My husband and I do it together everyday and it's been a great way to us to bond and encourage each other with our fitness goals. It is a great challenge at any fitness level and shows you ways to customize it to yours.
The daily blends are different everyday (60 different ones!) which prevents that staleness from setting in with a new 'power yoga' class weekly. I would recommend this video to anyone!!