Ari Galper – Chatwise Golden Package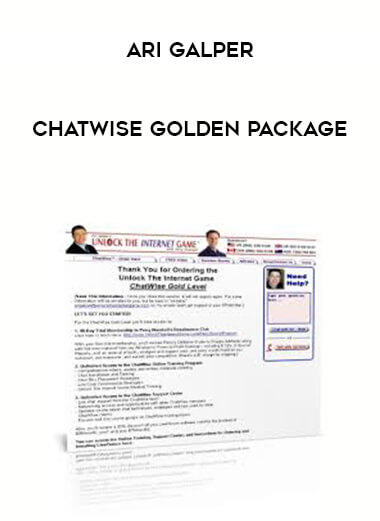 Salepage : Ari Galper – Chatwise Golden Package

All The Sales Gurus
Got It Wrong…
It's Not About The Sale,
It's About TRUST!
selling-painful
From The Desk of Ari Galper, Sydney, Australia…
Old "tried and true" sales training programs that were once successful have completely lost their effectiveness over the years. That's why I developed a proven and tested sales methodology based on creating real trust that will quickly and automatically put you ahead of the game and instantly in a league above your competition.
OLD SALES GURU MYTH # 1 – "Selling is a numbers game." But, sales is only a numbers game when all you know is traditional selling. Yes, you can call people over and over, chase them until they listen to you so that you just go away. However there is a better – easier method of building trust and getting your product or service message across – all on one call. Simply by changing your sales approach, you'll make FEWER CALLS and MORE SALES.
OLD SALES GURU MYTH # 2 – "Use a sales script to sell." People can tell when you're reading from a script, even if you think you're pretty good at it and getting away with it. There's nothing personal about it and people can pick that up. Being artificial just puts you into the typical "Salesperson" category. If you can learn to get your message across in a different way, you'll eliminate the negative triggers that can lose your sale within seconds.
OLD SALES GURU MYTH # 3 – "Focus on closing the sale." Are you "going in for the kill" with your closing sales technique? – If you are, you could end up killing your deal instead. Old sales training techniques do nothing more than pressure the client or prospect, and as a result they naturally want to retreat away from that pressure – and that pressure is created by you. By learning to avoid the "push and pull" dynamic between you and your prospect, you'll be able to move the sales process forward to get the result you want.
OLD SALES GURU MYTH # 4 – "Rejection is part of the sales process". It absolutely is not. Rejection is TRIGGERED by certain things you are saying and doing that you probably are completey unaware of. There is no other sales approach in the world that completely eliminates rejection other than Unlock The Game, read more below.
Welcome to Unlock The Game???
Unlock The Game is a radically honest sales approach based on integrity and common sense. It challenges traditional sales thinking and helps you achieve better sales results.
It's the missing link — a new mindset and language that converts selling into a natural conversation between you and your prospect.
It offers you a new way of thinking about selling, from cold calling — the most dreaded selling experience of all — all the way to the end of the sales process.
You don't have to abandon the selling skills you already know — Unlock The Game gives you a new approach and new tools to help you let go of old behaviors that bring you negative results.
It's incredibly effective.
Best of all, it's easy to learn.