Ari Galper – Chatwise Golden Package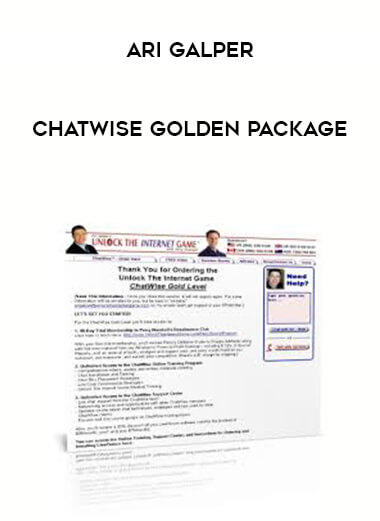 Salepage : Ari Galper – Chatwise Golden Package

All of the Sales Experts
I Was Wrong…
It's Not All About The Money,
It is all about TRUST!
selling-painful
Ari Galper's Desk, Sydney, Australia…
Old "tried and true" sales training systems that were once effective have lost their usefulness over time. That's why I created a tried-and-true sales approach built on building genuine trust that will put you ahead of the game and instantly place you in a league above your competition.
MYTH #1 OF THE OLD SALES GURU – "Selling is a numbers game." When all you know is traditional selling, sales becomes a numbers game. Yes, you may phone and chase them until they listen to you and you just disappear. However, there is a better, easier way to create trust while also communicating your product or service message – all in one call. Simply tweaking your sales strategy will result in fewer calls and more sales.
OLD SALES GURU MYTH # 2 – "Sell using a sales script." People can tell when you're reading from a script, even if you believe you're getting away with it. People can tell there's nothing personal about it. Being artificial just places you in the "Salesperson" category. If you can learn to communicate your message in a different way, you'll be able to minimize the negative triggers that can cost you a sale in seconds.
MYTH #3 OF THE OLD SALES GURU – "Focus on closing the transaction." Are you going "all in" with your closing sales technique? – If you are, you may wind up destroying your transaction. Old sales training tactics do nothing more than put pressure on the customer or prospect, and as a result, they naturally want to avoid that pressure – which you generate. You'll be able to drive the sales process along and get the desired outcome if you learn to prevent the "push and pull" dynamic between you and your prospect.
"Rejection is part of the sales process," says an old sales guru. It most certainly is not. Rejection is TRIGGED by things you say and do that you are probably completely unconscious of. Other than Unlock The Game, there is no other sales method in the world that entirely eliminates rejection.
Hello and welcome to Unlock The Game???
Unlock The Game is a fundamentally honest sales method founded on honesty and logic. It challenges conventional sales thinking and assists you in improving sales performance.
It's the missing piece – a new mentality and language that transforms selling into an organic conversation between you and your prospect.
It introduces you to a new way of thinking about selling, from cold calling – the most hated selling experience of all — through the closing of the deal.
You don't have to ditch your existing selling talents – Unlock The Game provides you with a fresh strategy and new tools to help you let go of undesirable tendencies.
It's quite effective.
The best part is that it is simple to learn.