Aromatherapy Advanced
Delivery : Digital Download Immediately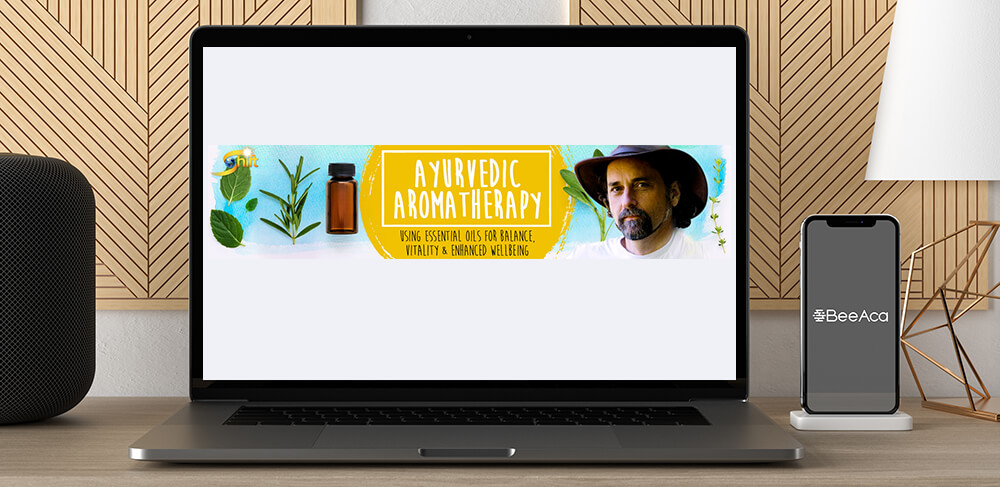 David Crow – The Aromatherapy Advanced Training 2017
Salepage : David Crow – The Aromatherapy Advanced Training 2017
Archive : David Crow – The Aromatherapy Advanced Training 2017
Course Download Size :
New 5-month Training Starts
Wednesday, June 28, 2017
What You'll Discover in These 5 Months
In this 5-month transformational intensive, David will guide you through the skills and competencies you'll need to develop an in-depth understanding of the therapeutic uses of essential oils. You'll explore the botany, history, safe uses and applications of essential oils through the lens of Ayurveda, traditional Chinese medicine, and modern chemistry.
Each weekly, contemplation and training session will build harmoniously upon the previous ones so that you'll develop a complete, holistic understanding of the practices, tools and principles for therapeutic applications of essential oils for specific conditions and issues.
Please note that course lectures are pre-recorded followed by David leading LIVE Q&A sessions to address your questions directly.
Session 1: The Nature of Essential Oils (June 28)
Aromatic plants produce essential oils for their own biological purposes, yet they have great benefits when we use them for our own health. By understanding the cosmological elements and energies that are concentrated in plants, we can learn to safely use their oils for corresponding purposes in the human body.
In this module, you'll discover:
Why plants produce essential oils, and what that means to human health
Extracting and distilling methods
Essential oils as the prana (life force) of plants and its relationship to healing
The solar and lunar energies of essential oils and their therapeutic applications
Essential oils and the five elements according to Ayurvedic and Chinese medicine
How to directly perceive the energies, elements and therapeutic properties of essential oils
Session 2: An Overview of Aromatherapy (July 5)
Although the use of aromatic plants as healing remedies is ancient, the use of essential oils to enhance our wellbeing is a relatively modern development. Because of their extremely concentrated nature, essential oils must be used with a high level of knowledge and caution to avoid causing adverse reactions; when used safely, aromatherapy can support health and wellness in numerous important ways.
In this module, you'll discover:
The differences between medical and non-medical aromatherapy
Quality control issues in the essential oil industry
Myths and fraudulent claims about essential oils
Toxicology and adverse reactions to essential oils
The differences between essential oils and other forms of herbal medicine
Safe and unsafe uses of essential oils
Carrier oils and aromatic waters
Session 3: Therapeutic Categories of Essential Oils (July 12)
Because many essential oils are from similar plant species and have similar chemistry, they can be classified into broad categories of therapeutic functions. By organizing the oils into these groups, we can learn and remember a large number oils quickly and easily.
In this module, you'll discover:
The healing effects of medicinal and exotic flowers
Sacred woods and precious resins
The dangers and powers of spice oils
The respiratory and mental benefits of conifer and eucalyptus oils
Citrus oils for uplifting moods
Essential oils with unique antimicrobial powers
Chemotypes and ecotypes of essential oils
Sessions 4 & 5: Aromatherapy for the Respiratory System (July 19 & 26)
Aromatic plants have been used since antiquity for treating conditions of the lungs and counteracting airborne pathogens. Today, aromatherapy is well known for its highly beneficial effect on the respiratory system. Because of their decongestant, expectorant, anti-microbial and anti-inflammatory powers, many essential oils are the first line of treatment for common health challenges.
In this 2-session module, you'll discover:
Contagion and the antimicrobial powers of essential oils
The historical use of aromatic plants for epidemics
In vitro and in vivo research on the antimicrobial effects of essential oils
How to use essential oils according to Ayurvedic and Chinese principles for treating respiratory conditions
The therapeutic categories of essential oils for respiratory health
Aromatherapy for immune enhancement
Major chemical compounds in essential oils responsible for respiratory benefits
Aromatherapy for the treatment of colds and flus, sinusitis, bronchitis, asthma and allergies
Aromatherapy for smoking cessation and nicotine withdrawal
Specific methods of applying essential oils for respiratory conditions
How to combine essential oils and herbal medicine for the treatment of respiratory conditions
Sessions 6 & 7: Essential Oils & the Digestive System (August 9 & 16)
Aromatic herbs and spices are some of the best and safest treatments for digestive problems, but the internal use of essential oils from those plants is extremely dangerous. Knowing how to use highly diluted preparations of oils, or preferably, the herb in place of its essential oil, is one of the most important lessons for an aromatherapist.
In this 2-session module, you'll discover:
How to use essential oils according to Ayurvedic and Chinese principles for treating digestive disturbances
Dangers of internal consumption of essential oils
Therapeutic categories of essential oils and aromatic plants for digestive health
Aromatic herbs and preparations for food allergies, IBS, constipation, anorexia, indigestion, gas and bloating and other digestive problems
How to combine essential oils and herbal medicine for the treatment of digestive conditions
An understanding of the complexities of diagnosing and treating parasites
Essential oils and aromatic preparations for dental and oral health
Session 8: Aromatic Treatments for the Nervous System (August 23)
Inhaling the fragrance of essential oils has a direct influence on the limbic system of the brain, and is therefore beneficial for a wide range of emotional, mental and cognitive functions. When used in conjunction with herbal medicine, these effects can be enhanced with excellent therapeutic results.
In this module, you'll discover:
Essential oils for concentration, memory and cognitive function
Neuro-degeneration and chemosensory disorders
How to use fragrance to restore olfactory function
How to combine essential oils and herbal medicine for the treatment of headaches and migraines
Essential oils and aromatic preparations for shingles, post-herpetic pain and nerve inflammation
Session 9: Essential Oils for the Musculoskeletal System (August 30)
Aromatic plants have a long history of use in medicinal preparations for pain, injuries and inflammation. Modern research is now confirming the effects of the aromatic compounds from these plants. When used in simple, but safe, preparations, essential oils can be highly therapeutic either as a primary or a complementary treatment.
In this module, you'll discover:
Essential oils and aromatic preparations for sprains, strains and soft tissue injuries
How to combine essential oils and herbal medicine for autoimmune inflammation, degenerative joint problems and fibromyalgia
Aromatic preparations for protecting the joints and muscles
Sessions 10 & 11: Essential Oils for Women's Health (September 13 & 20)
Aromatherapy can have numerous benefits for women's health and wellbeing, especially when combined with the support of herbal medicines. Essential oils, from flowers especially, are known to have a unique biological relationship with female hormonal balance and biorhythms.
In this 2-session module, you'll discover:
The unique biological relationship between flowers and women's health
Essential oils and aromatic preparations for the treatment of dysmenorrhea, PMS, menopausal symptoms and other gynecological conditions
Regulation or disruption of glandular functions with essential oils
How to combine essential oils and herbal medicine for women's health concerns
Botanical perfumes and romantic moods
Sessions 12 & 13: Aromatherapy for Emotional Wellbeing (September 27 & October 11)
Because of the direct links between fragrance, the limbic system, moods and mental states, aromatherapy is a highly effective treatment for emotional wellbeing, either alone or in conjunction with other healing modalities. Understanding how these oils work, according to traditional Asian medical concepts, and knowing which oils are consistently the most psychoactive, gives the aromatherapist excellent tools for supporting emotional and mental healing.
In this 2-session module, you'll discover:
The links between fragrance, consciousness and the limbic system
The effects of botanical aromas on Shen (spirit) according to Chinese medicine
Aromatherapy for sleep, dreams and mental purification
Aromatherapy treatments for depression, Seasonal Affective Disorder and grief
Essential oils with renowned anxiolytic and calmative powers
Unique psychoactive oils and aromatic preparations
How to combine essential oils and herbal medicine for emotional balance and wellbeing
Session 14: Aromatherapy for Meditation & Spiritual Practices (October 18)
The use of aromatic plants in ritual and ceremony is an extremely ancient practice, yet is still found in every spiritual and religious tradition around the world. The essential oil compounds released by burning sacred woods and resins have a pronounced effect on consciousness, purify the atmosphere of microbial toxins, and often produce significant spiritual, and even magical, benefits.
In this module, you'll discover:
The history of the sacred botanical aromatics
Traditional and modern methods of using woods, resins, and botanical incenses
Aromatic rituals and ceremonies for removing obstacles and manifesting intentions
The psychoactive compounds found in sacred scents, and their unique effects on consciousness
The purifying effects of sacred scents: antimicrobial, mental and spiritual
Session 15: Essential Oil Uses for Pregnancy, Children & the Elderly (October 25)
The extremely concentrated nature of essential oils necessitates that they be used with caution and in special preparations for treatment of sensitive people, including pregnant women, children and the elderly. When the correct species of oils are used in correct dilutions, aromatherapy can be safe and effective for these people, and a very beneficial modality for numerous health challenges.
In this module, you'll discover:
Safe practices of aromatherapy during pregnancy
The benefits and challenges of using essential oils for the elderly
Simple and safe aromatic treatments for common pediatric problems
Aromatherapy and herbs for ADHD and learning disabilities in children
Essential oils and aromatic treatments to reduce symptoms of Alzheimer's and Parkinson's
Session 16: Combining Essential Oils & Aromatherapy With Allopathic Treatments (November 8)
Large numbers of people use prescription medications for complex health challenges, but would like to incorporate natural treatments. By understanding the potential problems of herb/drug interactions, essential oils and aromatherapy can be safely used with great benefits for reducing many symptoms that allopathic medicine does not treat effectively.
In this module, you'll discover:
Herb/drug interactions with essential oils
Estrogenic and estrogen-like effects of essential oils
The benefits of aromatherapy during chemotherapy and radiation treatments
Aromatic plants and essential oils for post-antibiotic recovery of digestive and respiratory health
Session 17: Essential Oils for Skin Care (November 15)
Like all other aspects of aromatherapy, essential oils can be either beneficial or problematic when used for skin care. Some specific species of oils are renowned for their skin healing powers, and when used appropriately can produce excellent results even for sensitive people.
In this module, you'll discover:
Compatibility and incompatibility of essential oils with skin
Essential oils and aromatic preparations for skin conditions such as acne and eczema
Important oils and preparations for wound healing and scar tissue
Essential oils and aromatic preparations for fungal infections
Session 18: Rare & Unusual Essential Oils & Aromatics (November 29)
Modern aromatherapy is based on the use of a relatively small number of well-known essential oils, yet a larger number of lesser-known oils are available. Even though they are not used as extensively, we can still find enough information from various sources to safely incorporate these unique oils into our aromatic pharmacopeia.
In this last module, you'll discover:
Unusual essential oils known in Corsican aromatherapy, such as bupleurum, samphire and lentisque
The potential benefits of emerging new essential oils, such as moena
Rare species of common oils such as eucalyptus
Rare and precious floral extracts such as gardenia, tuberose and lilies
The Aromatherapy Advanced Training Bonus Collection
In addition to David's transformative 5-month online training, you'll receive these powerful training sessions and bonus materials. These bonuses are being offered to complement what you'll learn in the course and deepen your understanding and practice.
Corsican Helichrysum: The New Gold Rush
Audio Recording From David Crow
The essential oil of Helichrysum italicum has emerged on the world market as one of the most therapeutically important and economically valuable oils. Its transformation from a relatively obscure flower to a precious commodity has brought about numerous ecological, political and economic challenges for those who cultivate, harvest and distill the oil.
This presentation will cover:
How immortelle became famous
The complex interrelationships of tourism, industry, traditional livelihoods and the disappearance of wild plants
Therapeutic differences of wild versus cultivated varieties, ecotypes, and chemotypes
Cultivation, harvesting and distillation methods
Unique spiritual characteristics of immortelle oil
Plants that Heal
Ebook by David Crow
In this collection of essays by David Crow, you'll deepen your discovery of the healing powers of plants. Essay titles include Roses, The People's Pharmacy, Stimulants, Dental Health, Cosmic Chemistry, The Aromatic Journey of Prana, Fragrance and Consciousness, Frankincense and Myrrh, Essential Oils and the Fifteen Subdoshas, Medicines For The Earth and many more.
Sacred Smoke
Ebook From David Crow
Sacred Smoke is an ethnobotanical adventure story of lives transformed by the inexplicable power of plant intelligence. The book includes beautiful photos as well as online resources for readers to continue the adventure with Palo Santo in their own lives. 190-page ebook edition.
20% Discount From Floracopeia Store
Including the Aromatherapy Student Tester Kit
As part of your participation in the course, you'll receive a 20% savings on any purchases you'd like to make from David's Floracopeia online store. Your bonus also includes an additional discount on the Aromatherapy Student Tester Kit. Immerse yourself in the experience of how essential oils smell when they're expressing their full potential. Floracopeia's oils are among the finest in the world and are excellent for use in training.
Author
David Crow, LAc, is one of the world's foremost experts and leading speakers in the field of botanical medicine and grassroots healthcare. He is a master herbalist, aromatherapist, and acupuncturist with over 30 years experience, and is an expert in the Ayurvedic and Chinese medical systems. David is a renowned author, a poet, and the founding director of Floracopeia Aromatic Treasures. Floracopeia was created as a way to help preserve and promote the use of botanical medicines as solutions to numerous interrelated global problems, such as lack of healthcare, poverty, environmental destruction, and loss of ethnobotanical knowledge.
Readmore: David Crow