AWAI Financial Copywriting Course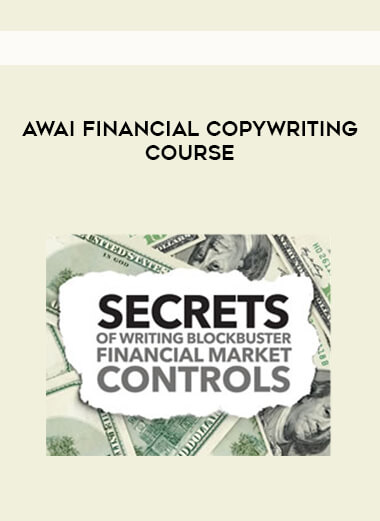 Salepage : AWAI Financial Copywriting Course

We Teach You How to Make a Great Living as a Writer
Get the most in-demand writing skills
Land high-paying writing assignments
Achieve your financial goals
New to AWAI? Start Here
Or discover the freedom you can achieve with the writer's life below.
My "job" moves with me!
Writing from my sailboat in Mexico.
Flexibility to set my own hours.
Join Over 250,000 Professional and Aspiring Writers
Rachael Kraft
Member Since 2012
Former Military Spouse Doubles Income with New Career
Learn More About Rachael
The Industry's Leading Program for Becoming an In-Demand Copywriter
No matter what path you want to take to the writer's life, knowing how to write persuasively is at the heart of it all.
AWAI's Accelerated Program for Six-Figure Copywriting gives you what you need … from learning the skills to getting great clients … and everything in between.
Join the thousands of writers who have already launched their careers with The Accelerated Program.
Learn More About The Accelerated Program Here
What is copywriting?
What Our Members Say About AWAI…
Previous

"I OWE MY WRITING CAREER TO AWAI."

RATED 5 OUT 5

    

I owe my writing career to AWAI. I never would've even known about direct response copywriting without them — much less how to get started. Their courses are relevant, timely, and thorough. I always feel like I'm getting the most up-to-date information about today's marketing trends. And they genuinely care about their members, and are excited about your success.

— Candice Lazar

"MY FIRST PROJECT ACCEPTANCE PROVED THE SYSTEM WORKS."

RATED 5 OUT 5

    

I was skeptical about the possibility of earning a living as a freelance writer… I am so glad I decided to give it a try! The teaching is excellent, my confidence is growing, and my writing has improved immeasurably. My first project acceptance proved that the system works.

— Peggy McClain

"AWAI HAS OPENED A LOT OF DOORS FOR ME…"

RATED 5 OUT 5

    

AWAI has opened a lot of doors for me… valuable industry contacts… terrific training on how to write effective copy… business skills to expand my impact as a copywriter, and as a marketing strategist. Financially, it has meant literally hundreds of thousands of dollars to me, and millions to my clients… and many lasting friendships…

— Mike Connolly

"THE BEST INVESTMENTS I'VE MADE… SINCE LAW SCHOOL!"

RATED 5 OUT 5

    

Each of my investments in AWAI and

Circle of Success

are — hands down — the best investments I've made in my future… specifically, my future enjoying my passion of writing — since investing my time and money in law school!

— Tim Geiger

"BEFORE FINISHING…

I HAD MY FIRST JOB…"

RATED 5 OUT 5

    

When I started taking AWAI programs I had many doubts in my mind about whether all of this was for real. But even before finishing the program, I had my first job, and became a firm believer. I have since taken many other programs in different niches and have learned so much…

— Cecelia Pineda

"IT WAS WORTH IT A HUNDRED TIMES OVER."

RATED 5 OUT 5

    

I decided to take AWAI courses because I wanted the lifestyle, and fun, that copywriting can bring. It wasn't always easy, and yes, it does cost money. But it was worth it a hundred times over. I work in copywriting full time now, and I'm having a blast. I recommend AWAI wholeheartedly.

— Christina Allsop

"AWAI HAS ENABLED ME TO LIVE MY WRITER'S LIFE."

RATED 5 OUT 5

    

AWAI has enabled me to live my

writer's life.

The classes, mentoring, reviews and feedback have helped me to understand how to best get the message across. I never knew I wanted to be a web writer — but that is what I am today. Thanks to AWAI, I earn a significant income each year with the flexibility to travel with my retired husband, or visit my military kids…

— Diane Sweeney

"THE CONFIDENCE TO START A NEW 'RETIREMENT' CAREER."

RATED 5 OUT 5

    

I have found AWAI to be the ultimate resource for any copywriter, from beginner to experienced pro. The creativity, dedication and support from the entire team has been so valuable to me. Tips and tools to help you create your perfect business are offered daily, and access to copywriting experts has given me the confidence to start a new "retirement" career.

— Cheryl Risner

"OPENED DOORS THAT I NEVER KNEW WERE THERE…"

RATED 5 OUT 5

    

… I am now putting my business end together, and writing for the Sport Fishing Industry, specializing in Women's Sport Fishing. AWAI is able to provide the tools I need to open doors that I never knew were there, and then show me the way. It isn't easy, but I love learning, and love the people at AWAI because they care about all of us.

— Cynthia Jackson

"EXTREMELY VALUABLE TO MY CAREER…"

RATED 5 OUT 5

    

AWAI trainings, and the staff that give them, are professional and extremely valuable to my career as a copywriter. Many of them have gotten me started on the path to writing for clients, and I continue to work my way through their online courses.

— Joyce Hollman

"INCOME ACTUALLY SURPASSED WHAT I USED TO MAKE…"

RATED 5 OUT 5

    

With the help of AWAI, I have been able to work from home as a freelance copywriter for over a decade now. Each year, I've earned a great income that actually surpassed what I used to make as a chiropractor. I owe a lot to AWAI.

— Susan Nickerson

"FOLLOW THEIR ROADMAP, YOU WILL FIND WRITING SUCCESS."

RATED 5 OUT 5

    

AWAI keeps their promises of support and guidance. If you follow their roadmap, you will find writing success. Those with the right focus, soon find that AWAI's roadmap shapes into their own unique roadmap.

— Marianne Foscarini

"MY WRITING CAREER HAS FLOURISHED…"

RATED 5 OUT 5

    

I've been an AWAI member since 2013 and can honestly say my writing career has flourished because of the instruction I've received from their top-notch programs. My membership has opened up a whole new world of profitable writing opportunities for me. Within a year of starting their

Circle of Success

program, I had more clients than I could handle.

— Elizabeth Blessing

"IF YOU'RE SERIOUS… LOOK NO FURTHER…"

RATED 5 OUT 5

    

If you're serious about professional training as a writer, look no further … AWAI has a path for you. This company is based upon ABSOLUTE INTEGRITY, is well-respected in the industry, and is the gold-standard for copywriting training. In my life, AWAI has been a GREAT DECISION.

— Constance Revoldt

"A STRONG AND SUPPORTIVE COMMUNITY…"

RATED 5 OUT 5

    

AWAI's programs and groups have helped me grow my writing skills, learn about various writing opportunities, learn how to start a business, and have given me a strong and supportive community of writers and friends. Without them, I wouldn't have known how to start a writing business and get clients.

— Paula High-Young

"AWAI POSITIONS YOU FOR LONG TERM SUCCESS."

RATED 5 OUT 5

    

When you look around the internet right now, there are many programs available on copywriting. I've taken almost all of those courses. While there are excellent classes available that cover specific topics, AWAI has the exceptional PROGRAM that covers almost every area A-Z. The concepts they teach are timeless, which positions you for long term success.

— Cindy Hageman

"AWAI'S GENEROSITY… KEEPS ME COMING BACK."

RATED 5 OUT 5

    

I can't say enough about AWAI. The AWAI staff has been nothing but generous and attentive. I've met wonderful people, helpful people, and people truly interested in me as a writer. Many places are only interested in the money for the courses. AWAI is interested in doing all they can for the development of the person as a writer. That keeps me coming back.

— Cathy Chapman

"I CAN'T RECOMMEND AWAI HIGHLY ENOUGH."

RATED 5 OUT 5

    

If you're interested in learning the copywriting and business skills necessary to start your own freelance copywriting business, AWAI is the place to go. AWAI has a vast array of different programs, from general copywriting skills programs, to business building programs, to programs for various niches. I can't recommend AWAI highly enough.

— Vincent Gonsalves

"THE BEST THING YOU CAN DO… AS A WRITER…"

RATED 5 OUT 5

    

AWAI provides outstanding training, and they truly want all their members to succeed. I joined their highest-level mentorship program at the end of 2018 and have quickly seen my freelance income rise. AWAI is giving me a real path forward in my career. The best thing you can do, if you want to make a great living as a writer, is to get as involved with AWAI as you can.

— Rebekah Mays

"THE RICHEST MOTHERLODE OF SOLID GOLD INFORMATION…"

RATED 5 OUT 5

    

What can I say? This is the richest motherlode of solid gold information on the subject of copywriting there is… because they are constantly adding new programs, articles, lessons, etc. It is the richest resource I could ever have hoped to find when it comes to learning how to write quality copy. The staff and instructors are stellar, and the support is second to none.

— Shea McNaughton

"TODAY, AWAI IS LIKE A FAMILY TO ME."

RATED 5 OUT 5

    

AWAI is the "real deal." Its courses, newsletters, webinars and more provided me the foundational skills I needed to get started. And the AWAI staff and the extended copywriting "family" I've discovered through AWAI has given me support unlike anything I experienced over a 30 year technology career. Today, AWAI is like a family to me. I have absolutely no regrets…

— Les Worley

"AWAI STANDS BEHIND THEIR PRODUCTS, AND MEMBERS."

RATED 5 OUT 5

    

AWAI's products are written by professional copywriters and marketers, and form an excellent foundation for anyone wanting to make money as a writer. Can you learn the skills from other professionals or books? Yes, you can. But in my experience with AWAI, there is no group of people more willing to stand behind their products, and their members.

— Jon Stoltzfus

"THEY TRULY DO WANT YOU TO SUCCEED…"

RATED 5 OUT 5

    

AWAI products and customer service are of the highest standard. Their product range is remarkable, their custo

mer service is always first class. They truly do want you to succeed in your chosen writing niche and will do everything they can to help you achieve that…

— Danny Swanson

"MEMBER SUCCESS TEAM IS WORTHY OF HERALDING."

RATED 5 OUT 5

    

AWAI's courses, professional guidance, and vast resources are of consistent high quality. This includes their knowledgeable Member Success team, who've helped me many times. They're kind, caring, and thoughtful… worthy of heralding. AWAI is a well-run company, comprised of honest, honorable people who deserve their excellent reputation.

— Victoria Taylor

Next
Expert training, resources and support for aspiring and professional writers.
Sign up for The Writer's Life — the free daily e-newsletter over 250,000 writers rely on to make a great living…
Each day you'll receive actionable advice from working writers you can use to write smarter, get paid faster, and build the kind of lifestyle you want.