Axel Braun – Squirting 201 Voll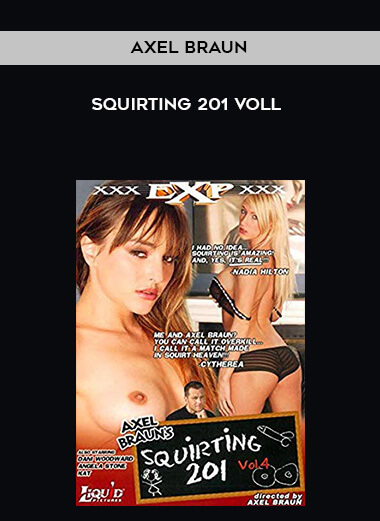 Salepage : Axel Braun – Squirting 201 Voll

Genre: Gonzo
Director: Axel Braun
Cast: Missy Monroe, Penny Flame, Victoria Sweet, Gabriella Banks, Sunny Lane, Mark Davis, Tony T., Scott Nails
Length: 2:00
Production Date: 6/24/05
Extras: photos, behind the scenes
Audio/Video: The video is presented in widescreen color. The picture quality is pretty good, with only an occasional portion with poor lighting. The audio is presented in 2-channel stereo and sounds very good.
Body of Review: Just as the title suggests, Squirting 201 Vol. 1 is about squirting. When some girls get fucked really hard, they squirt with excitement. In this DVD Braun gives a slight narration while he puts live porn stars in action. It's not as nasty as some of the squirting videos I've seen with girls Tiana Lynn or Cytherea. There really isn't that much squirting. Here's the scene by scene.
Scene 1:

Penny Flame

Acts Included:

Oral, Vaginal, Facial

Positions:

Missionary, Doggie, Cowgirl, Reverse Cowgirl

Condoms:

No
Penny is a great looking gal. She is the lovely brunette on the left side of the DVD cover. She has a pretty face, a hot body and a nice rack. The fun opens with her and Scott Nails getting it on. He fingers and eats her out while Axel coaches from behind the camera. Next she returns the favor and gives the dude a blow job. Both acts were decent and thankfully the sex offers a lot more fun. Penny looks great getting fucked and her body jiggles in all the right places. For those who are interested in seeing squirting, there is none in this scene.
Scene 2:

Gabrielle Banks, Victoria Sweet

Acts Included:

Oral, Vaginal, Facial

Positions:

Missionary, Doggie, Cowgirl, Reverse Cowgirl, Spoon

Condoms:

No
Gabrielle is a pretty cute babe with a nice body and tits. Victoria is also attractive. The fun begins with the two girls on a couch with Tony T. They talk and then they suck him off. Most of the oral action has him lightly face fucking the girls. It's pretty heated. Next the trio move into sex. Tony takes turns with each girl and fucks them in turn. The girls make no effort during the action to play with each other. They just watch from the side. Overall a good scene with some decent action. For the squirting fans, Victoria squirts a couple of times towards the end.
Scene 3:

Sunny Lane, Missy Monroe

Acts Included:

Oral, Vaginal, Facial

Positions:

Missionary, Doggie, Cowgirl, Reverse Cowgirl, Spoon

Condoms:

No
Missy is a cute babe who I have enjoyed watching in action. Sunny is a gal who hasn't impressed me at all. The action opens with Missy sucking off Mark Davis and licking his butt hole. Eventually Sunny joins them and adds another mouth for more oral sex. Then Sunny disappears and Mark eats out Missy. Missy squirts all over his face and she licks him clean. Next they fuck and Missy squirts some more. At one point the camera loses its focus on Missy and Mark and we watch Sunny pole dance. Then back to Missy and Mark. Later Sunny gets to have sex with Mark and Missy does some more squirting. She even takes some squirt in her mouth and spits it in Mark's mouth.
Concluding Words: I'm not a huge fan of squirting and I didn't really care for this DVD a whole lot. However the reason I didn't like this DVD was not because of my dislike of squirting, but the actual action. There are three scenes and two are fairly good, but none of the action really stands out. For that reason I think this DVD is best as a rental if you are really interested in seeing some squirting that isn't too nasty.