Bart Vale Advence Shootfighting Instructors 9 DVD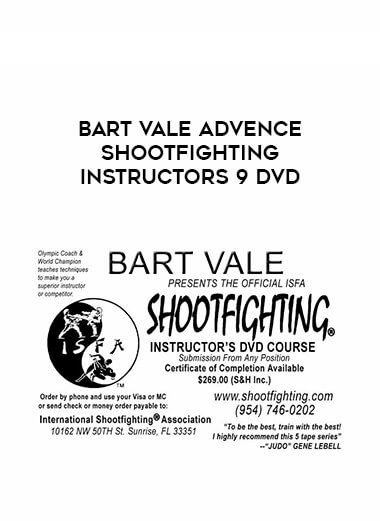 Salepage : Bart Vale Advence Shootfighting Instructors 9 DVD

 The ISFA Shootfighting® Instructor's DVD Course is a five (5) hour program consisting of five (5) one hour individual DVDs. Designed for the individual, this program is the first step towards becoming an ISFA Licensed Shootfighting® Instructor.
Novice or advanced, whether you plan to incorporate Shootfighting® into your existing training programs or are just starting out, this course is where it all begins. It's an easy, inexpensive way to evaluate if Shootfighting® is right for you and/or your school.
Once you have gone through the material and are ready to demonstrate your skills the program can be completed in one of two ways: The first option is to schedule a test with a Regional Coordinator. Their contact information is available under the regional coordinators section of our website. The test only takes about 30 minutes. The second option is to film a 30 minute video-tape (or DVD) demonstrating the techniques covered in the course and send it directly to the ISFA for review.
Once you have completed the Instructor's Course and received your Certificate of Completion, you are eligible to attend ISFA Instructor's Camps. Camps are offered six (6) times a year. During the camp you will have the opportunity to work one-on-one with advanced instructors and/or Bart Vale himself.. Through the Instructor's Camp you will best be able to establish a direction towards your ISFA License. Only Certified ISFA Instructors can test students and assign rank. Exclusive Area Licenses are also only available to Certified ISFA Instructors.
To purchase your Official ISFA Shootfighting® Instructor's DVD Course order by phone with Visa or MC by calling (954) 746-0202. Or send check or money order payable to:
Volume 1: Introduction To Shootfighting®
World Champion Bart Vale teaches the dynamic exercises and techniques that form Shootfighting® – $39.95
Volume 2: Fundamentals of Shootfighting®
This tape will give you the necessary foundation needed to perform the intricate Shootfighting® manuevers that are taught in this series – $39.95
Volume 3: Strategies of Shootfighting®
Fight strategies to become an effective Shootfighter¨ also includes new techniques to control your opponent – $39.95
Volume 4: Self-Defense Thru Shootfighting®
Bart Vale shows you street effectiveness of Shootfighting® – $39.95
Volume 5: Shootfighting® At It's Best
Bart Vale puts you through an advanced workout designated to develop speed, power, endurance, flexibility and reflexes. Also includes more advanced Shootfighting® techniques and self-defense applications for the street – $39.95
Volume 6: Techniques of Shootfighting®
Bart Vale shows you how Shootfighting® will enable you to dominate and control your opponent. Also, includes several advanced techniques designed to make your attacker submitt quickly – $39.95
Volume 7: Dynamics of Shootfighting®
Bart Vale continues to expand your knowledge with new technique theories and concepts. Bart Vale shows you the training techniques and combinations that made him world champion – $39.95
Volume 8: Ultimate Movements of Shootfighting®
This tape includes exercises and review of techniques. Bart Vale finishes with some of the most devastating Shootfighting® techniques – $39.95