Bas Rutten – Superior Free Fight Techniques Vol. 1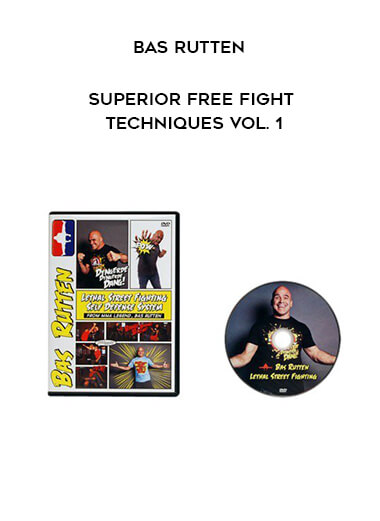 Salepage : Bas Rutten – Superior Free Fight Techniques Vol. 1

In this dynamic DVD World "Ultimate Fighting Champion" and 3X "King Of Pancrase", Bas Rutten personally teaches you his "Lethal Street Fighting" Self Defense System designed to immediately give you the skills and combat techniques needed to win any street fight! Winner of over 200 deadly street fights and numerous No-Holds-Barred Titles Rutten knows what he is talking about when it comes to reality combat. All techniques taught in this exciting DVD have been battle tested by Rutten in the ring and on the street so you know they will work in the deadliest combat situations! Don't Delay! Start learning the World's most effective Street Fighting Self Defense System by ordering Bas Rutten's, "Lethal Street Fighting" training DVD Today! Over 1 hour 45 minutes of non-stop action! What you learn today may save your life tomorrow.
Techniques taught by Bas Rutten in this dynamic DVD include:
*Proper street fighting posture and positions to take when encountering the enemy to give you the advantage when the fight begins.
*Strikes including the straight right punch, uppercut, the deadly palm heel strike, elbow strikes, nasty eye gouges and nose breaking head butts.
*Kicks including front kicks to the groin and solar plexus, knee smashes to the face and body, stomping kicks for when your opponent is down, roundhouse kicks to the head and body plus deadly low kicks to the legs.
*Over 75 non-stop Lethal Self Defense techniques covering every street fighting situation you may encounter including techniques against one and two man attacks, defensive techniques against deadly knife and gun attacks, defending against attempted take downs, ground fighting self-defense and much more!
*How to use everyday instruments as deadly weapons against your attacker such as beer bottles and chairs, street fighting strategy and much, much more!