BASIC ICBCH – Clinical Hypnosis Certification Homestudy Training Program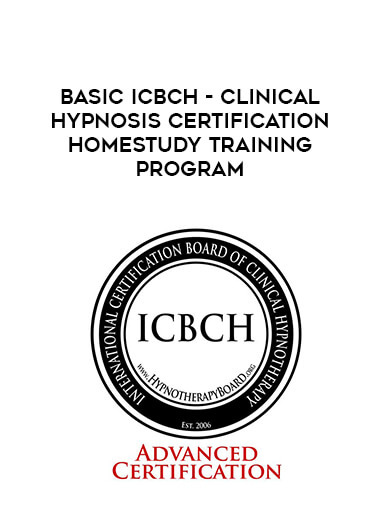 Salepage : BASIC ICBCH – Clinical Hypnosis Certification Homestudy Training Program

Learn Hypnosis – Become a Certified Hypnotist
The International Certification Board of Clinical Hypnotherapy is a worldwide hypnosis association organization that provides education to the public and professionals via live training classes and home-study courses. Learn about the benefits of clinical hypnosis with hypnosis certification programs and hypnotherapy certification courses.
ICBCH offers four levels of professional certification recognition in hypnosis and hypnotherapy. The right level for you will depend upon your education and clinical practice experience.
Program fees include an initial two-year ICBCH Membership, all course materials, and the corresponding Certification designation.
State Licensed professionals may also be eligible for state and national board approved CEU credits, at no additional charge.
The 20-hour Basic clinical hypnosis certification course of study will teach you how hypnotize others safely and effectively with confidence, and to assist clients with various difficulties by utilizing methods of clinical hypnosis.
The course content is intended to educate those who have very little or even no prior experience in creating effective hypnotic inductions or writing prescriptive hypnotic scripts that are designed to help clients with altering unhealthy patterns of behavior and thinking, leading to personal satisfaction.
Those with prior experience in clinical hypnosis will also benefit by refining skills and techniques and learning the suggestive therapy approach of Advanced Parallel Programming offered in this program.
This comprehensive hypnotist training program is designed to provide you with basic required skills and help you learn how to actually implement hypnotherapy into clinical practice with real clients, with confidence!