BaZi Profiling Series – The Ten Profiles by Joey Yap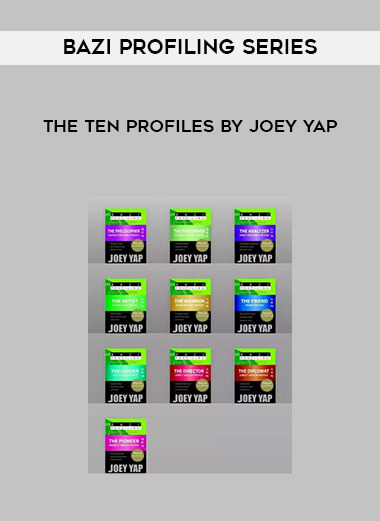 Salepage : BaZi Profiling Series – The Ten Profiles by Joey Yap

Please kindly take note!!!
This is an Ebook, only softcopy of the ebook will email to you. NO hardcopy book will delivery out.
Payment and delivery:
Please kindly provide your EMAIL address in "message:" during checkout.
2.The PDF ebook link will be emailed to you after payment has been confirmed.
You can access the file(s) via google drive only. It will be available to you as long as google drive is active.
BaZi Profiling Series – The Ten Profiles 
Know The Roles You Play In Life
Your BaZi Profile peels off another deeper layer of your personality to reveal the roles you consciously and unconsciously play in life. Through this series, you will find out which Profile you belong to and learn your path of least resistance to success. Every individual is different. Learn to see the world through the lens of 10 different Profiles!
What You'll Learn:
Cultivating your inborn talent and nature to create positive changes in your career, relationship and friendships
Your self-image which shows how you consider yourself consciously or subconsciously
Awareness of your strengths and weaknesses
Understand how a person modifies their basic nature when under extreme pressure
The books in BaZi Profiles:
The Director – Direct Wealth Profile
The Friend – Friend Profile
The Performer – Hurting Officer Profile
The Philosopher – Indirect Resource Profile
The Analyzer – Direct Resource Profile
The Artist -Eating Gods Profile
The Warrior – Seven Killings Profile
The Diplomat – Direct Officer Profile
The Leader – Rob Wealth Profile
The Pioneer – Indirect Wealth Profile