BaZi Profiling Series – The Ten Profiles by Joey Yap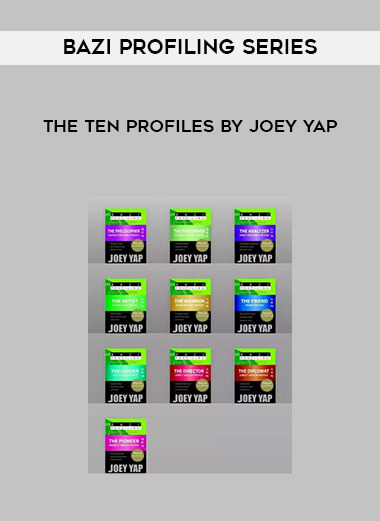 Salepage : BaZi Profiling Series – The Ten Profiles by Joey Yap

Please take notice!!!
This is an Ebook, and only a softcopy will be emailed to you. NO HARDCOPY BOOKS WILL BE DELIVERED.
Payment and shipping:
Please provide your EMAIL address in the "message:" field during checkout.
2.After payment has been verified, you will receive an email with a link to the PDF booklet.
You can only access the file(s) using Google Drive. You will have access to it as long as Google Drive is operational.
The Ten Profiles of the BaZi Profiling Series
Understand Your Life Roles
Your BaZi Profile reveals another deeper dimension of your personality by revealing the roles you play in life, both consciously and subconsciously. You will learn which Profile you belong to and your route of least resistance to success through this course. Every individual is unique. Discover how to experience the world through the eyes of ten distinct Profiles!
What You'll Discover:
Using your natural skill and nature to make great changes in your job, relationships, and friendships
Your self-image, which reflects how you think about yourself consciously or subconsciously.
Understanding your own strengths and shortcomings
Understand how a person's core essence changes under great circumstances.
The following novels are included in BaZi Profiles:
Direct Wealth Profile of the Director
The Profile of a Friend
Profile of the Performer – Hurting Officer
Indirect Resource Profile – The Philosopher
Direct Resource Profile – The Analyzer
Profile of the Artist -Eating Gods
Profile of The Warrior – Seven Killings
Profile of a Diplomat – Direct Officer
Rob Wealth Profile – The Leader
Indirect Wealth Profile – The Pioneer