BJJ Over 40 (Roy Harris)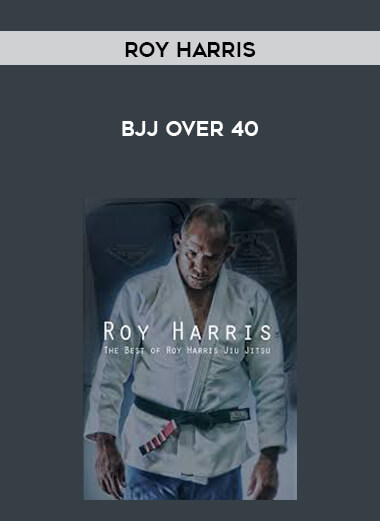 Salepage : BJJ Over 40 (Roy Harris)
NOTE: i just noticed that the  stuff is not working 100 % correctly cause the colours are wrong f.e. roy harris face seems to be red and going into blue…there for i will set this on free leech…for people who say it doesn`t matter the rest is ok….
Language:English
Format:mpeg
A Review of the DVD Instructional BJJ Over 40
2006-04-24
I received Roy Harris's new "Brazilian Jiu Jitsu Over 40" DVD today, and just finished watching it. It is divided into 7 chapters: A short Intro, Movements, Postures, Positioning, Techniques, Escapes, and Training. A companion CD with additional material and articles can be purchased and is forthcoming when it's completed.
Disclaimer: I have never trained with Roy or any of his students. I am, however, over 40 (47) and am not able to train as much as I like due to other responsibilities and commitments. I've also suffered my share of injuries in trying to keep up with younger, sometimes stronger, and usually more athletic sparring partners. So this DVD was made for me.
Introduction: Roy explains that the DVD is designed for "those of us way past our twenties" and "those of us who have busy careers, families and other responsibilities waiting for us after class"; for those who may no longer be interested in competing in local tournaments, but who pursue BJJ for health, fun, the friends we made, etc. The techniques and tools in the DVD may not be what the 20 year old stud who can afford to train every night and is interested in the latest flashy techniques from Brazil is looking for, it is designed to help older BJJ players survive on the mat against that guy and to help them keep training and enjoying the sport – to reduce how many times you tap, and to help you stay competitive and injury free.
Fundamental Movements – Roy reviews fundamental body movements used in BJJ, broken down for efficiency of movement. Roy observes that as you get older, your gas tank doesn't hold as much – your endurance is less, relative to the younger and perhaps more athletically gifted training partner, so you need to be more efficient in your movements to use less energy and not try to muscle your way in escapes or from position to position. Roy makes the  point that "fundamental" movements are actually "high-frequency movements" – the ones you will be using more often – such as driving your hips forward (arm bar or sprawl) vs. bringing your chin to your chest (rubber guard) – a move that will probably be useful only to a much younger competitor. Although at first these movements seem very basic and simple, Roy shows how to do them with maximum efficiency. These movements will be seen again later in the DVD
Defensive Postures – Roy shows positions to buy time to escape – actually, one posture (an interesting posture to avoid  chokes and arm bars that I haven't seen before) with variations for different positions.  The game Roy suggests for an older BJJ guy is to focus on surviving, not getting crushed,  not matching power to power. and to force your partner to shift balance and reduce pressure on you  to attack, thus creating openings for an escape or submission. The same basic posture is used when you are mounted, side mounted, and a variation for inside the guard.
Roy says these postures will lower frequency of injuries and tapping, you'll be less worn out, enjoy sparring more, and so will go more rounds and hopefully get better. Roy notes that he used these techniques or variations on the seminar circuit to survive when large, aggressive, talented younger players would often wait until he had rolled numerous times and was sweaty and out of breath, before stepping in to roll with him.
Defensive Positioning – using your entire body to get leverage over an opponent's body even though in an inferior position, by denying him the position he needs to gain control of your body from the mount, side mount; and in the guard. These positions require your partner to take his weight off of you to get into position to exert more pressure on your arms and necks, creating an opening for an escape.
Fundamental Techniques – Roy shows 10 techniques most used by his students 40 and over and his smaller students with the greatest degree of success, Roy emphasizes some small details to make the movements more efficient and effective, again conserving energy – some of these small details will be very helpful in improving anyone's game, no matter their age. These techniques capitalize on the defensive posture and positioning shown earlier, presenting an "old man game plan" rather than just a series of disconnected techniques – Roy shows 2 mount escapes; 2 guard passes; a side mount escape; a very sweet and simple sweep from the guard that would also work well in a vale tudo or street defense application to avoid eating punches; the kimura from guard and side mount;(including an interesting "cheat" I haven't seen to make it harder to defend – Roy's method of doing a kimura is very different in application f