Breaking into Wall Street – Networking Ninja Toolkit – The Banker Blueprint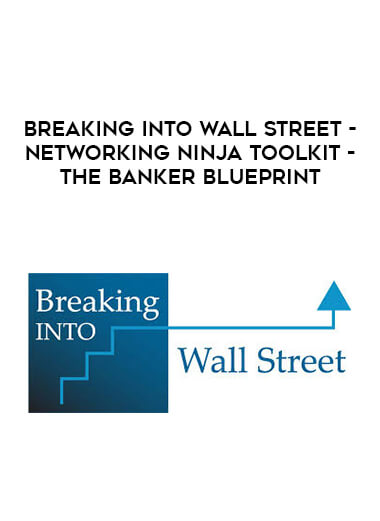 Salepage : Breaking into Wall Street – Networking Ninja Toolkit – The Banker Blueprint

Breaking into Wall Street Networking Guide. The Networking Ninja Toolkit teaches you how to go from "Networking Newbie" to Networking Ninja. You'll learn how  to find names and contact information, how to plan your informational interviews and cold-calls,  and how to break into finance without killing yourself. In addition to learning how to request, conduct, and follow-up on informational interviews  and how to convert relationships into offers, you'll learn how to cold-call your way into Wall Street, how to rock your information sessions, how to take  your networking efforts to the next level with weekend trips, and  how to  network with co-workers and advance once you're on the job. Here's the full run-down:
* Lessons cover the Networking Process; Lead Generation;
Tracking Your Networking; Requesting, Conducting, and Following Up
on Informational Interviews; Cold Calls & Cold Emails; The Information
Session Playbook; Weekend Trips; and Co-Worker Networking.
* Names and descriptions for 4,000 investment banks, 6,000 private equity firms,
and 3,000 hedge funds (note: these are names, descriptions, and main line
phone numbers/addresses – NOT the names/phone numbers of specific people
at each firm).
* Multiple  formats   for each lesson – video, audio, text, and interactive diagrams.
* Email templates: Requesting Informational Interviews, Following-Up,
Cold-Emailing to Ask for Interviews, Following Up After Information Sessions
and Weekend Trips, and Making Requests of Your Co-Workers.
* 3 Sample  Cold-Calls: Positive Response, Negative Response, and Voicemail, with
Analysis for each one. * 2 Sample Informational Interviews: 1 at
the undergraduate level and 1 at the MBA level, with Analysis for each
one.
* scripts: Referral to buy-side jobs, referral to investment banking
group, introduction to headhunters, and a sample elevator pitch and analysis.
* 75-question Networking Ninja quiz to test your knowledge and make sure you know all the ninja tactics
you need to succeed