Brennan Dunn – Mastering ConvertKit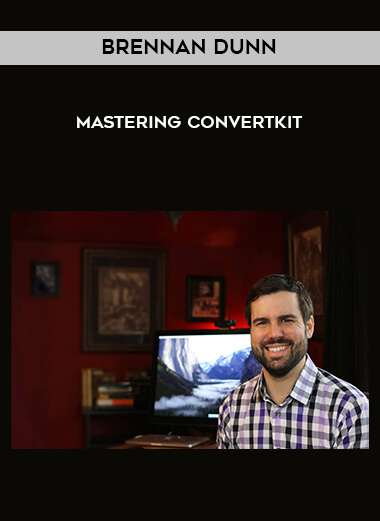 Salepage : Brennan Dunn – Mastering ConvertKit

Price: $700
Archive: archive.is/IsG6g
Build a robust and automated online business with ConvertKit.
Learn the ins-and-outs of segmenting your audience, automating your nurturing, and profiting from perfectly timed and personalized pitches.
What's Inside
No matter if you're just getting started, or you're ready to throw rocket fuel on your ConvertKit account – the included 15+ hours of in-depth video lessons have you covered.
MODULE 1
Starting off on the right foot
In this module we cover the fundamentals of both ConvertKit and the best ways to use the available features. Here I make a case for the nurturing and pitch framework that 95% of online marketers should be using, and show you how to not only create your automation strategy – but also how to use this course to adapt your needs to this framework.
3 HOURS AND 7 MINUTES OF INSTRUCTION, INCLUDING:
How to map out your automation strategy before doing anything in ConvertKit
What's the best way to organize and name your tags and segments?
Visual automations? Automation rules? Here's what you need to know.
MODULE 2
Get even more subscribers using dynamic opt-in forms
Lead flow is the lifeblood of any successful online business. This module is dedicated to helping you get more subscribers each day through smart, segmented, and personalized opt-ins CTAs.
1 HOUR AND 23 MINUTES OF INSTRUCTION, INCLUDING:
How to segment people before they're even on your email list
Ways to use survey funnels to boost your conversion rates
Creating personalized opt-in forms
MODULE 3
Better understand your audience and their needs
Want to personalize your emails and sales pages? Then you first need to segment your audience. This module dives deep into how to profile your audience, segmenting them by who they are and what they need from you, along with lead scoring your best subscribers.
2 HOURS AND 29 MINUTES OF INSTRUCTION, INCLUDING:
Coming up with a segmentation plan
How to ensure you're always pitching people on exactly what they need
Yes, you can lead score in ConvertKit. Here's how.
MODULE 4
Building trust with your audience
This module is all about building rapport with your audience by designing thoughtful and personally relevant onboarding and educational automations. More "Ah wow, this content is so great…" = More trust = More customers.
2 HOURS AND 47 MINUTES OF INSTRUCTION, INCLUDING:
How to create highly personalized onboarding
Automating how you learn why people are joining your list and what they need
Monetizing subscribers right after joining with evergreen pitches
MODULE 5
More sales through personalized pitches
Getting your email list to buy from you is so much more than just hammering everyone with sales emails. It's about sending smart, personally relevant emails to people when they're ready to buy from you, and using segmentation to align what you have with what someone needs.
2 HOURS AND 23 MINUTES OF INSTRUCTION, INCLUDING:
Using "Glossary Automations" to speak directly to your audience at scale
A blueprint for the perfect product launch
Making your email pitching and sales pages personalized
MODULE 6
Getting off the "email hamster wheel"
In this module, you'll learn how to spend more time working on your business – and less time cranking out content to keep the lights on. I'll show you how to set up evergreen "Shadow Newsletters" and leverage personal Offer Funnels to always pitch the right product to your subscribers, both over email and on your website.
1 HOUR AND 20 MINUTES OF INSTRUCTION, INCLUDING:
Creating an evergreen "Shadow Newsletter"
Pitching personalized offers both over email and on your website
Re-engagement strategies and keeping your list clean
MODULE 7
Doubling down on your success
From A/B testing to automatically pitching your audience on the products or services they haven't yet bought, this module is dedicated to helping you increase customer value and optimize your conversion rates across the board.
2 HOURS AND 16 MINUTES OF INSTRUCTION, INCLUDING:
How to create living documentation for your automation setup
Behavior-based cross-selling and up-selling
A/B testing automations, emails, and more
Get Instant Access To The Entire Course
Mastering ConvertKit is now open for enrollment. Join 250+ who have committed to leveling up their email marketing.
A tried-and-true framework for automating your business
15+ hours of in-depth HD video lessons
One-click install automations and cheatsheets
Access to a private community made up fellow students (250+)
Anytime access to all the content
Free updates as ConvertKit continues to expand and improve
30-day unconditional moneyback guarantee