Bruce Lee Book Collection – 19 books in Mobi, ePub & PDF (includes rare books)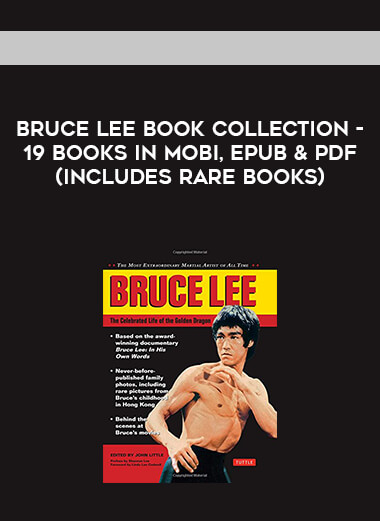 Salepage : Bruce Lee Book Collection – 19 books in Mobi, ePub & PDF (includes rare books)
There are a total of 19 titles:
Thirteen titles are available in.mobi (Kindle) and.epub (iBooks) formats.
6 more titles are available in PDF format (some of these are scans from actual books). Several of the books are out of print, and two of the titles scanned are extremely rare.
Titles for Kindle and iBooks:
– James Bishop's Bruce Lee: Dynamic Becoming
– M. Uyehara and Bruce Lee's Fighting Method: The Complete Edition
– Bruce Lee's Chinese Gung Fu: The Philosophical Art of Self-Defense
– Dan Inosanto_ Perry William Kelly's The Man, the Teacher, and the Artist
– Paul Bax's Descendents of the Dragon (The Second Generation of Jeet Kune Do and Beyond Book 1)
– Paul Bax's Disciples of the Dragon: Reflections from Bruce Lee's Students
– Paul Vunak's 45 Combat Secrets: Contemporary Jeet Kune Do
Paul Vunak's Modern Jeet Kune Do by Paul Vunak
– Oakland Showdown: The Story of the Wong Rick Wing's Jack Man vs. Bruce Lee Fight
– Bruce Lee's Tao of Jeet Kune Do (New Expanded Edition).
– David and Kevin Lumsden's The Iron Dragon: Richard Bustillo
Teri Tom's The Straight Lead: The Heart of Bruce Lee's Jun Fan JKD
– Tom Bleecker's Unsettled Matters: Bruce Lee's Life and Death
In Adobe PDF format:
Teri Tom's Jeet Kune Do: The Arsenal of Self-Expression
Jesse Glover's Bruce Lee: Between Wing Chun and Jeet Kune Do (scan of book – rare)
– James DeMile's Bruce Lee's 1 and 3 Inch Power Punch (scan of book)
– James DeMile's Tao of Wing Chun Do: Volume 1 (scan of book)
– James DeMile's Tao of Wing Chun Do: Volume 2 Chi Sao (scan of book – rare)
– Paul Bowman's Theorizing Bruce Lee: Film-Fantasy-Fighting-Philosophy