Card Magic – The Complete Course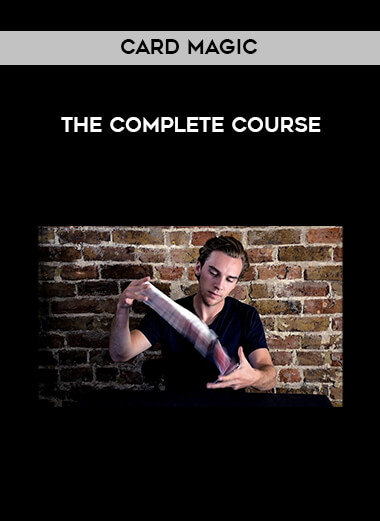 Salepage : Card Magic – The Complete Course

Over 12 Professional Level Routines
20+ Sleight of Hand Techniques
2 Tricks Performed by David Blaine on TV
The BEST Tricks for Parties
How to be more Confident
How to Perform like a Pro
How to use Misdirection to Fool Spectators
How to Practice correctly
How to Deal with Hecklers
Requirements
A pack of cards
Description
Your one-stop-shop for learning card magic!
Have you ever wanted to learn magic but got overwhelmed by the sheer mass of content available?
This is why I created Card Magic – The Complete Course. I wanted people to be able to have everything in one place so they can learn at their own pace and learn some Professional magic, no matter what ability level they are!
What's included?
This course is made up of over 40 easy to watch video lessons, shot in crystal clear HD with multiple camera angles shown, with views from the front (performance side) and over my shoulder, so you can see it from my perspective.
I teach each lesson slowly and methodically so you can follow along with your own deck of cards.
What do I get?
3.5+ Hours of Content
40+ HD videos, with easy to follow instructions and multiple camera angles.
20+ Sleights and Moves.
8 hard-hitting Routines, from my tried and tested professional repertoire.
You Will Learn:
How to perform like a pro
How to practice correctly
How to deal with hecklers
How to use Misdirection
How to be more confident
I have also included Live performances of the tricks with breakdowns, showing exactly how to perform them perfectly.
Plus 2 Bonus tricks you can do anywhere, anytime, without playing cards!
As a final bonus, I've made a video explaining the EXACT trick I perform at a party or social event (people run off screaming… regularly!)
No more scrolling through pages of YouTube videos with weak explanations, bad camera angles and dismal lighting, I will take you from complete beginner to competent magician within weeks, not months. Even if you've never picked up a pack of cards before, you can learn everything in this course and excel with card magic!
The art of learning magic is both rewarding for the person learning it, but also the lucky people who get to see the magic performed. Magic has a way of bringing people together and instantly creating a connection – it defies language, age or background.
It is a skill which you will have on you always, a skill that allows you to meet new people with confidence and know that in a few moments they will be laughing and shouting "How did you do that?!"
You could say, that magic is the perfect ice breaker for any situation – be it in a bar, nightclub, business event or high school, it is guaranteed to make you someone that people want to know.
Who this course is for:
Beginner magicians and anyone interested in learning Card Magic