Cardio Coach – volumes 1 to 7 by Sean O'Malley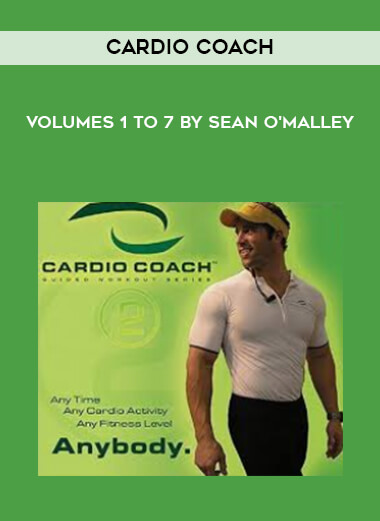 Salepage : Cardio Coach – volumes 1 to 7 by Sean O'Malley

Volume 1 has been revised. Discover the magic of Cardio CoachTM as your Coach, Sean O'Malley, takes you through two entertaining, fast-paced challenges in the REVISED first session of the Guided Workout Series. New music, new exercises. Cardio CoachTM is suitable for people of all exercise levels! There are no fixed speeds or settings —- your workout is tailored to your perceived levels of intensity and inspires you to achieve your objectives. A textual and graphic exercise breakdown was included on the CD. The workout starts with a short warm-up and then transitions into a steady-state style of activity to prepare you for the forthcoming intervals. You will climb six level 3 hills in Challenge 1. Each hill lasts 20 seconds, followed by a 40-second rest period. The second challenge consists of three level 3 sprints. Each sprint lasts one minute, followed by a one-minute recovery. Following the second challenge, you will be advised to return to your steady state, or level 2, and complete the workout with the cool down. Alternatively, demonstrate your tenacity with the optional third challenge. In any case, the workout will boost your metabolism and release feel-good endorphins. You will be guided throughout the workout and each cue will help you find your unique training levels, which will be scored with upbeat and 'on the mark' music. The CD concludes with an encouraging statement from your Coach. Volume 1 is intended to be more instructive than the previous volumes and comes in two formats. Version A is designed for new users and includes additional educational recordings. Users may progress to Version B after utilizing Version A at least once for the same fantastic exercise without the additional voice instructions.
Review
I scarcely saw the minutes fly by as I hurried to my next assignment. —John Briley, February 22, 2005, The Washington Post
There has never been a more effective cardio audio series. Sean's experience and abilities shine through while giving these workshops. —Marc David, May 10, 2006, Freedomfly.net
Sean's challenges motivate me to push myself to develop. Orangeburg Striders' Tom Cassidy, The Times and Democrat, August 27, 2005
Artist Statement
I've worked with a wide range of clients throughout the years and garnered a remarkable amount of information. This realization has helped me understand why many stop so quickly after starting with a well-thought-out strategy, as well as why so many people are successful in discovering and keeping a desirable lifestyle. My journey in creating these exercise CDs is much more than just putting up a routine for you to follow. I invite you to give the workout a go. If you buy a CD from Amazon. Take a chance on yourself, not on me, and pursue your aspirations of total and full health. I wish you the best of luck!
Artist Statement
Sean O'Malley has worked as a fitness trainer, coach, health club owner, and is an excellent listener. His motivation for creating Volume 1 of The Cardio Coach Guided Workout on CD was to find a way to motivate his clients to DO their cardio. You will need a CD player, headphones, and access to your preferred type of stationary exercise equipment to use this CD. Participation instructions are fairly straightforward. Sean's captivating and motivating voice will guide you through a fun and energizing workout. The workouts are interval training, which means that participants begin with a warm-up phase and gradually increase their level of exertion using what Sean refers to as perceived levels of exertion. That is, what you, as an individual, perceive to be your level of exertion at the time. As a result, you have complete control over your exercise level based on how you feel. And you'll be thinking about how you're feeling because Sean, your coach and guide, will be asking you questions throughout the workout. Volume 2 is in the works, and future Workouts will be tailored to each of the various types of exercise equipment. Following the warm-up, participants enter a steady-state that is sure to make them sweat. Specially designed challenges follow, which, while challenging as their name implies, are so perfectly presented that Sean O'Malley's music and soulful voice combat the desire not to continue, and help participants want to go further and beyond their previous baselines.