Cardio Coach – volumes 1 to 7 by Sean O'Malley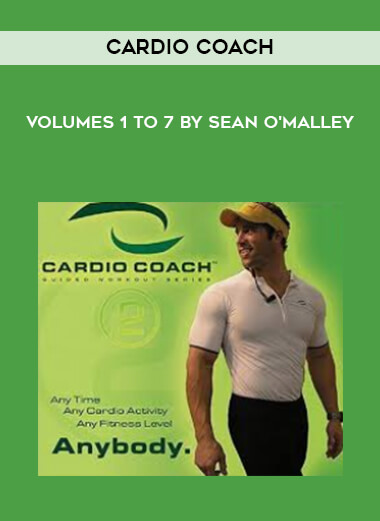 Salepage : Cardio Coach – volumes 1 to 7 by Sean O'Malley

NEW. Revised Volume 1. Discover the magic of Cardio Coach™ in the REVISED first workout of the Guided Workout Series as your Coach, Sean O'Malley, leads you through two fun, fast-paced challenges. New music, new workouts. Cardio Coach™ is for anybody, at any fitness level! No predetermined speeds or settings — your workout is individualized to your perceived levels of exertion and motivates you to reach your goals. CD included written and graphic workout breakdown. The workout begins with a light warm-up and moves you into a steady state mode of exercise to prepare for the upcoming intervals. In challenge 1, you will climb 6 level 3 hills. Each hill is 20 seconds long, followed by a 40 second rest. The second challenge contains 3 level 3 sprints. Each sprint is 1 minute in length followed by a 1 minute rest. After the second challenge, you will be instructed to take your settings back to your steady state, or level 2, and finish the workout with the cool down. Or, show your spunk with the optional third challenge. Either way, the workout will leave you with a higher metabolism and those feel good endorphins. Scored with uplifting and 'on the mark' music, you will be instructed throughout the workout and each cue will help you find your specific workout levels. The CD ends with an inspiring word from your Coach. Volume 1 is designed to be more instructional in nature than the other volumes, and includes two versions. Version A is intended for the first-time user and contains additional instructional tracks. After using Version A at least once, users may advance to Version B for the same great workout without the added verbal instructions.
Review
I barely noticed the minutes zipping by as I ran, awaiting my next instruction. –John Briley, The Washington Post, February 22, 2005
There's never been a better cardio audio series. Sean's expertise and skills when delivering these sessions shows thru. –Marc David, Freedomfly.net, May 10, 2006
I use Sean's challenges to push me into pushing myself to improve. –Tom Cassidy, Orangeburg Striders, The Times and Democrat, August 27, 2005
From the Artist
I have worked with such a wide diversity of clientele over the years and I have gained a tremendous amount of insight. This insight has allowed me to see clearly why people quit so soon after they get started with a well thought out plan in addition to why so many are successful at finding and maintaining a desireable lifestyle. My adventure in putting together theses workout CD's is so much more than just putting together a workout for you to follow. I invite you to try the workout. If you purchase a CD from Amazon.Take a chance on yourself, not me, to follow your dreams of living a life with total and optimal health. I wish you the best!
About the Artist
Sean O'Malley has been a fitness trainer, coach, health club owner and a very good listener. Finding a way to motivate his clients to DO their cardio was the motivation in his putting together Volume 1 of The Cardio Coach Guided Workout on CD. To use this CD, you will need a CD player, headphones and access to your favorite type of stationary exercise equipment. The instructions are pretty straight forward for participation. Sean's mesmerizing and motivating voice will bring you through a fun and invigorating workout. The workouts consist of interval training, meaning that participants start out in a warm-up phase and gradually increase their level of exertion using what Sean calls perceived levels of exertion. Which basically means, what you as an individual feels to be your level of exertion at that moment in time. Thus, you control the exercise level, based on the way you feel. And you will think about how you feel, because Sean, as your coach and guide, will be asking you throughout the workout. Volume 2 is in the making and future Workouts will be specifically designed for each of the different types of exercise equipment. After the warm-up phase, participants move right into a steady-state which is certain to bring on the sweat. Specially designed challenges follow that, although are as their name implies, challenging, are so perfectly presented, that the music and soulful voice of Sean O'Malley combat the will not to continue, and help participants want to go further and beyond their previous baselines.