Cesar Gracie – Brazillian Jiu – Jitsu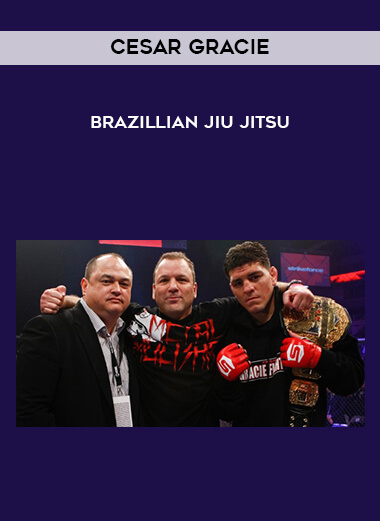 Salepage : Cesar Gracie – Brazillian Jiu – Jitsu

Cesar Gracie, Brazilian Jiu-Jitsu Black Belt, teaches the most effective Gracie Jiu-Jitsu, No Holds Barred, and street fighting techniques ever combined on one set of films in this remarkable DVD instructional video series! This high-quality series covers 9 entire volumes of methods spanning from the fundamentals through the intermediate and advanced levels. Techniques are taught both in and out of the kimono! Cesar Gracie is joined in this series by two of his finest disciples, UFC fighter Gil Castillo and ADCC champion David Terrell. This is the most extensive teaching package ever produced by a member of the Gracie family, with 9 unique volumes and over 6 hours of high-quality training! This series was shot in high-quality Betacam format, and they are genuine DVD-video disks. All nine installments are divided onto three fascinating DVDs.
Takedowns, Cesar Gracie passing the guard for street fighting, and Sport Jiu-Jitsu are all covered in Basics Volume 1.
Fighting from the guard, submissions and sweeps, Sport Jiu-Jitsu.
Volume 3 of the Basics.
Fighting from the mount, cross-body, and stomach knee. Full of submissions.
Takedowns and stand-up street combat in Intermediate Volume 1. Cesar Gracie also teaches intermediate guard passes for street and sport jiu-jitsu.
Fighting from the guard, submissions and sweeps, sport and street. Intermediate Volume 2.
Volume 3 of Intermediate.
Sport Jiu-Jitsu, fighting from the top, mount position, cross-body, and on your opponent's back.
Advanced Volume 1: Advanced Guard Passing for Sport Jiu-Jitsu and the Street. Cesar Gracie also teaches stand-up combat techniques such as headlock escapes and more.
Advanced Volume 2: Guard fighting, submissions, and sweeps for Sport Jiu-Jitsu. Escapes from the mount and cross-body are also covered.
Volume 3 of Advanced.
Cesar Gracie teaches advanced combat techniques for Sport Jiu-jitsu and street fighting, including the mount, cross-body, and knee on stomach.