Clicks Magazine – The Offline Marketing Plr Newsletter & Oto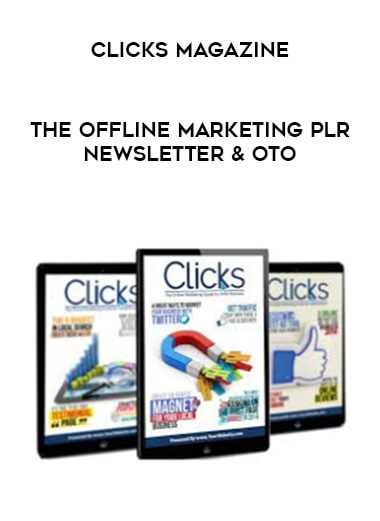 Salepage : Clicks Magazine – The Offline Marketing Plr Newsletter & Oto
Instantly Position Yourself as the TRUSTED Expert That High Paying Clients Need To Hire
With this INCREDIBLE DFY" Lead Magnet
-And ZERO Work on Your Part!
Fellow Offline Marketers,
If you sell online services to offline businesses such as Consulting, SEO services, Social Media Marketing, Paid Ads, Web Design and more…
Then this is the quickest, easiest way to get more clients today!
Just ask our members Local Marketers, Consultants, Coaches, & Agency owners that are fast becoming the highest paid and most sought-after authority in their market.
Now you too can instantly deploy an ingenious content marketing solution, see immediate results, and own your competition the way Top Influencers do…
… such as Neil Patel, Ann Handley, John Hall, Joe Pulizzi and many of the smartest content marketers today.
Why I Stopped Selling,
And Started Educating
Hi Im Matt, the creator of Clicks Magazine…
Not long ago, I was struggling to keep my business alive. Like you, I tried just about every offline marketing course, and dumped $1000s of dollars into products that either didnt work at all, or were so over saturated it wasnt worth the time or effort.
So I kept at it, spending hours cold calling, sending out emails on my computer, even meeting business owners face-to- face to pitch my services, but results were often frustrating.
Worse, I didnt know how to position myself as an authority – to separate myself from every other marketer and make a lasting impression on my prospects.
I knew that had incredible services to offer but I couldnt even manage get my foot in the door in most cases to have that conversation.
Then one day, all that changed.
I remember thinking to myself:
Business owners are bombarded with the same lame sales pitches every single day, and they are sick and tired of it. So why am I still trying to sell them this way? What if I did the complete opposite, and just EDUCATE and EMPOWER my prospects with content they find value in instead?
So thats what I did.
I started my own digital magazine newsletter, that's designed to serve my audience better than anyone else – and my client base not only exploded in the weeks and months to follow, but I was also able to raise my rates and close even more deals.
I had discovered something most marketers still havent even realized…
Effective content marketing is the fastest way build credibility with your audience and be perceived as an expert!
Allow Me To Introduce You To
Clicks is a fully-editable digital magazine that not only builds instant credibility and proves youre the expert, but also demonstrates to business owners that you can deliver results better than anyone else.
Its content marketing on overdrive, which means you never have to hard sell prospects ever again.
The magazine does the pre-selling for you. It equips you with done-for- you, ready-to- use, premium content thats so valuable, your audience will be saying…
This is GREAT, how do we get started?
Its the easiest way to get your foot in the door with offline prospects, and a big leg up on your competition.
Best of all, with Clicks you can literally set up your own offline lead generation machine in under 5 minutes!
Each Edition of Clicks Magazine Includes:
Sleek, Contemporary Design
Topics That Small & Local Business Owners Find Real Value In.
Content Written By US Marketers & Consultants That Know The industry
4-5 Articles Per Issue All Over 1000+ Words Each.
Easy To Brand With Your Logo & Company Info.
Custom Advertisements Both Subtle Calls To Action And Full Page Ads
Monthly Bonuses – Each Month Youll Receive Additional Content To Use Like Infographics, White Papers, Lead Generation Guide & More!
Awesome Support Now And Down The Road! We Want To Hear Your Feedback And Ideas For Upcoming Issues!
Private Members Area Where you can access your monthly issues and other amazing members only benefits & resources