Communication Matters I – He Said – She Said – Women – Men and Language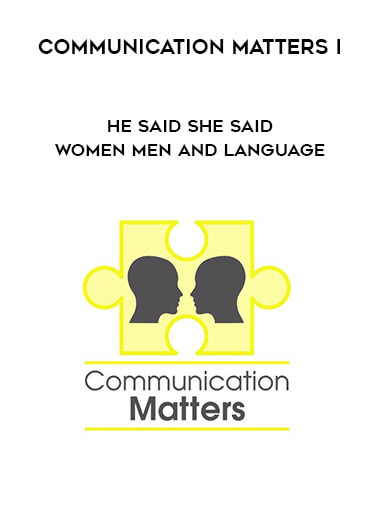 Salepage : Communication Matters I – He Said – She Said – Women – Men and Language

PORTABLE PROFESSOR™ is a series of exciting and informative lectures recorded by some of today's most renowned university and college professors. Each course introduces listeners to fascinating, and sometimes startling, insights into the intellectual forces that shape our understanding of the world. Each package includes 14 riveting lectures presented by notable professors as well as a book-length course guide.
Professor Deborah Tannen's groundbreaking research into the fundamental differences between the ways in which the sexes communicate using language forms the basis for this fascinating series of lectures. From conversational style and body language to the use of tone and idiom, and beginning very early in life, men and women relate to each other and among themselves in startlingly different—and surprisingly predictable—ways. This course explores many of the reasons for these differences and probes the pitfalls, consequences, and benefits of these varying modes of interaction.
COURSE LECTURES
He Said/She Said: A Framework for Understanding Conversations Between Men and Women The Source of Gender Patterns: Children at Play A Cross-Cultural Approach to Gender Talk The Role of Opposition in Men's Relationships The Role of Talk in
Women's Relationships The Interplay of Power and Connection Ambiguity and Polysemy: Two Keys to
Understanding Language and Gender Indirectness: Not in So Many Words Talking at Home: Gender in the Family Talking at Work Who Talks More?: Public and Private Speaking A History of Research on Gender and Languages Nature/Nurture: The Source of Gender Differences Conclusion: What Can You Do?
Deborah Tannen is University Professor of Linguistics at Georgetown University in Washington, D.C. She has written countless articles along with nineteen books, including the best-sellingYou Just Don't Understand, That's Not What I Meant!, and I Only Say This Because I Love You: Talking to Your Parents, Partners, Sibs, and Kids When You Are All Adults.Tannen lectures around the world and regularly appears on television as an expert on
interpersonal communication.