Daben – Filling In The Frequencies – Part 7 – Frequencies Of Transparency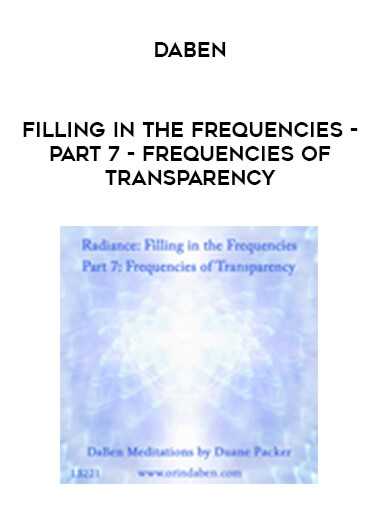 Salepage : Daben – Filling In The Frequencies – Part 7 – Frequencies Of Transparency

DaBen transmits 5 Frequencies of Transparency in this course. The Transparency Frequencies are even more advanced than the Frequencies presented so far. As with the Brilliance Frequencies, they provide an opportunity to develop a skill that will enhance your experience of all Frequencies and states of consciousness that you might explore. You can learn to become transparent to all the energies about you, to "be" your experience, and to experience moment-to-moment awareness as you move beyond thinking and interpreting what is happening.
You can become a part of the entirety of your experience at all levels. These Transparency Frequencies draw you to a sense of flow and a new sense of peace that may be deeper than any peace you have experienced before. By continuing to follow this "new" experience, and the Transparency Frequency as it unfolds and deepens, you have the opportunity to discover more and more about the basic nature of your ability to experience and to just be your experience moment-to-moment without interpretation.
After you experience the peace that is a part of the experience of working with the Transparency Frequencies, you have the opportunity to discover this sense of peace even in ordinary reality, through direct experience and insights. The Transparency Frequencies may assist you in your channeling to be transparent to your own energies so your guide, higher self, soul, and spirit can shine through more clearly, without interference from you trying to "control" the experience.