David Tessler, D.O., FACG, FACOI – ABCs of Hepatitis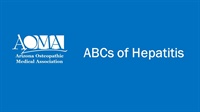 Salepage : David Tessler, D.O., FACG, FACOI – ABCs of Hepatitis

The most common cause of hepatitis is viral infection. Dr. David Tessler provides an overview of HAV, HBV, and HCV.
Objectives:
Assess risk factors for Hepatitis A

Navigate the risks of Hepatitis B reactivation

Know how a patient benefits from Hepatitis C eradication
This activity has been planned and implemented in accordance with the accreditation requirements and policies of the American Osteopathic Association (AOA). The Arizona Osteopathic Medical Association (AOMA) is accredited by the American Osteopathic Association (AOA) to provide osteopathic continuing medical education for physicians.
GRIEVANCE POLICY: The AOMA strives to provide continuing medical education programs to fulfill the needs of the attendees and to meet the AOA Uniform Guidelines and AOA Accreditation Requirements. Comments, questions, or complaints should be forwarded to AOMA Executive Director Josephine Zammuto, by calling the AOMA Office at 602-266-6699 or by mail to AOMA, 5150 N. 16th Street, Suite A-122, Phoenix, AZ 85016, or by email to [email protected].
David Tessler, DO is a gastroenterologist at Central Arizona Medical Associates in Mesa, AZ. After finishing his undergraduate studies at University of Michigan, and medical school at Midwestern University-Chicago College of Osteopathic Medicine, Dr. Tessler completed an Internal Medicine Residency at Botsford General Hospital and fellowship in gastroenterology at Henry Ford Hospital, both in Michigan. Dr. Tessler is the Co-Chair of the Medical Advisory Committee of the Crohn's and Colitis Foundation, serves on the Patient Care Committee for the American College of Gastroenterology, and currently serves as the Medical Director of Central Arizona Endoscopy.  He has lived in Arizona since 2005, with his wife, Mary, and 2 children, Evan and Sarah.
Dr. Tessler has no disclosures.