Dean Lister – Real World Submissions – Volume 1 and 2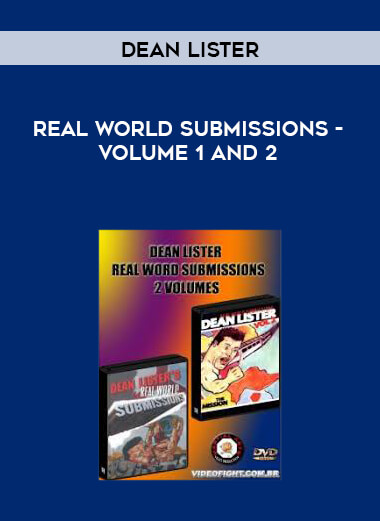 Salepage : Dean Lister – Real World Submissions – Volume 1 and 2
Dean Lister – Real World Submissions – Volume 1 and 2
Real World Submissions – Volume 1
Planes trains buses boats stars bars cabs cars new places new faces and brand new moves all for you! Take an adventure with world champion grappler Dean Lister across the globe to spread the good word that all of us have heard Ju-Jitsu…
Movie:
Seminar In Paris, France
Seminar in Prague, Czech Republic
Seminar in Bordeaux, France
Instructional:
Escape From Back Head Sit Through
Steering Wheel Sweep
Escape From Back Triangle To Foot Lock
Rear Naked Folkrum
Triangle From Tripod
Bonus:
On Tour With KORN, Europe
Dean "Boogeyman" Lister a former two time U.S. National Sambo champion, a four-time U.S. Machado National Brazilian Jiu Jitsu Champion, a King of The Cage middleweight champion, and a Abu Dhabi Absolute Division championship in 2003. Needless to say Dean's considered by many the worlds best submission grappler and appeared in 3 televised UFC fights events and has another 3 fights in his contract with the UFC. Real World Submissions DVD Volume I & II is a training DVD, following Dean around the world filming seminars and techniques in many locations across Europe. Future volumes will be shot in South America, Russia, Croatia, and the U.S.  featuring interviews and instruction with today's best fighters and trainers including Mirco Crocop, Randy Couture, Ivan Hippolyte and more. In 2006, Tito Ortiz invited Dean to be his assistant grappling coach on the third season of The Ultimate Fighter aired on Spike TV. The show exposed Dean to a large TV audience, and in combination with multiple praises from the fighters on the show, increased his popularity. Real World Submissions DVD is quite different from other training DVD's in that its content is very diverse unlike most training videos shot only in a gym with no originality.
Real World Submissions – Volume 2
Travel the world with champion submission master, Dean Lister. Learn the secrets that have submitted the who's who of the grappling globe. This inside look at the angles to strangle will take your game to the next level.
Contents:
Movie:
-Training striking in Holland
-Seminar in Sweden
-Andreas Schmidt vs. Dean Lister in Germany
Instructional:
-Long range kimura
-Triangle
-DLR Guard
-Leg attack
-Footlocks
Bonus:
-Interview
Dean Lister is the official grappling coach for Team Ortiz of the Ultimate Fighter reality TV show. Dean is a world jiu-jitsu champion and has also competed in Pride, UFC, and KOTC.