Deborah Sunbedc, PhD- Infinity Walk Vol 1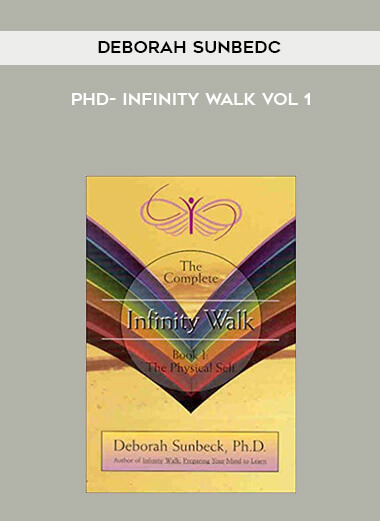 Salepage : Deborah Sunbedc, PhD- Infinity Walk Vol 1

All success in life gets acted out through our physical bodies. Movement is how we show what we know. Infinity Walk training develops an intimate working relationship between the neural organ we call the brain and the person's desires and intentions. Mind, will and purpose discover their channel for manifesting themselves in the person's life through natural, freed movement.
The Infinity Walk method is a life-long personal development program that progressively builds on naturally occurring stages of neural development. Developmental and remedial progress is measured by gains in integrated neuro-motor coordination as increasingly more challenging multi-tasks are added to the program. Infinity Walk's power and simplicity is in the method's ability to quickly integrate new skill-building with newly gained confidence and coordinated action. The method utilizes a carefully developed, but naturally occurring movement pattern, to optimize bi-lateral involvement and neural priming between brain hemispheres. These enhanced neural processes occur naturally when full neural attention is given to new or freshly engaging experience. Infinity Walk triggers this neural readiness to respond to changes in the environment and channels it into systematic skill-building. By honoring the brain's natural way of learning and developing, the resulting methodology can be simply described as "a fun challenging game of 'How many things can you do at once?'." Included in the simplicity of the method is the capacity for the professional to assess and treat simultaneously without need to draw attention to either process.
Infinity Walk's progressive multi-tasking challenges support natural neural and human development; therefore, the program is capable of adjusting with the individual and accommodating all ages and most life circumstances.
Infinity Walk is also a fun, simple self-help method that educators, counselors and medical professionals can quickly teach to students, parents, clients and patients. Infinity Walk can be practiced independently at home, quickening the person's progress.
The Complete Infinity Walk: Part I. The Physical Self is the most complete source available for professionals wishing to begin to introduce their clients and patients to the method. A companion video to this book, sold separately, provides numerous examples of the method in action – from pre-school to adult.