Denilson Pimenta's 40 Deadly Jiu Jitsu Techniques 1080p (jiujitsu.com Rip) (Gi)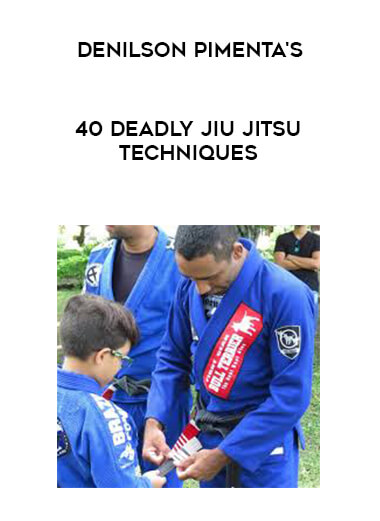 Salepage : Denilson Pimenta's 40 Deadly Jiu Jitsu Techniques 1080p (jiujitsu.com Rip) (Gi)

1.72 GB
Denilson Pimenta's 40 Deadly Jiu Jitsu Techniques
Many people don't realise, the Gracies aren't the only people that Mitsuyo Maeda taught Jiu Jitsu to. In fact, there are two distinct lineages in Brazilian Jiu Jitsu.
The famous Gracie lineage that developed to much fanfare and acclaim in the high society of Brazil and the much less known lineage of Luis Frana that developed in the favelas of Rio.
For many years, the Frana lineage was unheard of outside of Brazil despite being hugely successful and often dominating the fighters Gracie fighters.
Thats changed in recent years with fighters like Rodolfo Vieira, Vitor Oliveira, Denilson Pimento, and Igor Silva exploding onto the competition circuit and establishing themselves as a dominant force.
Because the Frana lineage developed independently from the Gracie lineage there are subtle variations between their techniques and styles that make it deadly to anyone that doesn't know them.
For a long time, the only way to learn this style of Jiu Jitsu was by training at an Academy from Frana's lineage such as Nova Unio or GF Team.
Until now…
… Denilson Pimenta is one of the best lightweight competitors in the world and a senior instructor at GF Team in Rio where he coaches many of their top fighters.
Denilson has created a two-disc DVD instructional that covers 40 of the most effective techniques from this deadly style of Jiu Jitsu.
This instructional includes 13 sweeps, 10 passes, 10 submissions, and 7 takedowns. That's basically everything you need to know to surprise your training partners and dominate in competition.
BK201 Bonus: Denilson Pimenta x Diego Bispo – World Masters 2015.mp4
Sample Info
===================== General =====================
Complete name               : Denilson Pimenta's 40 Deadly Jiu Jitsu TechniquesDeadly SubmissionsSubmissions_1_Closed_Guard_Triangle_(English).mp4
Format                      : MPEG-4
Codec Id                    : M4V 
File size                   : 36.7 MB
Duration (ms)               : 1mn 9s
OverallBitRate_Mode/String  : Variable
Total bitrate               : 4 419 Kbps
===================== Video =====================
Id                          : 1
Format                      : AVC
Format info                 : Advanced Video Codec
Format profile              : [email protected]
Use of CABAC                : No
RefFrames                   : 2 frames
Format settings – GOP       : M=1, N=23
Codec Id                    : avc1
Codec info                  : Advanced Video Coding
Duration (ms)               : 1mn 9s
Bitrate                     : 4 225 Kbps
Width                       : 1 920 pixels
Height                      : 1 080 pixels
Aspect ratio                : 16:9
Framerate mode              : Constant
Framerate                   : 23.976 fps
Standard                    : NTSC
Colorimetry                 : YUV
Colos space                 : 4:2:0
Bit depth                   : 8 bits
Scan type                   : Progressive
Bits/(Pixel*Frame)          : 0.085
Stream size                 : 35.1 MB (96%)
Language                    : English
colour_primaries            : BT.709
transfer_characteristics    : BT.709
matrix_coefficients         : BT.709
===================== Audio =====================
Id                          : 2
Format                      : AAC
Format info                 : Advanced Audio Codec
Format profile              : LC
Codec Id                    : 40
Duration (ms)               : 1mn 9s
Source_Duration/String      : 1mn 9s
Bitrate mode                : Variable
Bitrate                     : 192 Kbps
Bitrate maximum             : 289 Kbps
Channel(s)                  : 2 channels
ChannelPositions            : Front: L R
Sampling rate               : 48.0 KHz
Compression_Mode/String     : Lossy
Stream size                 : 1.57 MB (4%)
Source_StreamSize/String    : 1.57 MB (4%)
Language                    : English