Dick Sutphen – Getting By On 4 Hours Sleep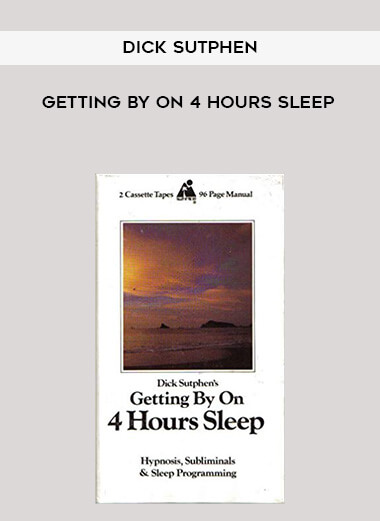 Salepage : Dick Sutphen – Getting By On 4 Hours Sleep

After the approximately 20 minutes of Hypnosis (Track 1), Dick wakes you up, then directs approximately 10 minutes of Self-Talk (Track 2); positive affirmations said to yourself, out loud or silently in your mind. The same suggestions are in both the Hypnosis and Sleep Programming sessions.
Hypnosis and Sleep Programming Suggestions:
You sleep six hours and awaken with your body fully restored. * You totally regenerate and recharge your mental and physical body during six hours sleep. * After six hours, you awaken feeling fully awake, refreshed and full of energy. * You awaken feeling glad to be alive and inspired to begin a new day. * After six hours sleep, you feel as if you've slept all night. * You require only six hours sleep for total renewal. * You experience an inexhaustible supply of energy. * Upon lying down, you immediately drift off into relaxing sleep. * More.