Dog Brothers Introduction to the Interface of Gun, Knife, and Empty Hand [2006, kali eskrima, DVDRip…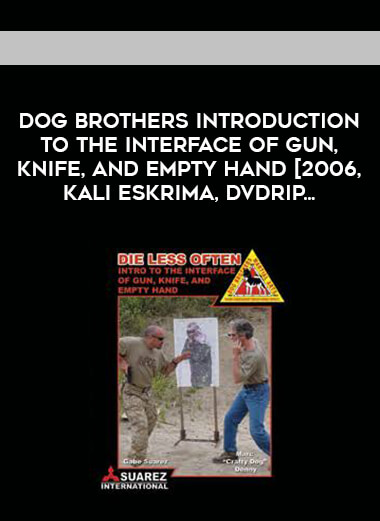 Salepage : Dog Brothers Introduction to the Interface of Gun, Knife, and Empty Hand [2006, kali eskrima, DVDRip…
Dog Brothers Introduction to the Interface of Gun, Knife, and Empty Hand
Year of manufacture : 2006
Kind of sport : cali eskrima
Members : Crafty Dog and Gabe Suarez
Duration : 3:15:00
Language of comments : English
Description : Mark Krefti Dogny Danny and Gabe Suarez in a seminar on working with a gun, knife and bare hands.
Evolutionary leaps occur when two or more structures band together in new ways. With this triple, the synergistic convergence of two men, each from different worlds, unveils a new paradigm-the interface of gun, knife and empty hand.
Denny and Gabe Suarez. "When facing any of these dangerous possibilities, you need to have the cutting edge, high IQ, that comes from the synergy of Marc" Crafty Dog ".
In this DVD you will be shown how to frame the approach to the problem of interception and defense against close quarters. Principal amongst these defenses is the innovative "Dog Catcher" which allows for one initial default response to the most common high and midline attacks of empty hand and knife. The understanding of the material will be intensified by testing all. "If you see it taught, you see it." (c)
trailer: http://dogbrothersvideo.com/interfacetrailer.wmv
Quality : DVDRip
Format : AVI
Video codec : XviD
Audio Codec : MP3
Video : XVID 352 x 288 (11: 9) 23.976 Hz
Audio : 0x0055 (ISO MPEG-1 Layer3) 44100 Hz, Stereo, 192 Kbps