Don Woodruff – Kangaroo Method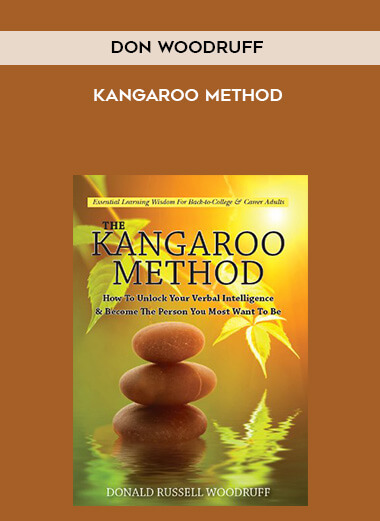 Salepage : Don Woodruff – Kangaroo Method

Learning is the pathway to becoming the person you most want to be. Using simple steps and personal stories, the author reveals the way to unlock and raise verbal intelligence. Discover how to read and learn in high definition and find out how to become truly competent in your chosen field.
Donald Russell Woodruff has taught learning strategy courses in over 25 colleges across the United States. His techniques have been presented to the staff of NASA Headquarters and have been shared around the world on Voice of America television. His book will allow you to gain a fresh start on your academic and career goals by providing easy-to-use techniques combined with powerful insights.
From Chapter One—
From the results of surveys of more than ten thousand back- to-college and professional adults from around the country, I am convinced that the Kangaroo Method will unlock your verbal intelligence and give you the intellectual boost you have long been seeking. Imagine capturing how-to information, studying for an exam, or reading a challenging book in high definition. The insights and techniques I share here are those I hope you will put into your own words and share with your children.
"I have seen Donald Russell Woodruff in action and he has mastered the art and science of learning. He is sharing his playbook for those who want to learn this vital skill. If you are going back to school or know someone who is, this should be the first book you pick up."
—Major Alvi Azad, Psychiatrist and Clinical Fellow at Yale University
"Delineating several common barriers to learning, and offering ways in which to overcome these educational obstacles, Woodruff summarizes and simplifies the learning process. The Kangaroo Method embodies a truth about education (and ourselves), which, if applied, has the power to unlock our verbal intelligence and even increase our I.Q."
—Christopher Ackerman, IP Book Reviewers