Dr. Donald Meichenbaum Presents: New Developments in the Treatment of PTSD, Complex PTSD & Comorbid Disorders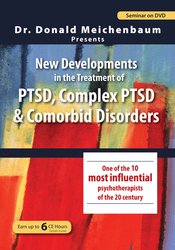 Salepage : Dr. Donald Meichenbaum Presents: New Developments in the Treatment of PTSD, Complex PTSD & Comorbid Disorders

Donald Meichenbaum, Ph.D. "One of the most influential psychotherapists of the century"
Evidence-based, trauma-focused treatment informed by neuroscience
Treatment for co-morbid issues including depression, suicide, substance abuse and TBI
A strengths-based approach that bolsters resilience
Integrated treatment that is culturally and gender sensitive
 This is your opportunity to learn the latest developments in the treatment of PTSD, complex PTSD and co-morbid disorders from one of the world's leading psychotherapists. Dr. Donald Meichenbaum is co-founder of Cognitive Behavioral Therapy and was voted "one of the 10 most influential psychotherapists of the 20th century?."
 In this program recording you will learn the assessment and treatment implications of neuroscience from a life-span perspective and learn ways to provide integrated treatments in a culturally- and gender-sensitive manner. You will learn how to conduct evidence-based trauma-focused treatment and how to incorporate spiritually-oriented interventions. Dr. Meichenbaum will utilize his vast clinical and research experience, irreverent style, along with video case presentations to make this a must-attend event. In addition, you will receive a comprehensive set of handouts with tools to be used in your practice.
OBJECTIVES
Critique the concept of PTSD and critically assess the "state-of-the-art"? treatment of PTSD and Complex PTSD.

Utilize a Case Conceptualization Model (CCM) that informs assessment and treatment decision-making.

Implement the "Core Tasks"? of psychotherapy in an integrated fashion.

Conduct trauma-focused interventions in an integrative fashion, treating PTSD and co-morbid psychiatric disorders together.

Incorporate culturally- and gender-sensitive and spiritually-oriented treatments.

Address the needs of health care providers, namely vicarious traumatization and burnout.
OUTLINE
The Nature and Impact of Trauma Exposure: The "Untold Story"? of Resilience
Personal anecdotes and clinical examples

Research evidence: Factors that contribute toPTSD vs. resilience and posttraumatic growth
Controversies Concerning the Concepts of PTSD and Complex PTSD
"State-of-the-art" of treatment: Data from evidence-based interventions vs. meta-analytic studies

In search of mechanisms of change

A way forward: A constructive narrative perspective and a consideration of thecore tasks of psychotherapy (what "expert"? psychotherapists do)

A consideration of "marketing" strategies used by treatment centers and psychotherapists
What Resilient Individuals Do (and Do Not Do): Implications for Psychotherapy
Ways to bolster resilience

A life-span perspective

Being culturally and gender sensitive
The Role of a Case Conceptualization Model
Assessment issues

More than an anxiety disorder: Role of guilt, shame, complicated grief, moral injuries and anger

Emotionally-focused interventions

Involving significant others
Assessment Issues and Strategies
Screening, diagnostic assessment

Risk assessment to self (suicidality) and toward others

Assessment of co-morbidity, potential barriers and strengths
 Implications for Sequential, Parallel and Integrated Treatment Approaches
 Self-Assessment: Your Level of "Expertise"? in Implementing the Core Tasks of Psychotherapy
 How To Implement the Core Tasks of Psychotherapy
Developing and maintaining a therapeutic alliance (TA): Monitoring, addressing impasses/"?ruptures"? in TA

Psychoeducation: use "clock"? metaphor

Ways to nurture hope: Use of collaborative goal-setting; time lines; coping models

Teaching intra- and interpersonal coping skills: Building in generalization guidelines (going beyond a "train and hope"? approach)
 Cognitive-Behavioral Trauma-Focused Interventions: A Search for Common Mechanisms
 Treatment Focused on Related Trauma-Related Reactions (Guilt, Shame, Complicated Grief, Moral Injuries, Anger)
Integrative Treatments of PTSD, Psychiatric and Substance Abuse: Illustrative Programs
Needs of Specific Populations will be Considered
Returning soldiers and their family members

Victims of interpersonal violence and culturally diverse groups (native populations, torture victims)
 Spiritually-Based Interventions, Like the 12-Step Model, Will be Considered
 Addressing the Needs of Health Care Providers: Addressing the Well-being of Therapists
Addressing issues of vicarious traumatization effects and "burnout"

What can be done at the individual, collegial and organizational levels?
Putting it All Together: Take Home Lessons and Ways to Continue Professional Development
To Do "Homework"? Tasks
Anticipate and address potential barriers to engaging in professional, deliberate practice

Working with peers and supervisors: Ways to monitor professional development

("

Know, Do, Teach Others-A Roadmap to 'Expertise'"?

)
Don Meichenbaum, Ph.D. is Distinguished Professor Emeritus from the University of Waterloo. Ontario from which he took early retirement 20 years ago. He is presently Research Director of the Melissa Institute for Violence Prevention in Miami (Please see www.melissainstitute.org). He is one of the founders of Cognitive Behavior Therapy.
In a survey of clinicians reported in the American Psychologist, he was voted "one of the ten most influential psychotherapists of the 20th century." He has received a Lifetime Achievement Award from the Clinical Division of the American Psychological Association and he was Honorary President of the Canadian Psychological Association. 
He has presented in all 50 U.S. states and internationally. He has published extensively and most recently published Roadmap to Resilience: A Guide for Military Trauma Victims and Their Families (visit www.roadmaptoresilience. org). His other books include Treatment of Individuals with Anger Control Problems and Aggressive Behavior; Stress Inoculation Training; Facilitating Treatment Adherence; and The Unconscious Reconsidered.
He has consulted for various populations including veterans' hospitals, the National Guard, psychiatric treatment centers for children, adolescents and adults, treatment center for individuals with traumatic brain injuries, torture victims, Native populations, deaf populations and school boards. See papers by Dr. Meichenbaum on www.melissainstitute.org (go to home page and click on Author's Index and scroll to Meichenbaum).
Speaker Disclosures:
Financial: Donald Meichenbaum is Research Director of the Melissa Institute for Violence Prevention and Treatment. He is the Distinguished Professor Emeritus for the University of Waterloo, Ontario, Canada. Dr. Meichenbaum receives a speaking honorarium from PESI, Inc.
Non-financial: Donald Meichenbaum has no relevant non-financial relationship to disclose.