Dr. Patrick Grim TTC Audio – The Philosopher's Toolkit: How to Be the Most Rational Person in Any Room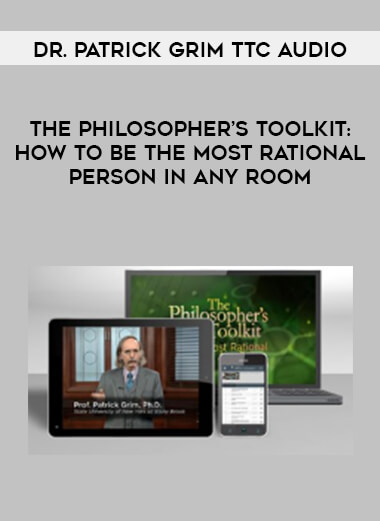 Salepage : Dr. Patrick Grim TTC Audio – The Philosopher's Toolkit: How to Be the Most Rational Person in Any Room

Thinking is at the heart of our everyday lives, yet our thinking can go wrong in any number of ways. Bad arguments, fallacious reasoning, misleading language, and built-in cognitive biases are all traps that keep us from rational decision making—to say nothing of advertisers and politicians who want to convince us with half-truths and empty rhetoric.
What can we do to avoid these traps and think better? Is it possible to think faster, more efficiently, and more systematically?
The Philosopher's Toolkit: How to Be the Most Rational Person in Any Room offers the skills to do just that.
Taught by award-winning Professor Patrick Grim of the State University of New York at Stony Brook, this applied philosophy course arms you against the perils of bad thinking and supplies you with an arsenal of strategies to help you be more creative, logical, inventive, realistic, and rational in all aspects of your daily life, from the office to the voting booth.
Unlike courses in other disciplines, which are descriptive, this course is normative.
That is, instead of merely describing how we do think, the focus of this course is how we should think. Along the way, you'll meet some of history's greatest thinkers, from Plato and Aristotle to Einstein and John von Neumann. In addition to looking at what they thought, you'll study how they thought—what strategies did they employ to come up with their great ideas? What tools can we adopt to make us better thinkers?
With a blend of theoretical and hands-on learning, these 24 stimulating lectures will sharpen your critical thinking skills and get the creative juices flowing with such topics as:
the symbiotic role of reason and emotion;
conceptual visualization and thinking with models;
Aristotle's logic and the flow of arguments;
heuristics and psychological biases;
polarization and negotiation strategies;
advertising and statistics; and
decision theory and game theory.
Study What You Didn't Learn in School
Philosophy provides the foundations for an array of other intellectual fields. As Professor Grim explains, philosophy—"the love of wisdom"—is historically the core discipline of them all. Other fields have branched out from it over the centuries. And while we learn in school about these other disciplines—including mathematics, physics, economics, psychology, and sociology—the material in The Philosopher's Toolkit is seldom taught, and has never been taught in quite this way.
But the material should be taught because it has an amazing, practical value. Whether you're trying to decide which wine to bring to a dinner party or weighing the sides of a political debate, these lectures will help you think more rationally so that you can always make the optimal choice. In this course, you'll:
build problem-solving skills for greater efficiency at work;
become a savvier consumer by staying alert to common advertising tricks;
learn heuristics to make better decisions in a pinch;
and develop self-knowledge through awareness of built-in cognitive biases.
In addition to illuminating rational thinking, this course sheds new light on all the fields you studied in school. Professor Grim says that philosophy is best practiced with an eye to other disciplines, what he calls the children and grandchildren of philosophy. For example, when Pythagoras came up with his famous theorem about right triangles, he didn't have a geometry textbook full of equations. Rather, he employed visualization, looking at literal squares to calculate areas.
To take another example, one of the most important ideas in the history of physics—special relativity—is a remarkably simple concept to visualize, but it took a visual thinker like Einstein to discover it. No matter what the field, The Philosopher's Toolkit provides the clarity and insight necessary for success.
Systematic, Practical Lectures
As you would expect from a course about rationality, the material is presented systematically, with basic concepts building step by step toward advanced applications. Many of the concepts, such as Aristotle's square of oppositions or the rigors of scientific experimentation, are intellectually challenging, but Professor Grim's careful, clear presentation makes the material easy to understand. Over the course of these lectures, you'll:
see how words refer to concepts that build propositions that form arguments;
move from visualization to thought experiments to thinking with models;
analyze Aristotle's airtight logic, then study the flow of syllogisms and the variety
of logical fallacies;
explore the source of polarization, and how to negotiate between extreme
positions; and
study the difference between science and pseudoscience and how to put your
ideas to the test through factual experiment.
While the emphasis of this course is to think more rationally, one of the most interesting topics is the relationship between reason and emotion—"cool rationality" and "hot thought." While rationality is certainly crucial for good decision making, it turns out that emotion is equally important.
Particularly when there is no time for careful deliberation, emotions, gut reactions, and rules of thumb are the way to go—just ask any firefighter, or a pilot who has been forced to land a plane in an emergency. But whether you need a heuristic for fast action or clear eyes for careful rumination, The Philosopher's Toolkit gives you the strategies you need for both occasions.
Thinking from a New Perspective
Unlike other courses on logic and rationality, the interactive nature of this course hones your critical thinking with a series of mental calisthenics. This is not a passive course, and you'll love the many hands-on examples Professor Grim provides throughout. In fact, he even presents one lecture as a "workshop" in creative, sideways thinking. In his words, creative thinking can't be taught, but it can be cultivated through practice.
In nearly every lecture, he encourages you to hit "pause" to think through problems such as:
the Tower of Hanoi game;
the Prisoner's Dilemma in game theory;
the ultimatum game in behavioral economics;
the bicycle problem, which even tripped up mathematician John von Neumann; and
the three-stage model for the Hobbesian state.
With a sardonic wit and a healthy mistrust of authority, Professor Grim is the ideal guide for a normative course on rational thinking. He takes you on a tour of great minds through the ages, bringing them down from their lofty vantage points and showing you how they employed the strategies of The Philosopher's Toolkit to develop their magnificent ideas. When you complete this course, you, too, will immediately be able to apply these strategies to nearly every aspect of your daily life—helping you simplify problems, think more creatively, and make better decisions.
LECTURES
1 How We Think and How to Think Better
2 Cool Rationality and Hot Thought
3 The Strategy of Visualization
4 Visualizing Concepts and Propositions
5 The Power of Thought Experiments
6 Thinking like Aristotle
7 Ironclad, Airtight Validity
8 Thinking outside the Box
9 The Flow of Argument
10 Simple Heuristics That Make Us Smart
11 Why We Make Misteaks
12 Rational Discussion in a Polarized Context
13 Rhetoric versus Rationality
14 Bogus Arguments and How to Defuse Them
15 The Great Debate
16 Outwitting the Advertiser
17 Putting a Spin on Statistics
18 Poker, Probability, and Everyday Life
19 Decisions, Decisions
20 Thinking Scientifically
21 Put It to the Test—Beautiful Experiments
22 Game Theory and Beyond
23 Thinking with Models
24 Lessons from the Great Thinkers
MEET YOUR PROFESSOR
Dr. Patrick Grim is Distinguished Teaching Professor of Philosophy at the State University of New York at Stony Brook.
He graduated with highest honors in anthropology and philosophy from the University of California, Santa Cruz. He was named a Fulbright Fellow to the University of St. Andrews, Scotland, from which he earned his B.Phil. He earned his Ph.D. from Boston University.
Professor Grim is the recipient of several honors and awards. In addition to being named SUNY Distinguished Teaching Professor, Dr. Grim has been awarded the President and Chancellor's awards for excellence in teaching and was elected to the Academy of Teachers and Scholars. The Weinberg Distinguished Visiting Professor at the University of Michigan in 2006, Professor Grim has also held visiting fellowships at the Center for Complex Systems at Michigan and at the Center for Philosophy of Science at the University of Pittsburgh.
Professor Grim, author of The Incomplete Universe: Totality, Knowledge, and Truth; coauthor of The Philosophical Computer: Exploratory Essays in Philosophical Computer Modeling; and editor of the forthcoming Mind and Consciousness: 5 Questions, is widely published in scholarly journals. He is the founder and coeditor of 25 volumes of The Philosopher's Annual, an anthology of the best articles published in philosophy each year.