Drayton Bird – How To Make The Cash Register Ring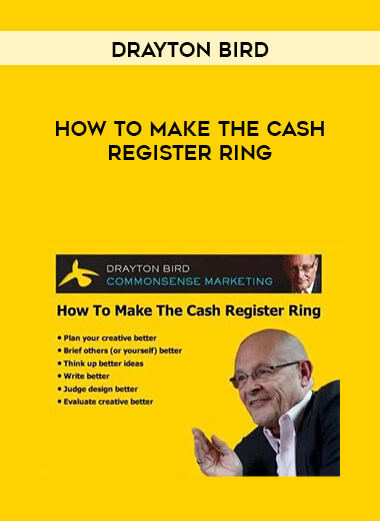 Salepage : Drayton Bird – How To Make The Cash Register Ring

In this two-DVD set, Drayton gives you the answers – with examples.
You'll see a seemingly endless parade of no less than 47 cases and examples from all business – financial, automotive, retail, travel, publishing, drink, IT, mail order speciality, charity, agriculture, property – even babysitting !
* Plan your creative better
* Brief others (or yourself) better
* Think up better ideas
* Write better
* Judge design better
* Evaluate creative better
'Everything it promised to be..and more.
Critical information for anyone involved in marketing.' – Joanna Johnson, Euromoney plc
Have you ever wondereed..
…how to get ideas?
…how incentives work – and which work best?
…what should go on (or inside) an envelope?
…how long copy should be?
…how many pieces should a mailing have?
…when gimmicks work?
…which emails pull best?
…how a television commercial works?
..which parts of a layout people look at?
…how you convince people you are really good?