Drayton Bird – How To Write (And Persuade) Better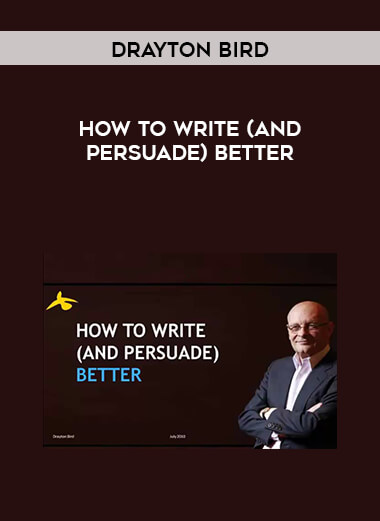 Salepage : Drayton Bird – How To Write (And Persuade) Better

5 videos for instant download:
I've spent the last 53 years writing stuff to persuade and sell almost every single day.
And I'd like to teach you how to write and persuade better. But in a fraction of the time it's taken me to learn – two hours, fifty minutes and forty nine seconds, to be precise.
Sales letters, e-mail, advertisements, books, scripts for telemarketing or radio commercials – I can help you with all of them. The whole shooting match.
Writing great copy isn't some black art. All you need are some simple rules – then just follow them.
In these 3 one-hour videos I'll tell you all you need to know.
Plus you also get two invaluable documents – both essential guides to your success.
The first is the Briefing Document that I use with all my own clients.
If you're trying to write and don't have a decent brief you're sunk before you start. You might as well not bother – you'll save yourself time and heartache.
The Briefing Document tells you all the questions you need to ask.
When you've got the answers you can be sure you'll know exactly what you're being asked to do.
You also get my 21 point guide on how to evaluate what you've written. IT tells you what to look for after you've written something.
Just read through your work checking it against each of the 21 points. If you can tick off every one you're most likely onto a winner with some dynamite copy.
You also get two of the presentations – a total of 2 hours and 39 minutes – on copywriting.
One is by Steve Harrison. Maybe his name doesn't ring any bells but he's more than qualified to teach you. Look:
The UK's leading advertising journal, Campaign magazine, described him as "the greatest DM creative of this generation".

Over the past 15 years, Steve has won more UK DMA awards than any creative director in London and more Cannes Lions Direct awards than any creative director in the world.

He has been European Creative Director at OgilvyOne and Worldwide Creative Director at Wunderman.

In between he founded his own agency, Harrison Troughton Wunderman, quickly establishing it as the worldwide creative benchmark.

For over ten years he has been a lecturer at the UK Institute of Direct Marketing, which last year made him an Honorary Fellow in recognition of his contribution to the industry and commitment to training.
When I have a question about copy – and I do have them – it's Steve that I call.
The other presentation was given by me.
Here is just some of what you will see and hear:
The weapons of marketing. Research, Advertising and Sales Promotion are three. Learn about these and the other nine.

What you need to write a great headline.

You have more customers than you think and why you shouldn't trust friends, experts, or research.

People see around 2,500 marketing messages a day – how to make sure yours is one of the 8 that someone will remember in 24 hours time.

What exactly Direct Marketing is.

The little things that make a huge difference.

The best time to send your sales emails.

Where 'problem – solution' copy doesn't work – and what you should do instead.
But that's not all …
You'll also discover:
What your copy must have to stop it being passed like a ship in the night.

The only profit center there is in business – can you guess what it is?

What makes the perfect advertisement.

The magic number that you must know.

What matters most in your copy.

How customers are lost – and how to stop it happening to you.

There are three stages that all markets go through. How to identify which one you're in and what to do.
Look.  You could spend a lifetime trying to learn this stuff – I have. And even then there's no guarantee that you'd actually know what you need to.
Or you could spend under six hours with me (and Steve) and be sure that you have every single tool that you need.
So how much time have you got? The 27,875,880 minutes that it's taken me – with no guarantee of your success – or 319?
Buy with confidence, you're covered by my 60-day, no-nonsense, 100% money back guarantee:
If within 60 days you're not completely happy with the video and don't think it's worth ten times what you paid, I'll happily refund all your money – no questions asked. And you can keep the video too.