Dynamic Body Stratching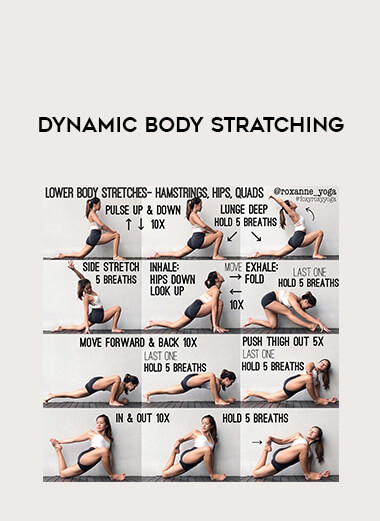 Salepage : Dynamic Body Stratching
Body Stratching in Motion
4 DVD HD rips for a comprehensive exercise training series
Ideal for couples or as a stretching method with assistance.
ASSISTED ISOLATED STRETCHING IS A TYPE OF DYNAMIC BODY STRETCHING. WE TEACH INDIVIDUALS HOW TO USE OUR SYSTEM ON A MASSAGE TABLE WITH STRAPS AND BELTS TO GET ACCURATE INFORMATION FOR BODY ASSESSMENT. THE RESULTS ARE THEN ENTERED INTO OUR SOFTWARE PROGRAM IN ORDER TO DETERMINE MUSCLE WEAKNESSES AND IMBALANCES.
Every day, we get up and follow a ritual to get our creative juices flowing. Some individuals drag themselves to the nearest coffee machine, while others splash water on their faces or go for a box of Cheerios. We all warm up our brains for each new day, but we should also remember to warm up our bodies. This video is for you if you need to get your blood flowing before a large meeting, carpool, or a more prolonged workout. Loretta McGrath, DBS founder and CEO, discusses her complete body warm up in a humorous, educational approach that will keep you interested. Teach this warm-up video to your customers and help them optimize their DBS outcomes!