Eban Kays – 10 Most Efficient Strategies to Grow Your Business & Profits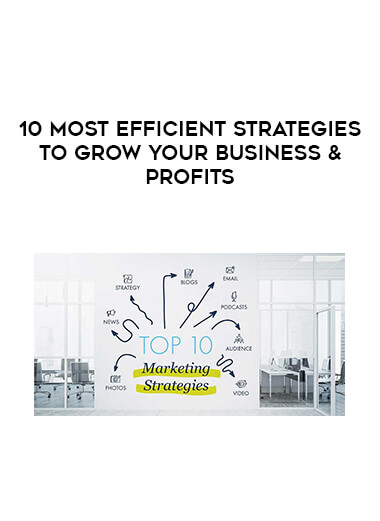 Salepage : Eban Kays – 10 Most Efficient Strategies to Grow Your Business & Profits

Most of us have heard this adage, but it cannot be emphasized enough. Each of these ten business growth strategies requires planning, preparation, and communication to those on your team that are going to implement them in order to have a chance at success. It would be unwise to underestimate the importance of proper setup.
"Failing to plan is planning to fail." -Benjamin Franklin
How much of the market do you own?
Perhaps, you don't know precise numbers, but with a little digging around, you can usually come up with some rough idea. Use this to identify weaker competitors who might have significant market share that you can start to chip away at.
2. Market Segmentation Expansion
Is there a part of the market currently being underserved?
Maybe there is a niche that very few are serving well. This could be a product or service related to one you are offering now but haven't considered how that would solve a new market's problem, sometimes even with the exact same offering.
3. Product Development
New product development, product line extension, or a product reformulation/retooling are a few ways you can look to expand your offerings and thus grow your sales. Get creative, but not just for its sake alone; take a look at what your customers really want, need, and are willing to pay for.
Just another "me too" product line extension probably won't cut it against stiff market competition.
4. Diversification
Who hasn't heard of diversification?
If you have too much of your overall business sales with one or two customers or with one industry, it might be time to find other companies or industries to tap, even if they are doing well and growing. Being beholden to one company can create a scenario where they have all of the negotiating power, and they may leverage that to increase the length of their payment terms, say from 30 to 90 days, or some other distasteful decision that you are forced to swallow.
But you want to be strategic on how you diversify too. Choose wisely which industries or markets to target; it's best to select ones that can be profitable.
5. Mergers or Acquisitions
What vendor, competitor, or other company can you merge with or acquire?
Look for weaker companies to approach about merging or acquiring them. If you are living in a sea of strong industry competition, perhaps it might be best to see if one of them are willing to buy you out. Just know that in the latter scenario, you will likely have little negotiating power.
But it might be the right move to allow your company and employees to grow and thrive, especially if you have limited financial firepower. And after you merge, don't forget to think about how you integrate both companies.
6. Alternative Channels
Maybe you sell everything through wholesalers. Or you only have one retail store. In either case, you could add the other one you don't currently offer or perhaps even add an online shopping option. Or maybe you start selling direct in addition to your wholesale channel.
The key here is communication with existing channels so there aren't hurt feelings or lost business. Or if you plan to lose business in one area, make sure that it will be more than made up for in another area, either in total sales volume or profit or both.
7. Reducing or Increasing Prices
"What? Increase prices," you say? "I couldn't do that; it would upset too many of my customers."
True, it might cause you to lose a customer or two, but part of that is how well the price is communicated. Many times, customers will understand an increase if their prices haven't gone up in many years, and you remind them of this fact along with solid reasons their costs are going up. Plus, taking a personal approach of communicating this face-to-face with all of, or at least, your top customers will go a long way towards assuring them that their business is important. Here are some tips for raising your prices without losing customers.
Or on the flip side, perhaps a strategic price reduction for specific items is in order. This could help drive market share for a product that gets the customer in the door in order to sell them something else more profitable later.
8. Steal Competitor Strategies
If it's working for the competition, why not borrow a page from their playbook.
Now, I'm not advocating doing anything illegal or unethical, but if you can gain knowledge of what they're doing on the up-and-up, then why not do so. Keep in mind that you may need to modify their strategies to your own company, but by the same token, be careful not to water it down too much, thus losing the power of what's working for them.
9. Key Partnerships or Alliances
Are there other companies or influential people in your industry that you can align yourself with to grow your revenues. Typically, these aren't your industry leaders since they don't need your help in return. But if you can find a company or person that has a certain level of success and needs others to create a win-win scenario for both organizations, then by all means do it. Check out these tips for successful partnerships and alliances.
10. Brand Differentiation
Are your brand and products you sell truly differentiated in the market?
Perhaps, you have the best quality, or maybe you have the fastest turnaround. Or you have the most advanced product on the market. Just make sure you have something that is genuinely unique, that sets you apart and actually matters to your customer, meaning they are willing to pay for it at a price you can make a profit. And make sure to communicate that to potential customers as your main point of differentiation from the competition.