Edchart ToOe – Art of Presence Retreat (2004)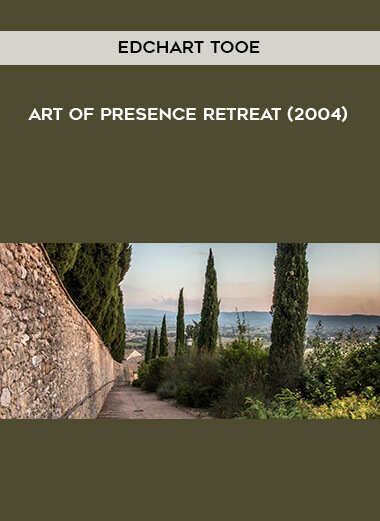 Salepage : Edchart ToOe – Art of Presence Retreat (2004)

A 6-day retreat-style training aimed to assist clinicians in developing the professional and personal skills needed to conduct compassionate presence in therapeutic settings.
This retreat provides a one-of-a-kind environment and opportunity for health professionals of all faiths, beliefs, and cultures to participate in an interdisciplinary retreat designed to provide respite and renewal, reflection and nourishment, and opportunities to re-ignite one's original call to serve others.
Clinicians and medical practitioners (physicians, RNs, NPs, PAs, Chaplains, Social Workers, psychologists, and others involved in clinical practice and education) would benefit from this course. There is no prerequisite; however, prior experience with meditation or other contemplative activities is preferred.
Session themes include becoming aware of our own spiritual or personal beliefs and values that influence our vocations, responding to suffering, the various levels of compassionate presence, the boundaries required for compassionate practice, communicating with patients/families about spiritual distress and suffering, and contemplative practices (e.g., meditation practices such as lectio divina, music as a spiritual practice, journaling, and breath work, among others) to nurture spiritual distress and suffering. The retreat includes trips to several sacred locations in Assisi, as well as time for personal meditation at these sites or in Assisi's lovely natural settings.
Participate in a thoughtful week of personal and professional rejuvenation with knowledgeable guides:
Christina Puchalski, M.D., is a well-known healthcare clinician and educator.
Carolyn Jacobs, PhD, MSW, is a Contemplative Social Worker, Spiritual Director, and Educator.
Michael Stillwater is a musician and educator.
Edward O'Donnell, Spiritual Director & Educator Doris Laesser Stillwater, Contemplative Psychotherapist
How to Get There
The retreat is conducted at Assisi's Monastero di Sant'Andrea. Most participants fly into Rome or Florence and then take a three-hour train ride to Assisi. Some parking is provided at the monastery for automobiles.
The 2019 retreat tuition is $1,095. A $250 payment secures your spot; however, space is limited.
Meals and sleeping accommodations are provided by the monastery. There are several vegetarian and carnivore options available for meals. If you appreciate Italian cooking, we are confident you will enjoy the meal! As available, a double occupancy accommodation and meals are anticipated to cost $500; a single occupancy room and meals are estimated to cost $600. Actual expenses will be decided by the current dollar-euro exchange rates at the time of the retreat. We request that all housing and dining expenses be paid in euros in Assisi (this is what works best for the sisters). In Assisi, you may exchange dollars for euros.
Continuing Education Credits: The registration price includes 26.5 continuing education credits for doctors and nurses.