Educativo Trainings IT Security Academy – Linux for Absolute Beginners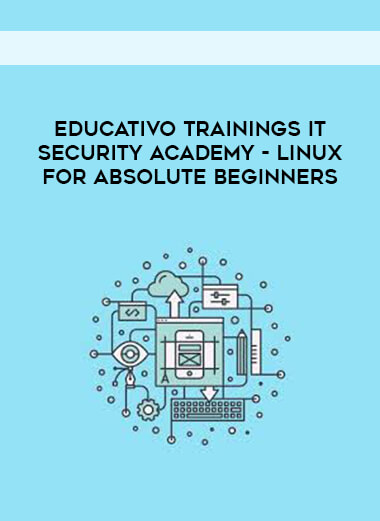 Salepage : Educativo Trainings IT Security Academy – Linux for Absolute Beginners

Size: 6.56GB
Author: Educativo Trainings IT Security Academy
Getting Started with Linux – the complete guide
Systems based on the Linux kernel still lack in popularity, this is because Linux said to be hard to use… We want to bust this myth and uncovers the secrets of how Linux works and how to use it.
If you want to start using Linux system, but you don't know where to start – this course is for you.
Linux for beginners training is the first step for both who are thinking about a career as a Linux administrator and those who just want to change their current operating system!
If you want to install multiple systems on your computer – this course is for you.
Our training is written by an professional system administrator with 10 years of experience. You will learn only useful knowledge with lots of practical examples. It will help you overcome typical problems beginner Linux users face. There is no easier way of getting to know Linux.
Take the course and discover secrets of Linux system!
What are the requirements?
A desire to learn
What am I going to get from this course?
Over 69 lectures and 9.5 hours of content!
Find out how to install and configure Linux on your computer.
Learn what a Linux distribution is and which one to choose.
Discover how to adjust computers to allow multiple operating systems (Windows, Mac OS).
Find out the file system layout of Linux systems and where to find programs, configurations, and documentation.
Learn the basic commands that are used most often in Linux.
Discover how to create, rename, move, and delete directories.
Find out how to list, read, create, edit, copy, and delete files.
Learn how to solve problems faced every day by Linux users.
Find out how to install popular programs known from Windows.
Discover GNOME and KDE environment.
Learn about Linux system safety.
Discover system management.
Learn about Linux console, useful hotkeys and commands.
What is the target audience?
People with no Linux experience or knowledge
Anyone with a desire to use safer system
People who wants to become a Linux system administrator, but need to learn the basics first