Einstieg ins Projektmanagement mit Microsoft Teams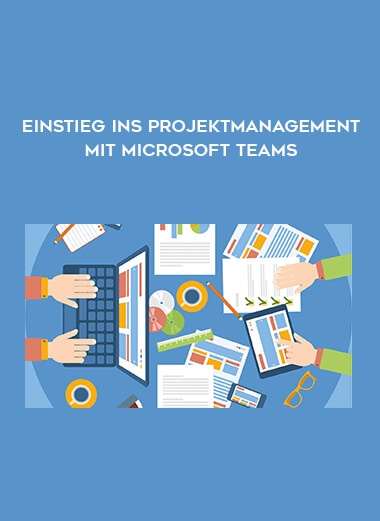 Salepage : Einstieg ins Projektmanagement mit Microsoft Teams

Would you want to collaborate better with your coworkers right now? Is it difficult for you to keep track of your tasks when doing only digital work? Or are you looking for an introduction to agile project management, namely the KANBAN-Board, and want to learn how to use it in Microsoft Teams? Then this is the perfect course for you.
In this course, I will show you step by step how Kanban works as part of agile project management and how you can implement it effectively in Microsoft Teams. You will learn how to increase your productivity and avoid feeling overburdened at work as a result of too many customer requests. But don't worry, this does not imply that there are less customer requests. Furthermore, you will learn how to manage your teams and tasks more effectively using the Kanban Board.
But what exactly will you learn in this course?
What exactly is Kanban?
In this lesson, you will learn all you need to know to get started with Kanban in project management. We examine the method's key values and practices, as well as how a Kanban-Board may seem. By the end of the lesson, you should be able to create your own Kanban board for a service in your company.
Install Microsoft Teams
In this brief tutorial, I will show you how to install MS Teams and, if you do not already have a Microsoft account, how to get one.
Working with Groups in General
You will first learn how to navigate your way about in groups. We'll go through the key features of Microsoft Teams so you can find yourself quickly in the field. By the end of this lesson, you should be familiar with all of the essential tools, including as chats, appointments, video conferences, and meeting planning. In addition, I'll show you how to best set up your MS Teams account for increased productivity.
MS Teams are preparing for your own Kanban board.
This lesson is only dedicated to preparing MS Teams for agile project management. We take a close look at all of the critical elements that are required. By the end of the lesson, you should be able to form and manage your own team for the service you've chosen.
Change Kanban with Microsoft Teams
In the last lesson, we will look at how to set up the Kanban Board. You may take your own service here and go live with it right away. You will learn how to use Microsoft ToDo Planner to implement, for example, appropriate process rules. Furthermore, I will demonstrate how you may obtain appropriate feedback from your colleagues and so improve the Kanban-Board over time.
At the completion of the course, you will understand the following:
Fundamental understanding of Kanban and agile project management
You understand how to use Microsoft Teams.
Create your own Kanban boards.
Create a Kanban board in Microsoft Teams using Microsoft Planner.
Obtaining feedback within the framework of Kanban
Create questions in teams using Microsoft Forms.
Increase your productivity and make your and your colleagues' work easier by using a Kanban board in Microsoft Teams.