Eliminating Your Fear
Course Download Size : 238.8 MB
Delivery : Digital Download Immediately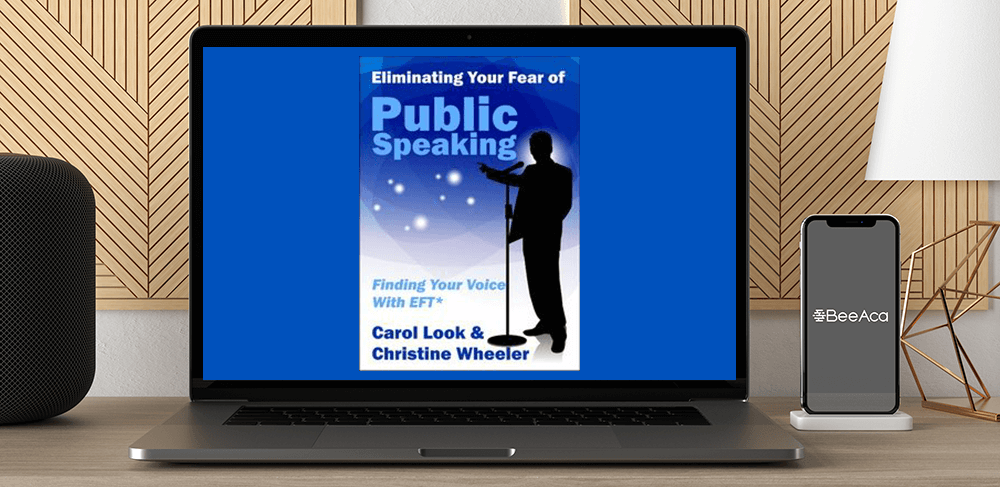 Carol Look – Eliminating Your Fear of Public Speaking
Salepage : Carol Look-Eliminating Your Fear of Public Speaking
Archive : Carol Look-Eliminating Your Fear of Public Speaking
Course Download Size : 238.8 MB
Carol Look – Eliminating Your Fear of Public Speaking
**More information:
Description
7 hours of MP3 audio recordings + 197-page PDF transcript – Download
Do you ever feel

terrified

of being asked a question in a group?

Have you ever felt

dizzy or disoriented

when you were performing?

Has your

heart ever started pounding so loud

that you hear it in your head?

Have you found yourself

breaking out in a sweat

at the mere thought of speaking in front of a group of people?

If you're performing on stage, do you

expect to be judged

by others?

Have you ever

"frozen" or "choked" when it's your turn

to deliver lines?

Does it feel as if you've

"lost your voice"

?

Have you ever had a

panic attack "out of the blue"

?
Whether you are making a cold call to one person over the phone, competing in an athletic or musical event, or speaking/ performing in front of group for any occasion, you may be one of the 75% of people who suffers from the #1 fear in America – the Fear of Public Speaking.
Imagine how free you will feel when you finally ELIMINATE YOUR FEAR OF PUBLIC SPEAKING and FIND YOUR VOICE
Enjoy listening to content-rich discussions about the psychology and physiology of panic. Learn how to eliminate your fear of public speaking with maximum effectiveness by rewiring your automatic responses with clear, detailed EFT sequences. Join anxiety experts and EFT practitioners Carol Look, EFT Master, and Christine Wheeler, EFTCert-1, for this easy to access 7 hour audio downloadable program and 197 page companion PDF transcript of the material which will allow you to:
Learn how to use EFT for past traumas and present worries

Target your anticipatory anxiety and tap it away

Release the expectation of being judged by others

Rewire the automated panic response in your body

Identify the "original" event that is making you feel panic

Erase the source of your fear of public speaking with EFT

Feel free of the cascade of physical symptoms of anxiety

Thaw out your "freeze" response when it's your turn to speak

Eliminate your fear of public speaking once and for all by rewiring your responses with EFT

Feel confident and calm whenever you need to present your ideas to others
Track # / Topics
Disclaimer

Defining the Problem

What the Research Tells Us

Generalized Anxiety vs. Phobias

Why Are We Afraid?

Family History

Past Events

The Freeze Response

Avoidance Behaviors

Why They Don't Work

Why They Make Us More Anxious

The Solution

Energy Medicine

How Past Traumas Operate in Our Present

EFT

Choosing Targets

EFT Instructions

Anticipatory Anxiety

What Do You Imagine in Your Mind?

What Do You Feel When You Picture Your Speech?

Even Though I Feel So Anxious About Next Week

Where Are Your Feelings in Your Body?

Fear of Being Judged in My Chest

This Anxiety Is Stuck in My Solar Plexus

Feeling of Humiliation in My Gut

My Worst Nightmare Is in My Body

Tell Me the Story

What Happens Next

I'm Still Afraid of This Nightmare

I'm Afraid to Let My Guard Down

Preparing For the Worst?

Physiological Sensations

Cluster of Symptoms

I Can't Control My Pounding Heart

I Can't Control My Shaking Body

Even Though My Face Is Turning Red

Accessing Your Emotions Through Your Body

Even Though My Hands Are Sweaty

Even Though I Feel Disoriented

Signs of Releasing Energy

Physiology, Psychology & the Body

Your "Loudest" Symptom

My Body Is Betraying Me

What Purpose Do Symptoms Serve?

My Body Has Been Trying to Protect Me

The Trauma of Your "First" Panic Attack

I Was Totally Blindsided

I Should Never Let My Guard Down

Trauma Occurs in the Body

"Inheriting" the Energy of Anxiety

Effective Treatment Angles for Anxiety

Mainstream Approaches

Finding the Original Trigger

Trauma & The Freeze Response

Sports – Performance Anxiety

Even Though I Froze Back Then

More Past Events

Please Don't Ask Me

I'm Embarrassed I Failed Their Expectations

Tell Me the Story

Our of Nowhere

I Was So Humiliated

The Importance of Language

Energy Stuck in the Throat

Even Though She Disapproved of Me

Public Humiliation

Fear of Being Judged

It's Not Safe to Be Visible

Stop Waiting For Me to Make a Mistake

I'm Afraid They're Mocking Me

No One Protected Me

Clearing Past Events

Stress and Pressure

Feeling Trapped

I Felt Humiliated When They Teased Me

Even Though I Froze Back Then

That Reminds Me of…

Cold Calls

Even Though I Know I'll Be Rejected

What If I Fail?

Too Much Pressure in My Life

I'm Afraid of Being Out of Control

Cascade of Thoughts

Making Lists of Tappable Issues

Different Aspects – Tapping Targets

The Time When…

"The Choices Method"

I'm Afraid They're Going to Laugh at Me Again

What If I Look Bad?

Troubleshooting

I've Tried Everything…

Checklist for Success

Do You Know What to Tap On?

Aim EFT at Your Target

Don't Forget to Measure Your Success

Finding Your Voice
NLP online course
So what is NLP?
NLP stands for Neuro-Linguistic Programming. Neuro refers to your neurology;
Linguistic refers to language; programming refers to how that neural language functions.
In other words, learning NLP is like learning the language of your own mind!
NLP is the study of excellent communication–both with yourself, and with others.
It was developed by modeling excellent communicators and therapists who got results with their clients.
NLP is a set of tools and techniques, but it is so much more than that.
It is an attitude and a methodology of knowing how to achieve your goals and get results
Author
EFT Master, Carol Look is the leading success and abundance coach in the energy psychology field. Known for combining her traditional psychotherapy background with energy medicine, she is recognized and respected around the globe for inspiring people to attract abundance into their lives by using EFT and the Law of Attraction to clear limiting beliefs and build prosperity consciousness.
A pioneer and leading voice in the EFT community, Carol has trained and mentored thousands of energy practitioners. She is a highly sought after international speaker and workshop leader, and authored the book, Attracting Abundance with EFT – an industry favorite – as well as the bestselling Amazon Kindle e-book "Stop Feeling Lazy: How to Break the Procrastination Cycle Once and For All."
While Carol's signature work in the field has been helping others attract success and abundance, she has also produced quality training products on additional topics such as weight loss, clearing clutter, trauma and pain relief.
Carol is featured as a primary EFT practitioner and energy therapy expert in the field's leading DVD documentaries about tapping and contributes her time and work to numerous healing telesummits, books and training programs around the globe. For more on Carol's work, please visit
Readmore: Carol Look