EMF Health Summit 2019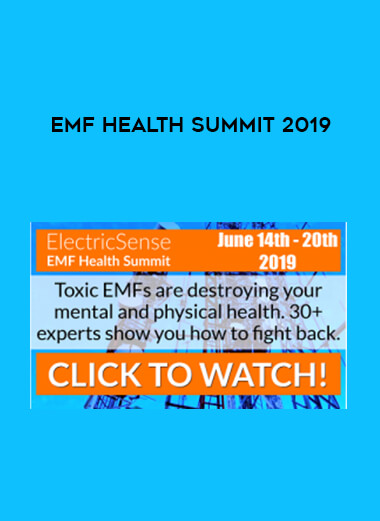 Salepage : EMF Health Summit 2019
I've assembled 35 of the world's foremost specialists on EMFs and health for the EMF Health Summit.
They are dedicated to eliminating myths and misunderstandings concerning the impact of electromagnetic fields on your health, and they are happy to share what they know to assist you and your loved ones. Do you recall when Tobacco executives swore on oath that cigarettes were safe? In the end, the truth was revealed. But it was too late for millions of individuals worldwide who believed the falsehoods and developed cancer.
The same thing is happening with your cell phone right now. The $1.4 trillion telecom business is concealing the facts about how dangerous EMFs are.
You'll learn about the dangers and risks of EMFs, as well as ways that can help you reduce your risk of cancer, heart disease, Alzheimer's, chronic pain, and much more.
We discuss the hazards of EMFs… as well as techniques for reducing your exposure. And we're going at it from a whole other approach… Internal defense. Yes, there are ways to safeguard your body from the inside out!
Much of this is critical, particularly for our children. Digital toxins can have a significant impact on a child's developing body. Given that we are giving our children tablets and cellphones at younger and younger ages, this is a major issue. You'll also learn why cell phones are as addicting as heroin and what you can do to protect your children. Learn about the methods for keeping your children safe at home and at school. They are simple to execute for the entire family.
We also discuss the consequences of EMFs on other susceptible groups, such as the 60% of Americans who suffer from chronic ailments.
Our 2019 EMF Health Summit Presenters
Dr. Eva Detko and Lloyd Burrell – How To Live A Healthy Life In Our Electromagnetic World
Power Expert Dave Stetzer explains how to protect your family from the shocking cancer risk found in most homes.
Oram Miller, BBEC, EMRS – Healthy Homes: Easy Steps to Protect Your Family (1st interview)
EMFs and Mental Health Issues Exposed: Natural and Nutritional Solutions, Trudy Scott, CN
Frank Clegg, Ex-CEO of Microsoft Canada – Cancer, DNA Damage, and Infertility Industry Cover-up
Marlene Siegel, DVM – How EMFs are Killing Our Favorite Animals
How to Detox Your Body and Brain From the Invisible Sea of EMFs – Joseph Mercola, M.D.
Alex Stadtner, BBEC, MS – Design EMF-Safe Green Living Spaces, Including Location Selection
Building a New Home or Renovating an Older One
Filmmaker Josh del Sol Beaulieu explains how to opt out of smart meters and save your family's health.
David Carpenter, MD – EMF Science: Easy Steps to Protect Your Health
Ann Louise Gittleman, PhD, CNS – Eat To Beat EMFs: Practical Tips For Immune System Fortification
Scientists relate EMFs to an increase in cancer incidence, according to Olle Johansson, PhD.
as well as Other Serious Health Issues
Ty Bollinger, Author of The Truth About EMFs and Cancer: Actionable Steps
How Gut Health Can Heal and Protect You From EMFs – Tom O'Bryan, DC, CCN, DACBN
Oram Miller, BBEC, EMRS – 5G Is Coming, and Here's What YOU Can Do Now (2nd interview)
Top 5 EMF Protection Tips From An Esteemed Medical Doctor – Dietrich Klinghardt, MD, PhD
Camilla Rees is an MBA candidate. The Wireless Elephant in the Room and What You Can Do About It
Jay Davidson, D.C., PSc.D – Investigating the Relationship Between Digital Toxins and Chronic Diseases
Jack Kruse, MD – The Inconvenient Truth: What Happens When You Hold Your Cell Phone to Your Head
Bill Cadwallader, MBA, EMRS – Why EMFs are the Digital Age's Tobacco:
Methods for Reducing Your Exposure
Biohack author Ben Greenfeld Boost Your Physical Fitness Naturally at Home
DC, DACBN, PScD – Peter Osborne Can Your Diet Protect You Against EMF Dangers?
Gaetan Chevalier, PhD – Earthing: Simple Ways to Avoid Chronic In?ammation
Daniel Pompa, PSc.D. – Cellular Regeneration Acceleration – How to Protect Yourself from EMFs
Dr. Ellen Kamhi, RN – Can EMF Protection Be Provided by Ancient Herbs and Oils?
Health Journalist Nick Pineault – Electrosmog: Inexpensive Ways to Look and Feel Years Younger
Jonathan Landsman, Health Researcher – How Metal Fillings Increase EMF Toxicity and What Can Be Done
EHT Senior Researcher Lloyd Morgan – Breaking the Dam of Denial:
The Effects of Infertility on Our Children's Brains
Trevor Marshall, PhD, BE, ME – Healing Sleep: EMF Protection for the 60% of Americans Suffering from Chronic Disease
Zach Bush, MD – The Road to Health: Restoring Intercellular Communication
Cece Doucette, BA, MA – EMF Deathtraps: How Is Our School Wi? Poisoning Our Children?
Paul Héroux, PhD – EMF Science: An Uncomfortable Reality
Eva Detko, PhD, MSc – Electromagnetic, Chemical, and Emotional Stress Relief
Keith Scott-Mumby, MD, MB ChB, PhD – Quantum Light Healing Methods and the Electric Universe
Peter Sullivan, BA, MS – Former Silicon Valley Heavyweight's Tech and Nutritional Health Hacks
Best Functional Medicine Lab Tests To Improve Your Health – Stephen Cabral, ND
The material in these videos is provided solely for educational reasons and is not intended to be a substitute for professional medical advice, diagnosis, or treatment. This website offers no medical advice, diagnosis, or treatment.
If you have any questions about a medical problem, always seek the counsel of your physician or another certified health expert.
Welcome to Your Host, Burrell, Lloyd
Lloyd Burrell, the founder of ElectricSense.com and the EMF Experts Solutions Club, a unique solutions-based EMF resource, has been educating the public on this topic for almost ten years. Lloyd found he had become electrically hypersensitive in 2002.
He grew really unwell and was unable to use a mobile phone, a regular phone, a computer, or even public transportation. Lloyd was able to recover himself and is now living normally. Electromagnetic fields are a constant hazard. It is the most quiet murderer of our day, as well as the most overlooked.