EMF Health Summit 2019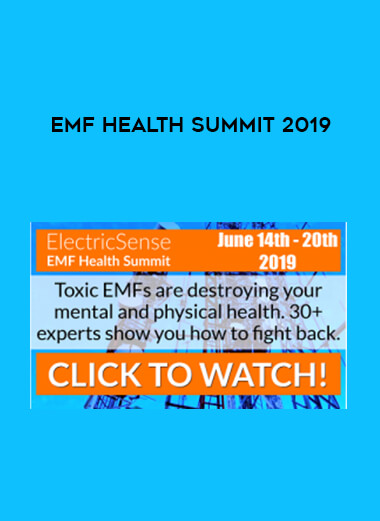 Salepage : EMF Health Summit 2019
At the EMF Health Summit I've gathered together 35 of the world's leading experts on EMFs and health.
They're passionate about dispelling the myths and confusion about the effects of electromagnetic fields on your health – and they're eager to share everything they know to help you and your loved ones. Do you remember when Tobacco executives were swearing under oath that cigarettes were safe? The truth came out in the end. But it was too late for millions of people around the world who bought into the lies and got cancer.
The same thing is happening right now with regards to your cell phone. The $1.4 trillion telecom industry is hiding the truth about just how deadly EMFs are.
You'll learn about the dangers and risks of EMFs and the techniques you can use to make a huge difference reducing your risk of cancer… heart disease… Alzheimer's… chronic pain… and a whole lot more.
We talk about the dangers of EMFs… and the strategies you can use to reduce your exposure. And we have a completely different angle of attack…Internal protection. That's right – there are ways you can protect your body from the inside out!
Much of this is crucial – especially for our children. Digital toxins can have a massive effect on a child's growing body. Considering we're handing our little ones tablets and smartphones at increasingly younger ages, this is a huge problem. You'll also get scientific evidence that cell phones are as addictive as heroin – and what to do about it for your children. Find out about the solutions for protecting your children at home and at school. They're easy to implement for the whole family.
We also cover the effects of EMF's on other vulnerable people… like the 60% of Americans with chronic diseases.
Our Presenters for the EMF Health Summit 2019
Lloyd Burrell and Dr. Eva Detko – How To Live A Healthy Life In Our Electromagnetic World
Dave Stetzer, Power Expert – How To Protect Your Family From The Shocking Cancer Risk Found In most Homes
Oram Miller, BBEC, EMRS – Healthy Homes: Simple Steps to Keep Your Family Safe (1st interview)
Trudy Scott, CN – EMFs and Mental Health Issues Exposed: Natural and Nutritional Solutions
Frank Clegg, Ex CEO Microsoft Canada – Industry Cover-up of Cancer, DNA Damage, and Infertility
Marlene Siegel, DVM – How EMFs are Killing The Animals We Love
Joseph Mercola, MD – How to Detox Your Body And Your Brain From the Invisible Sea of EMFs
Alex Stadtner, BBEC, MS – Create EMF-Safe Green Living Spaces Including Choosing a Location,
Building Your Home, or Updating an Older Home
Josh del Sol Beaulieu, Filmmaker – How to Opt-Out of Smart Meters and Save Your Family's Health
David Carpenter, MD – EMF Science: Simple Steps to Safeguard your Health
Ann Louise Gittleman, PhD, CNS – Eat To Beat EMFs: Practical Tips On How To Fortify Your System
Olle Johansson, PhD – Sounding the Alarm: Science links EMFs to Increased Incidence of Cancer
and Other Serious Health Problems
Ty Bollinger, Author – The Truth About EMFs and Cancer: Practical Steps You Can Take
Tom O'Bryan, DC, CCN, DACBN – How Gut Health Can Heal and Protect You From EMFs
Oram Miller, BBEC, EMRS – 5G is Coming and What YOU Can Do About It NOW (2nd interview)
Dietrich Klinghardt, MD, PhD – Top 5 EMF Protection Tips From Esteemed Medical Doctor
Camilla Rees, MBA – The Truth About the Wireless Elephant in the Room and What to Do About It
Jay Davidson, D.C., PSc.D – Exposing the Link Between Digital Toxins and Chronic Diseases
Jack Kruse, MD – The Inconvenient Truth: What Happens Every Time You Put a Cell Phone Against Your Head
Bill Cadwallader, MBA, EMRS – Why EMFs are the Tobacco of the Digital Age:
Strategies For Minimizing Your Exposure
Ben Greenfeld, Author – Biohack Your Home: Boost Your Physical Fitness Naturally
Peter Osborne, DC, DACBN, PScD – Can Your Diet Protect You Against The Dangers Of EMFs?
Gaetan Chevalier, PhD – Earthing: Easy Ways to Protect Yourself From Chronic In?ammation
Daniel Pompa, PSc.D – Accelerating Cellular Regeneration – How to Protect Yourself from EMF's
Ellen Kamhi, PhD, RN – Can Ancient Herbs and Oils Provide EMF Protection?
Nick Pineault, Health Journalist – Electrosmog: Inexpensive Ways to Look and Feel Years Younger
Jonathan Landsman, Health Researcher – How Metal Fillings Multiply EMF Toxicity and What To Do About It
Lloyd Morgan, Senior Researcher EHT – Breaking the Dam of Denial:
Infertility and The Effects on Our Children's Brains
Trevor Marshall PhD, BE, ME – Healing Sleep: EMF Protection for the 60% of Americans with Chronic Diseases
Zach Bush, MD – Restore Intercellular Communication: The Road To Health
Cece Doucette, BA, MA – EMF Deathtraps: How School Wi? Is Poisoning Our Children
Paul Héroux, PhD – EMF Science: An Inconvenient Truth
Eva Detko, PhD, MSc – Mind-Body Freedom From Electromagnetic, Chemical, and Emotional Stress
Keith Scott-Mumby, MD, MB ChB, PhD – The Electric Universe and Quantum Light Healing Methods
Peter Sullivan, BA,MS – Tech and Nutritional Health Hacks from Former Silicon Valley Heavyweight
Stephen Cabral, ND – Best Functional Medicine Lab Tests To Improve Your Health
The contents of these videos are for informational purposes only and are not intended to be a substitute for professional medical advice, diagnosis, or treatment. This website does not provide medical advice, diagnosis, or treatment.
Always seek the advice of your physician or other qualified health provider with any questions you may have regarding a medical condition.
Meet Your Host, Lloyd Burrell
Founder of ElectricSense.com and the EMF Experts Solutions Club a unique solutions based resource on EMFs, Lloyd Burrell has been educating the public on this issue for nearly 10 years. Back in 2002 Lloyd discovered he had become electrically hypersensitive.
He became extremely ill and couldn't use a cell phone, an ordinary phone, a computer, or even public transport. Lloyd found a way to heal himself and he now lives normally. Electromagnetic fields are an ongoing daily threat. It's the #1 silent killer of our time and the most ignored.