English learning – Pronunciation Power 2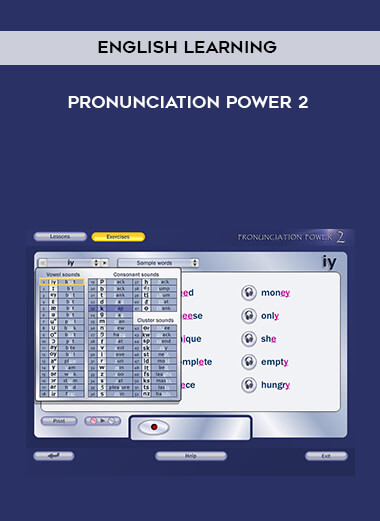 Salepage : English learning – Pronunciation Power 2

The Ultimate Pronunciation CD ROM
Pronunciation Power 2 is interactive and user-friendly. It is designed for intermediate to advanced English learners of all ages and contains hundreds of hours of instruction and practice.
Learn the 52 sounds necessary to speak clear English
Compare your voice to the instructor's voice using the waveform technology
See how sounds are made by way of a moving animated side view of the mouth and tongue and/or a front view video of the instructor's mouth
Test your listening ability with 650 different sentence exercises
Practice your pronunciation through the interactive and exciting exercises including: 780 sample words, 1040 comparative words, and 1040 different sentences
Includes an extensive 40 page manual for the STAIR exercises; stress, timing, articulation, intonation, rhythm
ATTENTION: Pronunciation Power Download and CD products do not support MacOS Catalina (please purchase the online versions available on eEnglish). A small aspect of the Lesson section, the "Speech Analysis" feature of Pronunciation Power 1 & 2 (CD and download versions) will not work in 64bit versions of Windows 7 or Windows Vista. Pronunciation Power has been updated in February 2010 to be compatible with Windows Vista and Windows 7 however if you have the 64bit versions of those, the Speech Analysis (waveform plotting) feature of Pronunciation Power will not work. This is a known issue that we will be attempting to fix in a future release. In the meantime, contact us at and we will send you a patch that removes the Speech Analysis.
Buy Pronunciation Power 2 and improve your English pronunciation immediately!