English learning – Pronunciation Power 2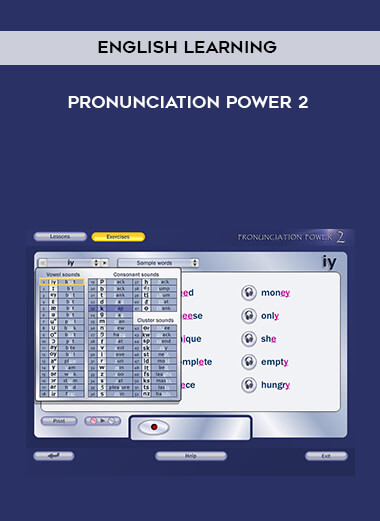 Salepage : English learning – Pronunciation Power 2

The Ultimate Pronunciation Software CD-ROM
Pronunciation Power 2 is a fun and easy-to-use program. It provides hundreds of hours of instruction and practice for beginner to advanced English learners of all ages.
Learn the 52 sounds required to speak English clearly.
Using waveform technology, compare your voice to that of the teacher.
A moving animated side view of the mouth and tongue and/or a front view video of the instructor's mouth will show you how sounds are created.
650 diverse sentence problems will put your listening skills to the test.
Pronounce your words correctly with the interactive and engaging activities, which include 780 example words, 1040 comparison terms, and 1040 distinct phrases.
Includes a comprehensive 40-page handbook for the STAIR exercises, which include stress, timing, articulation, intonation, and rhythm.
ATTENTION: The download and CD editions of Pronunciation Power do not support MacOS Catalina (please purchase the online versions available on eEnglish). The "Speech Analysis" component of Pronunciation Power 1 and 2 (CD and download editions) will not operate with 64bit versions of Windows 7 or Windows Vista. Pronunciation Power was upgraded in February 2010 to be compatible with Windows Vista and Windows 7, although the Speech Analysis (waveform graphing) component of Pronunciation Power will not operate if you use the 64bit versions of both operating systems. This is a known problem that we will try to resolve in a future release. Meanwhile, please email us at and we will give you a patch that disables the Speech Analysis.
Purchase Pronunciation Power 2 and quickly enhance your English pronunciation!