Entheos Academy – Upgrade Your Productivity (2014)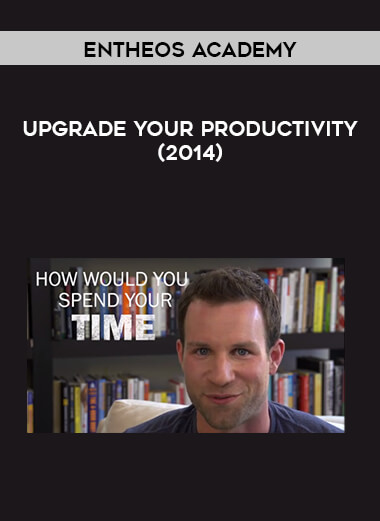 Salepage : Entheos Academy – Upgrade Your Productivity (2014)

Join Abel James, from the Fat Burning Man, as he explores how we can improve our health and increase our bodies productivity. This conference is your ticket to Abel's conversations with 15+ of the world leading thinkers in the fields of medicine, fitness training, business and psychology. It's practical advice that will help you reach your fullest potential.
The Experts
Learn more about each speaker and their session!
How to be a Content Production Machine
with John Dumas
John Dumas is an international artist, musician, shamanic astrologer and pioneer in sound healing who developed the unique sound therapy/healing ceremony called "Shamanic Journey Into Dreamtime."Designing a Life Rather Than Just Living One,
The Ability to Say "No," and Matching Energy Levels
with Dean Dwyer
Dean Dwyer is the author of the book, Make Shift Happen. A former educator, he now spends his time teaching others how to make shift happen in their own lives to change how they look, work and live.
The Day Triage Process, Embracing The Moment, and Tapping Into The Flow of Life
with Pedram Shojai
Pedram Shojai is a former Taoist monk, world renowned author, filmmaker and lecturer. He is a reputable Doctor of Oriental Medicine known for his down to earth approach to stress management.
The Art of Simplification, The Power of Focused Consistency, and Developing The Right System
with James Clear
James Clear is an entrepreneur, weightlifter, travel photographer and blogger. He shares fresh ideas on how to live a healthy life, both mentally and physically using behavior science.
The Problem With Overachievement, Your Relationship to Stress, and How to Get Into The Flow State
with Sara Gottfried, MD
Sara Gottfried, MD, is a Harvard-educated physician, speaker and author of the NYT bestselling book, The Hormone Cure: Reclaim Balance, Sleep, Sex Drive and Vitality with The Gottfried Protocol.
The Breakthrough to Break Free, How Everything is Connected, and Recommended Productivity Tools
with Michel Fortin
Michel Fortin is a copywriter, marketer, and consultant. He is co-founder of The Licorice Group, a training and publishing company, with his wife Sylvie. He's also an author, speaker, and WordPress geek.
Start Living By Design (Not Default), Give Your Mind The Ability to Create, and Up Your Game
with Jonathan Bailor
Jonathan Bailor is a nutrition and exercise researcher, author, and speaker who specializes in using high-quality food and exercise to simplify health and fitness. He is the author of The Calorie Myth (2013).
How to Upgrade your Brain and Body
with Dave Asprey
Dave Asprey is a computer security expert and entrepreneur who spent 15 years hacking his own biology. He upgraded his IQ by >20pts., lowered his biological age, and lost 100 lbs without using calories or exercise.
Earning a "PhD" in How to Live, Setting Aggressive Goals, and Consistency Over Intensity
with Brian Johnson
50% Philosopher + 50% CEO. Brian is 100% committed to helping people optimize their lives so we can change the world together. He created en*theos + PhilosophersNotes + Optimal Living 101 + Zaadz + eteamz.
How to Create a Powerful Morning Ritual and the 5 Minute Journal
with UJ Ramdas
UJ Ramdas is the co-creator of The Five Minute Journal and co-founder Intelligent Change where he creates cool products that make people happier. He's passionate about bringing together practical psychology and business to create a better world. With a background in Behavioral science, Marketing and Hypnosis, he's consulted with (several hundred)… More