Eric Cressey – Budding the Efficient Athlete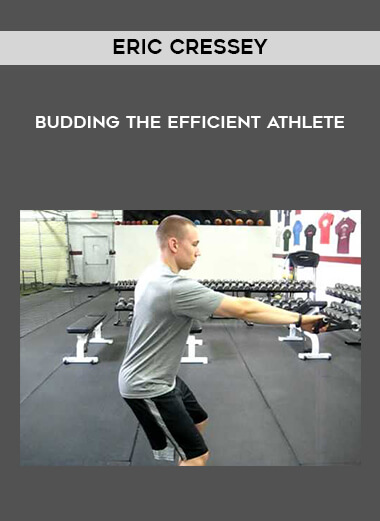 Salepage : Eric Cressey – Budding the Efficient Athlete

As part of this week's series on topics you didn't learn in school, I'll be discussing how we've misconstrued muscle activities today. We learn muscular motions when studying anatomy and kinesiology in a standard exercise science degree.
The quadriceps are responsible for knee extension. The elbow is flexed by the biceps. The humerus is rotated externally via the teres minor and infraspinatus muscles. You get the idea.
The aspect that many people miss is that this is merely a practice of learning concentric muscle motions, which is only one-third of the picture when it comes to how we move. You see, these muscles are also operating isometrically and eccentrically; sometimes the primary purpose is to conserve muscular length rather than reduce it, or to avoid uncontrolled lengthening. This is an important concept to grasp since inadequate isometric and eccentric control are the root causes of the vast majority of non-contact sporting injuries.
Because our scapular stabilizers and rotator cuff do not work properly to prevent, halt, or restrict incorrect movement, our shoulder growls. The ACL is torn because the glutes and hamstrings were unable to regulate unrestricted knee hyperextension, hip adduction, and internal rotation.
What Your Strength and Conditioning Textbook Didn't Teach You: Synergists and Antagonists
As a follow-up to yesterday's "series premiere," I'd like to use today's article to highlight another issue that is rarely covered in the traditional exercise science textbook: synergists and antagonists.
The most common reason for their connection is that they are on opposite sides of the joint and execute opposite activities. The hamstrings, for example, flex the knee, whereas the quadriceps stretch the knee. Isn't it obvious? Not at all.
Muscles can act as both synergists and antagonists.
To illustrate this notion, consider the hip extensors. The hamstrings, gluteus maximus, and adductor magnus are your major hip extensors (there are more, but we'll keep this topic brief). When you squat, lunge, deadlift, run, push the sled, or bust a move on the dance floor, they all work together to expand the hip. However, as it stretches, the hip may perform a variety of things.
Read more about the Black Friday/Cyber Monday Sale.
I don't know about you, but I can't think of anything I'd rather do than get up at 4 a.m. and wait in line with thousands of other people at a store to take advantage of a discount. With that in mind, Mike Robertson, Bill Hartman, Mike Reinold, and I am pleased to offer a deal on the following goods until Monday (11/28) at midnight: Inside-Out DVD Set Assessment and Correction Excellent Mobility DVD Building the Efficient DVD Set Bulletproof Knees and Back Seminar DVD Set 2008 Indianapolis Performance Enhancement Seminar DVD Set Bulletproof Knees Manual and DVD The Single-leg Solution DVD Set DVD Set for Optimal Shoulder Performance I've linked to each of these goods individually so you can learn more about them, but you can simply buy them alone or together at the Robertson Training Systems Product Page. The lone exception is Optimal Shoulder Performance, which is only available at www.ShoulderPerformance.com with the discount code bfcm2011. If you're "new" to our goods, I'd recommend watching this video on Assess and Correct to understand more about how we use one of our tools. If you haven't yet purchased any of our products, Assess and Correct is an excellent place to start: Sign up for our FREE Newsletter today and you'll get a four-part video series on how to deadlift!
Continue reading
7 Approaches to Continuing Education in the Fitness Industry
In response to a previous blog piece, one reader asked how I "organize" my approach to continuous education. As I thought about it, I realized it's a more ordered "ritual" than I had previously assumed. Here are the essential components:
1. I always have two books open at the same time. The first consists of training/nutrition/manual therapy/rehabilitation. The other is about personal/professional development. Fiction is conspicuously absent from my list; I have no interest in it and couldn't tell you the first thing about Lord of the Rings or Harry Potter. I normally carry a book on CD in the car as well, but since my drive is no longer necessary (we relocated closer to the facility), I've been doing more reading and less listening than before.
2. Our staff meeting is held every Wednesday at 10:30 a.m. This has turned out to be an excellent chance for all of us to further our education. While one person is "in charge" of delivering the material each week, it invariably turns into a "think tank" among our employees and interns on how anything pertains to individual customers, unique difficulties, functional anatomy, or our programming or business strategy.
Continue reading
Do you want to work as a Personal Trainer or a Strength Coach? Begin Here.
It's an email I get from a random reader at least twice a week, and it goes something like this:
"My present job isn't rewarding, but I enjoy working out and want to make it a profession. Which qualification do you suggest?"
I receive so many of these questions that I decided to make this my autoresponse, which, as you'll see below, includes some harsh love that I believe these people need to hear.
Rachel Cosgrove stated a few months ago that around 80% of individuals who start the fitness profession depart within a year. I haven't seen the data personally, but Rachel knows her stuff and keeps a close eye on the business side of the fitness industry, so I absolutely trust her.
Continue reading Three Years of Cressey Performance: The Right Reasons and the Right Way
Despite being a rather "regular" day at the gym, yesterday celebrated the three-year anniversary of Cressey Performance. While my business partner's blog post yesterday did a wonderful job of thanking many of the critical individuals who have contributed to our success – from clients to parents, coaches, interns, and significant others – I wanted to weigh in today. Above all, I wanted to emphasize a line that exemplifies what makes me most proud of where CP has been, where it is, and where it is headed.
We did it for the right reasons, and we did it correctly.
Chris McCombs said something that really touched home for me in a company development blog article the other day. When he was discussing how he determines whether to accept or reject a new project/opportunity, he mentioned the following guidelines: "Only take on projects that are in line with my current values and fulfill me in ways other than money…too many individuals spend their lives JUST chasing a buck; that's no way to live in my opinion. For me, the money must be present, but it must also fulfill me personally, be enjoyable, benefit many people, and build on and be consistent with my current brand and brand equity." I had to make a difficult decision in 2007. My internet coaching company had really taken off, and the book contract for Maximum Strength was in the works. My other publications, Magnificent Mobility, The Ultimate Off-Season Training Manual, and Building the Efficient Athlete, were doing well and receiving positive feedback, and I'd recently had a study published in the Journal of Strength and Conditioning Research. This website was gaining popularity at an alarming rate, and I had just completed my first year on the Perform Better tour, which meant that many doors were opening for me to conduct seminars all over the world, and I could have sat at home and wrote all day, every day. I was running out of time since I was already teaching customers 8-13 hours per day, seven days a week, as my in-person clientele had increased significantly. For approximately three weeks after Lincoln-Sudbury won a baseball state title after I'd trained several of their players, and one of my athletes was voted state player of the year, my phone rang nonstop. I was in high demand as a t-shirt model after being featured on the front page of the Boston Globe with a nipple so hard it could cut diamonds (okay, not really – but it made for an awesome blog post, The School of Hard Nipples).
I was fatigued and anxious, but I was absolutely, completely "living the dream" that I had always desired. To make matters even more complicated, I had recently begun seeing a wonderful girl (now my fiancee) who I had a strong sense was "the one" after approximately three months. The work days, on the other hand, were incredibly long, and I was afraid I'd ruin a good thing by not spending enough time with her. Every business development coach would have found a "easy" solution to all of my issues: cease teaching employees in person. Simply write, consult, produce DVDs, and deliver workshops. It would have lowered my hours by 80% while still allowing me to earn a decent income and have lots of leisure time. But there was a major issue with that; as Chris put it, it wouldn't "fulfill me personally, be entertaining, benefit a lot of people, and grow and be in line with my present brand and brand equity." I enjoy evaluating athletes, writing programs, coaching, sweating, training with my guys, cranking up the music, assisting people in reaching their goals, collaborating with and learning from other professionals, and watching my athletes compete – whether it's on a high school field or at Fenway Park. Quitting up wasn't an option; I guess I'd have just been a bad business coaching client since I'd be stubborn as hell about giving up. Fortunately for me, Pete Dupuis, my freshman year roommate, had recently completed his MBA and was looking for work. During that MBA, he started training with me and gained a lot of strength and muscular mass, helping him comprehend and genuinely appreciate the worth of what I was doing (especially since he was and is a goalie in a very competitive soccer league). Pete had also met and made friends with a large number of my clients – and, as a lifetime Red Sox fan, had taken a genuine interest in my baseball concentration. Pete would almost everyday encourage me to do my own thing and delegate all business matters to him. At the same time, Tony Gentilcore was ready for a change of scenery at work. I'd been Tony's roommate and training partner for about two years at that time, and I knew he was a real kind man who'd read everything on my library and could "walk the walk." He, too, had met many of my clients, so there was a sense of continuity from the start. Cressey Performance was born on July 13, 2007. Here's where we started. Please enter your your address here to subscribe to our FREE newsletter.
Continue reading Memorial Day Sale!
To commemorate Memorial Day and the long weekend that many refer to as the "unofficial start to summer," Mike Robertson and I decided to put two of our most popular goods on sale until Monday night – and to refresh their websites. So, from now until midnight on Monday, May 31, you can save 20% on both Building the Efficient Athlete and Magnificent Mobility. The discount will be added instantly upon checkout; simply pick them up from the following websites:
www.BuildingTheEfficientAthlete.com
www.MagnificentMobility.com
If you want to order them alongside other items, go to the RobertsonTrainingSystems.com Products page. Don't pass up this fantastic opportunity to get two of our "top sellers" at a steep discount!
Continue reading The Six Types of Seminar Attendees
On Sunday, we welcomed Neil Rampe of the Arizona Diamondbacks to Cressey Performance for a Myokinematic Dysfunction presentation. It was a fantastic experience, and Neil did an excellent job of outlining the many schools of thought on the treatment of mobility impairments. Neil concentrated his efforts on two schools of thought in particular: Dynamic Neuromuscular Stabilization (described in this post) and the Postural Restoration Institute. There was fairly advanced material being covered, and the audience represented a wide range of vocations and skill levels. Athletic trainers, strength and conditioning coaches, personal trainers, physical therapists, and chiropractors were among those there. They varied in age from 20 to 55 years old (or so). After the lecture, I was discussing with Neil about how intriguing it is to think about what each individual takes away from a seminar based on their age, career, and degree of experience. As a result, I developed the six types of seminar attendees: 1. The seasoned, open-minded participant – This person may have comparable experience in domains as the presenter. He'll be happy if he only obtains 2-3 useful tips from the lecture. The more experience you gain, the more you value the small details you may add (or delete) to improve your approach. For example, I spent approximately 95% of Greg Rose's talk at Perform Better in Long Beach last year nodding in agreement because we both work with a lot of rotational sport athletes (him with golf, and me with baseball). He did, however, propose a new thoracic spine mobility test, which I still use to this day. I just picked up one thing, but it was quite useful to me. 2.The Experienced, Close-minded Attendee – This person may be extremely experienced in a comparable field to the presenter, but he isn't open-minded enough to recognize that a professional on his level may still have something to share to better his approach. These are often the ones that claim to be "old school," implying that they have only done the same thing for the past 25 years. This is the "there's nothing new here" kind. 3. The Experienced Attendee from a Different Profession – This person may be outstanding at what he does in a semi-related field, but is utterly unfamiliar with the information delivered at a seminar. The task here is to figure out what can be utilized in that other sphere. Consider a pitching or track coach going to a strength and conditioning session, or an S&C coach going to a pitching or physical therapy convention. 4. The Terrified, Lazy Beginner Attendee – There are occasions when a novice attends a seminar with little to no idea what's going on and is absolutely intimidated by what he doesn't know. As a result, the attendee says that he will never need the knowledge in the first place. As the second type of "there's nothing new here" person, these people should either adjust their mindsets or choose a different industry. 5. The Motivated Beginner Attendee – This attendee is similar to the frightened beginner, but instead of feeling insecure about his lack of knowledge, he uses it as motivation to study more and find a method to get to where he wants to be. This might be a knowledge of how to apply bits and pieces of what the presenter taught, or it could be a desire to become an expert in the same area as the presenter. This is common in the fitness sector, since exercise fans who aren't in the field may attend seminars solely to learn about improved training procedures – similar to how I might attend a session by an economist. Attendee from the Middle of the Road – This person is in between a novice and an expert in the subject matter being discussed. In my experience, "middle of the road" people only attend seminars (at least the ones I've spoken at) if they actually want to improve, not simply for CEUs (which intimidated/lazy novices do). This, I believe, is the largest of the six groups. Groups 5 and 6 were the most enthusiastic with our Building the Efficient Athlete seminar, since it either supplemented or replaced their college anatomy and kinesiology curriculum (for those who did not attend school). Analyze this for yourself and consider where you fit in the context of these six groups. More significantly, how does your "location" in this system influence the following 2-3 lectures you'll attend? Do you want to branch out and see something completely new, or do you want to home in on your speciality and see if you can come up with a few new techniques to take you to the next level? There is no proper solution to this, except that you must continue to get out and see people in action in order to improve! On a similar subject, I've got a busy spring seminar schedule planned, so if you haven't already, check out my schedule page for more information.
Continue reading
Strength and Conditioning Programs: Efficiency Could Be Off…
I use the term "efficient" a lot in my strength and conditioning writing; it's even in the title of our Building the Efficient Athlete DVD package. I'm sure some folks interpreted this to suggest that we're continually searching for methods to improve the efficiency of our movement. And, in the context of sports difficulties, going from point A to point B in the most efficient method is typically the best. Consider strength training methods in which lifters merely squat, bench press, and deadlift to increase their powerlifting performance. The idea is to become as efficient as possible in those three motions. You may also look at NFL combine preparation programs as an example. Guys will spend months perfecting their technique for the 40-yard dash. They may not even become quicker in terms of applicable game speed, but they become extremely efficient at the exam.
However, the most "efficient" method is not always the best method. In normal life, taking up a heavy box with a rounded back is efficient for someone with bad posture since it's the pattern to which they're accustomed, and so less "energy costly." This would just be an effective way to be hurt! I'd rather lift things in a safe and inefficient manner.
Take, for example, people who run vast distances in the hopes of shedding weight. According to study, runners burn fewer calories over the same distance after years of running improves their efficiency. While this increase is minor, it goes to reason that people would be wise to make their workout as inefficient as possible in order to lose fat faster. Change the modalities, intensities, durations, and other acute programming factors, in other words. Training just for efficiency on a few exercises may improve your performance on particular lifts, but it will also significantly raise your chance of overuse injuries. I can state unequivocally that if more powerlifters just mixed in some ineffective single-leg exercise into their strength training routines, we'd see a lot less knee and lower back issues. Furthermore, shoulder health would improve significantly if these professionals included more ineffective rowing variants and rotator cuff strength activities. In the field of athletic performance training, it's crucial to note that many (but not all) athletes compete in unexpected conditions, so merely preparing them to be efficient on a few lifts won't fully prepare them for what they'll experience in competition. A strength and conditioning program that includes a variety of exercises with varying ranges of motion, rates of motion, and magnitudes of loading offers athletes with a more rich proprioceptive environment.
In other words, inefficiency in strength and conditioning regimens might actually promote higher performance and lower injury risk.
Overall, it's reasonable to state that we desire inefficiency in our training but efficiency in our performance – as long as this efficiency doesn't entail potentially harmful movement patterns. Related Articles Why I'm Not a Fan of 5×5 Strength Training Programs Weight Training Programs: The Fundamentals, but with Variation Sign up for our FREE Newsletter today and you'll get a four-part video series on how to deadlift!