Feng Hui – Xuan Kong Da Gua 64 Gua Transformation Analysis Series By Joey Yap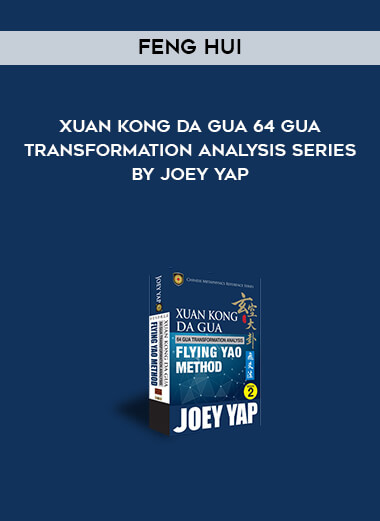 Salepage : Feng Hui – Xuan Kong Da Gua 64 Gua Transformation Analysis Series By Joey Yap

A comprehensive additional guide to the Flying Yao Method's defined study.
Transformation Analysis of Xuan Kong Da Gua 64 Gua The Flying Yao Method enhances advanced Xuan Kong Da Gua study and practice by focusing on the Flying Yao Method. The Method provided here is the underlying premise of the Changing Yao theory in Xuan Kong Da Gua Feng Shui.
The material on these pages will help you practice and improve your accuracy of the Xuan Kong Da Gua Fixed Yao Method significantly since it goes through each of the 384 Fixed Yaos in depth.
All Xuan Kong Da Gua components are thoroughly referenced.
What You'll Discover
An introduction to the core principles of Xuan Kong Da Gua theories.
Da Gua Xuan Kong The Flying Yao Method was used to do transformation analysis on all 64 Hexagrams.
Detailed charts and tables displaying the Changing Yao, the Upper and Lower Trigrams of the Hexagrams, and the Da Gua numbers for the Early Heaven and Later Heaven.
Forecasts for each Hexagram's Flying Yao analysis
An fantastic companion for true Xuan Kong Da Gua fans, students, and professionals.
Highlights from the Chapter
First Chapter: Introduction
Explains the notion of building the Qi link between the natural outward forms and the inside man-man forms in Xuan Kong Da Gua.
Using the Xuan Kong Da Gua Flying Yao Method Book, Chapter Two
Discover how to evaluate a Xuan Kong Da Gua Changing Yao.
Analysis of the Xuan Kong Da Gua 64 Gua Transformation in Chapter Three The Yao Flying Method
Understanding what each of the many charts represented and how to further study them