Feng Hui – Xuan Kong Da Gua 64 Gua Transformation Analysis Series By Joey Yap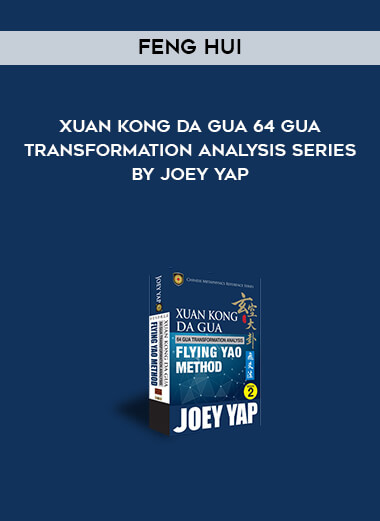 Salepage : Feng Hui – Xuan Kong Da Gua 64 Gua Transformation Analysis Series By Joey Yap

A complete supplementary guide to the specified study of the Flying Yao Method

Xuan Kong Da Gua 64 Gua Transformation Analysis Flying Yao Method supplements the advance study and practice of Xuan Kong Da Gua, focusing on the Flying Yao Method. The Method presented here is the foundational principle of the Changing Yao theory in Xuan Kong Da Gua Feng Shui.

The information contained in pages will help speed up your practice and accuracy of Xuan Kong Da Gua Fixed Yao Method considerably as it explores every one of the 384 Fixed Yaos contained herein in detail.

 
Comprehensive references of all Xuan Kong Da Gua componentsWhat You`ll Learn
An introduction to the fundamental concepts of theories of Xuan Kong Da Gua

Xuan Kong Da Gua Transformation analysis for all 64 Hexagrams based on the Flying Yao Method

Detailed charts and tables showing the Changing Yao, the Upper and Lower Trigrams of the Hexagrams, and the Early Heaven and Later Heaven Da Gua numbers

Forecast descriptions of each Hexagram's Flying Yao analysis

An excellent companion for genuine enthusiasts, students and professional practitioners of Xuan Kong Da Gua
Chapter Highlights
Chapter One: Introduction
Explains the concept of how Xuan Kong Da Gua is about establishing the Qi connection between the natural external forms and the internal man-man forms.
Chapter Two: Using the Xuan Kong Da Gua Flying Yao Method Book
Learn how to assess a Xuan Kong Da Gua Changing Yao
Chapter Three: Xuan Kong Da Gua 64 Gua Transformation Analysis Flying Yao Method
Understanding what each of the different charts meant and how to analyze them further